TARDIS
---
The Radio Times has unveiled the new TARDIS interior with a series of images posted on their site.
Tell us what you think of the regenerated TARDIS interior. Since the series debuted in 1963, we have seen many versions of it. What's your take on this one?
This Easter, in celebration of the launch of the brand new Eleventh Doctor action figure, Toys R Us in Brent Cross will be hosting a Doctor Who extravaganza and will be offering guests an exclusive first look at the new generation TARDIS.
The Toys R Us store at Brent Cross at 9am on Monday 5th April and be the first to get your hands on the new Eleventh Doctor action figure and Sonic Screwdriver which will go on general sale that day.
As part of the event, fans will be treated to an exclusive first look at the legendary TARDIS which has been completely re-designed for the latest series. The TARDIS will be taking time out from the set so fans can enjoy a closer look at the Doctor's living and breathing, time-travelling machine.
Doctor Who: The TARDIS. In this BBC America interview video clip, actor Matt Smith and lead writer and executive producer Steven Moffat explain the wonders of the TARDIS.
Cover art for Doctor Who: Podshock 185 - our Half-Time Special Show reporting on Gallifrey 21.
TARDIS courtesy of Tara Wheeler
Here is another behind-the-scenes Doctor Who video from BBC America with David Tennant discussing the TARDIS.
Don't forget - Doctor Who: The Waters of Mars this Saturday, December 19th at 9/8c on BBC America!
Den of Geek publishes this image from Doctor Who: The End of Time:
The Den of Geek website has published this photo from Doctor Who: The End of Time which depicts Bernard Cribbins (Wilf) and David Tennant (The Doctor). For details on the book the Doctor is holding, see the article here: Doctor Who: brand new picture from The End Of Time - Den of Geek
1968's classic science fiction film, 2001: A Space Odyssey meets Doctor Who: Wheel in Space of the same year. Classic stuff.
According to the YouTube description by TardisTimegirl, it was made in Lightwave by Steve Skinner.
Cover art for Doctor Who: Podshock - Episode 166 featuring Tara Wheeler with her TARDIS at Dragon*Con with special visitor Felicia Day. Picture inset of Sarah Sutton at a convention circa mid-1980s.
Photographs courtesy of Tara Wheeler and Louis Trapani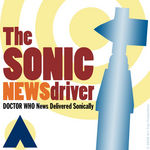 The Sonic Newsdriver 20091023
Selected Doctor Who related news delivered sonically.
For Earth-date: Friday, the 23rd of Oct. 2009
A Glimpse of the New TARDIS Interior, David Tennant Up for BAFTA Scotland Award, RTD Calls for Champion Children's TV, Sarah Jane Adventures Series 3 Underway, Tennant and Sladen Dumped From Radio Times Cover, Blue Peter Says Design Your Own TARDIS Console, BBC iPlayer Goes International at a Price, Catch Doctor Who: Podshock 165, and Get Your Sonic Gear, plus more!
Hosted by Louis Trapani
One can glean a little of what the new TARDIS interior will look like through these shots taken on location while shooting at the Llanwonno Church today (21 October 2009) for upcoming Doctor Who story starring Matt Smith. The photos taken by "Scootyboy" are available on his Photobucket page here (slight spoiler warnings).