River Song
---
Doctor Who: Podshock - Episode 335
Running Time: 1:21:59
Catching up and recapping missed episodes, plus news, feedback, and more. Hosted by Louis Trapani, Dave Cooper, Lee Shackleford, and Kyle Jones.
Christmas came early this year when I received a message from our very own Louis Trapani this morning. That message - a link to the following story - was Christmas come early.
The Doctor and River Song Reunite for a Spectacular Christmas
Normally, I would prefface this notice by stating a most appropriate phrase; however, today...SPOILERS wouldn't be sufficient.
Alex Kingston returns on Christmas Day 2015 to the role she made famous - River Song.
Doctor Who: Podshock - Episode 258
Running Time: 1:57:55
We review Doctor Who: The Wedding of River Song live over the net with live listener feedback.
Hosted by Louis Trapani ( @LouisTrapani ), Dave Cooper ( @daveac ), and Ken Deep ( @kendeep )
Doctor Who: Podshock - Episode 254
Running Time: 1:21:54
We review Doctor Who: Let's Kill Hitler and Night Terrors live over the net with live listener feedback.
Hosted by Louis Trapani ( @LouisTrapani ) and Dave Cooper ( @daveac )
Doctor Who returns on Saturday, 27 August 2011 both on the BBC in the UK and BBC America in the USA. Executive Producer and Lead Writer for the series, Steven Moffat had the following to say about the resumption of the 2011 series in the latest from the BBC Press Office. Some may consider some of this to be a little "spoilery" — so be warned if you rather not know any details about the upcoming episodes for 2011.
What do you think of the Doctor's long coat in the promo image?
Those of you lucky enough or ahem brave enough to go to SDCC (San Diago Comic Con) can get this exclusive from Underground Toys, River Song with Pandorica Chair. As to whether it will fit together with last years Pandorica sides which housed a free cd, is anybodys guess.
But it's not the only new piece of new kit from Underground Toys/Character Options, these fortunately aren't exclusives. To this there are Errrrrr.... Cuddly Daleks? yes that's right Soft Daleks which come in red or blue. But that's not all to that a Cuddly TARDIS, both the Daleks and TARDIS have sound and the Tardis's lamp light up as well.
There are a couple new Doctor Who: Podshock episodes on their way (coming soon), in the meantime the latest episode of The Sonic Newsdriver will feed your hunger for Doctor Who related news.
Sonic Newsdriver (06 January 2011) - Doctor Who News -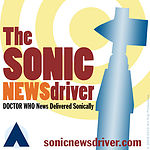 The Sonic Newsdriver 20110106
Selected Doctor Who related news delivered sonically.
For Earth-date: Thursday, the 6th of Jan. 2011

In this episode: Besotted, DVR Alert, YouTube Goes Classic, Ambassadors of Restoration, The End of Time Begot A Christmas Carol, Ashes to Ashes - Sherlock to Sherlock - Doctor to Doctor, Torching the US and the UK, Where's the TARDIS, and more!
Once again, The Late Late Show with Craig Ferguson (on CBS in the US) will be having a Doctor Who related guest this Thursday (6th January 2011). This time it is Alex Kingston (River Song). Although she is not listed (at the time of this writing) in the upcoming shows for free tickets (they are actually recording two shows on Thursday according to their website, one at 3pm with actor Gary Sinise and one at 4:15pm with actress Mila Kunis - the latter being sold out), it was announced that "River Song" would be on Thursday's show via Craig Ferguson's Twitter feed. In addition, the Doctor Who musical opening number ("cold open") which could not be aired last November has finally been cleared for this show.
I wouldn't be too concerned about her absence on the website, as with the last time when Matt Smith was scheduled to appear on the show (16th November 2010), he was not showing up on the site for the longest time. Perhaps this show was pre-recorded on another day? @CraigyFerg tweeted the following tweet on Monday:
Actress Alex Kingston explains what makes Doctor Who such an enduring fan favorite and why fans and new viewers should watch the new season.