Adventure Game
---
Here is Sarah Douglas talking about her role in the Doctor Who Adventure Game as the "blob-like entity" / Professor Meadows in this short video. You may recall we broke the story of Sarah's role in Doctor Who when we interviewed her earlier this year at I-CON. If you didn't catch it, it was Doctor Who: Podshock 189.
DW: Podshock 189At that time she and we were unsure of exactly what her role was going to be, only that it was for an interactive animated story. We had assumed it may have been another BBC "Red Button" interactive Doctor Who episode before learning of the new Doctor Who Adventure Game series.
On a personal note, it was a real delight spending time with Sarah this past spring. We had her on our show when she during the early stage of this video game project, we would love to have back to speak more on it sometime in the future.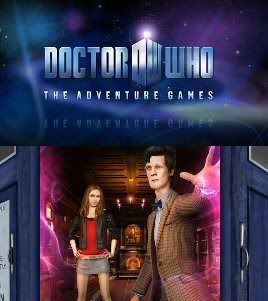 The third instalment of the Doctor Who: Adventure Game , computer game series that's been free to download to and install to UK residents has been announced.
This time the game takes entirely place in the TARDIS it's self and we get to see the hinted at many rooms of the TARDIS. Steven Moffat has told the official DW website
"Why doesn't anybody ever want to meet Ringo?"
Doctor Who: Podshock - Episode 214
Running Time: 1:56:02
Terry Molloy (Davros) interviewed (by Nick Joy), Doctor Who Adventure Games reviewed, Changes in the new series, feedback, and more!
Hosted by Louis Trapani, Ken Deep, and James Naughton.
The computer game, which was introduced as "The Doctor Who Adventures" earlier this year has now been released. There are a couple of sore points, 1: IT IS AS WE EXPECTED GEO-LOCKED, that means if you are not resident in the UK you can't access it. 2: WINDOWS VERSION ONLY, the Mac version is due on the 15th of July. and most Importantly 3: IT WILL BE AVAILABLE TO THE REST OF THE WORLD, but your going to have to lay out your hard earned cash for it. I suspected this part but as the BBC now has to show responsibilty for it's earnings since the change of government in the UK this was no surprise to me.
The Title of the first of the New Doctor Who Adventure Games for Mac or PC has been anounced as,
City of the Daleks, and will be Available as a free Download from the BBC on 5th June 2010, to that point Phil Ford the Writer had this to say.