James Corden
---
Doctor Who: Podshock - Episode 257
Running Time: 1:43:37
We review Doctor Who: Closing Time live over the net with live listener feedback.
Hosted by Louis Trapani ( @LouisTrapani ) and Dave Cooper ( @daveac )
We have a bunch of new Doctor Who: Podshock episodes on the way which will be coming to you soon, including our live show recorded at Gallifrey One 2011. In the meanwhile, catch up on Doctor Who related news delivered sonically with the latest episode of The Sonic Newsdriver!
Sonic Newsdriver (07 March 2011) - Doctor Who News -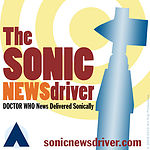 The Sonic Newsdriver 20110307
Selected Doctor Who related news delivered sonically.
For Earth-date: Monday, the 7th of Mar. 2011
In this episode: Five Rounds Rapid in Memory of Nicholas Courtney, James Corden is Back, Who are you gonna call?, Massive Man - Massive, iPlayer for less than $10 a month, and more!
Here is a new video with actor James Corden (Gavin & Stacey) giving us the lowdown on his character Craig Owens, who appears in 'The Lodger,' Episode 11 of the new series of Doctor Who.
Filming has Started on James Cordens part in Doctor Who. Pictures provided by the Daily Mail show the Doctor and James in several Scene's including one wher the Doctor is Having a Kick around playing Football or Soccer as it's known in North America. There's also a Small Interview with Corden on the Daily Mail website. Click on "Daily Mail" to get to the Piece.
James Corden of Gavin and Stacey is set to appear in a guest role in Doctor Who, so says The Sun. According to an article they published, the comic was seen learning his lines on a Cardiff bound train heading to the Doctor Who set.
The article states that Corden is a huge Doctor Who fan and jumped at the chance to appear in the series.
No details where given on what character or what type of character he might be playing.