knitting
---
"You don't understand regeneration, Mel. It's a lottery, and I've drawn the short plank."
Doctor Who: Podshock - Episode 181
Running Time: 1:55:28
Time and The Rani review, US version of Torchwood, 7th Doctor Vest, news, feedback, Gallifrey 2010 report, Germany Report with Graeme Sheridan and more.
Hosted by Louis Trapani, James Naughton, Ken Deep, and Tara Wheeler.
Doctor Who fans are coming together on the net to help out a fellow fan and friend, Johanna Mead. Johanna ( @britgeekgrrl ) is well known at Doctor Who conventions across the US for her detailed and creative costumes, she is also a writer and an English expatriate living in northern California. Unfortunately, her husband had just recently lost his battle against cancer and the online community of fans and friends have come together to help raise money to help offset the costs of the final arrangements.
Johanna Mead (as Romana I) with The White Robot (Billy Davis) at Gallifrey 2009
While it was a beautiful fall day in Broomfield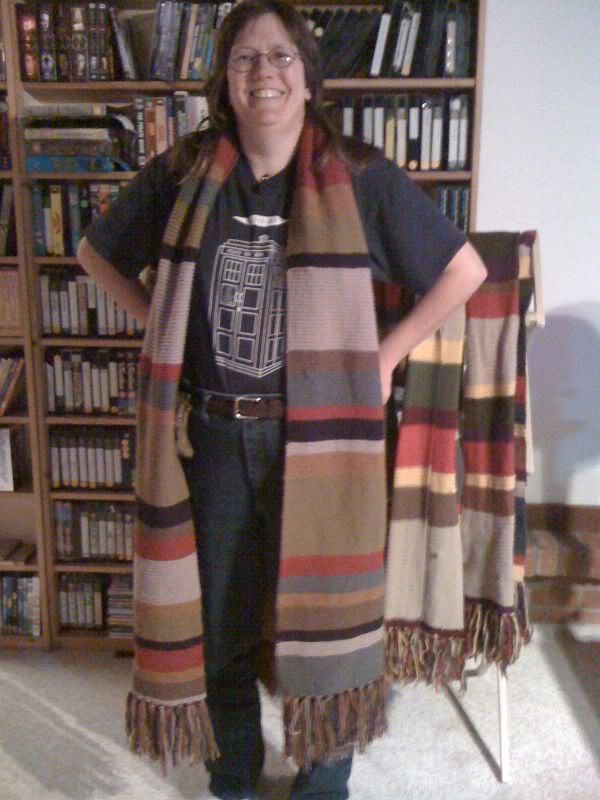 , I spent most of it inside.
Alright, I did take the dog to the dogpark.
But the rest of it, I spent working on Ken's Scarf.
Alright, that's not technically true.
I spent about four hours on Ken's Scarf today, but I did finish it!
Now, before everyone gets all worried about how short Ken's Scarf looks, let me explain that once a Doctor Who Scarf is knitted, it must be blocked.
So, right now, it's wet from being washed and is hanging to dry on my scarf rack.
Tomorrow it'll be a good two to three feet longer than it is now.
And it'll be exactly the right length to wrap once around the neck, and dangle to the floor on both ends.
So, the final knitting stats are:
Total knitting time: 37 hours
Today was another house-bound day.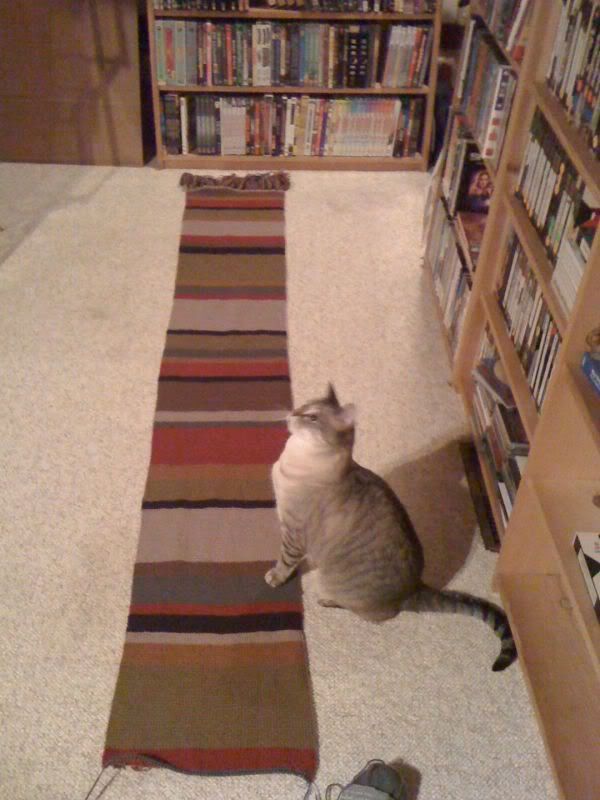 The weather in Broomfield was pretty icky. Rainy and threatening to snow.
So, I stayed in, read a book on my iPhone and knitted, mostly.
There's a really good probability that I will finish Ken's Scarf tomorrow.
Especially if the weather continues like this.
One of my cats, Spike, has been taking an interest in Ken's Scarf lately.
So I got her to pose with today's progress.
Tonight's stats are:
Total knitting time: 33 hours
Time spent knitting today: 6 hours
Total length: 83"
Length knitted today: 13.5"
38 out of 44 stripes
Finished 8 out of 15 skeins of yarn.
Today was a strange day. I got knitting
done, but just seemed like I was spinning my wheels most of the day.
Maybe it was just the over the halfway done blues.
I mostly knitted around the house today, read my iPhone eBook, watched some TV (Mythbusters).
Did sneak out to a knitting meeting, but came home early.
Just a boring day, I guess.
Tonight's stats are:
Total knitting time: 27 hours
Time spent knitting today: 5 hours
Total length: 61"
Length knitted today: 11.5"
31 out of 44 stripes
Finished 4 out of 15 skeins of yarn
Today the DH and I got back into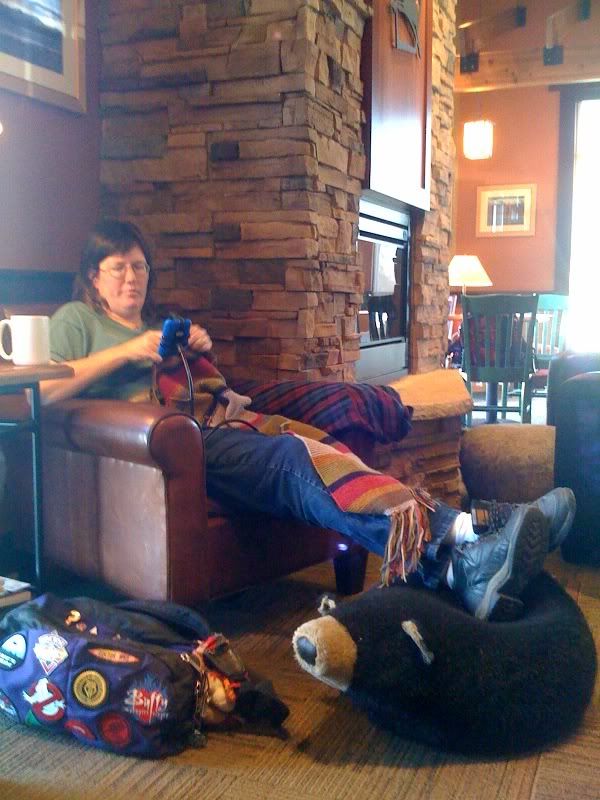 our usual routine.
We went to a local coffee shop so he could write (with some noise and bustle in the background) and I could read and knit.
I got about two and a half hours of knitting done there today, while I read 'Small Favor' by Jim Butcher on my iPhone (the little blue rectangle in front of my hands- being held up by a Naja stand).
I've read this book before, but I'm re-reading it so I can read his new book 'Turn Coat'.
The DH worked on cards for a talk he's giving in Baltimore.
Then we went home and had dinner.
The evening's real entertainment was to go see Toy Story 1&2 in 3D!
Of course I took my knitting and knitted all through Toy Story 1.
But I ran out of yarn and didn't have another skein of red with me.
Today the DH and I drove back to Colorado
from Taos.
We had a great time at the Taos Wool Fest.
Caught up with some old friends, ate some great food.
And of course, I knitted.
I got about five hours of knitting done in the car (when I wasn't sleeping-- it was a busy weekend).
Stats for tonight are:
Total time: 18 hours
Time knitting today: five hours
Total length: 39.5"
Length knitted today: 10"
22 out of 44 stripes
Finished 2 out of 15 skeins of yarn
Today was day two of the Taos Wool Fest. I did actually manage to sit down and knit.
I had a great time, saw lots of lovely animals, bought even more fiber for me to spin.
And knitted about six inches on Ken's Scarf.
But that evening was when the real fun started.
I took Ken's Scarf to a bar!
And not just any bar! I took Ken's Scarf to the Alley Cantina!
I knitted while the lovely Elisabeth Jose sang and the 'Omar-licious' Omar Rane played jazz standards.
I got about five inches knitted in the bar
Now, I should tell you that the Alley Cantina has quite a past.
It's the oldest structure in the town of Taos (the Taos Pueblo is outside the city limits).
At least two walls are around 400 years old.