Doctor Who Scarf
---
If you enjoyed our discussion on the ins and outs of building your own TARDIS (Police Box) in Doctor Who: Podshock 230 with special guests, the crew from The Happiness Patrol podcast, check out the latest episode of their podcast (The Happiness Patrol 47) in which I was invited on to talk about another Doctor Who icon, scarves!
Read my recent blog entry on ATP about it:
Come On, Get Happy! I'm on The Happiness Patrol! -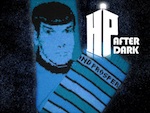 For what feels like for the longest time, we have been trying to get Lewis Bailey to join us on an episode Doctor Who: Podshock. Lewis does a podcast called The Happiness Patrol @TheHPatrol along with Dale Who @FishCustard2010 , Tara Wheeler @TARDIS_Tara (who you may also know as a Corespondent for Doctor Who: Podshock), and Lela Sandstrom @LelaSandstrom, due to scheduling reasons it never worked out. He has been also trying to get me on The Happiness Patrol as well for a while and for the same reason, it hadn't worked. Although we had Lewis on an episode in a recorded segment at the Doctor Who: Podshock 5th Anniversary Event we held last August as well on an episode from Gallifrey 21 last February in Los Angeles at our Meet & Greet Event there, this is the first time we have him on our show in a studio setting for Doctor Who: Podshock - Episode 230 along with Dale, Tara, and Lela. Not only is The Happiness Patrol in the latest episode of DWP, but I am in the latest episode of The Happiness Patrol as well!
USA Today's Pop Candy showcases our own Tara Wheeler in the article, "This 'Doctor Who' fan's passion shows… in scarves"
Actor Matt Smith (The 11th Doctor) had been photographed wearing the scarf that Tara had knitted for Anthony Burdge (contributing author of the book, The Mythological Dimensions of Doctor Who) who attended the Doctor Who screening in New York at the East Village Cinema. The photos had been used in a previous Pop Candy article which Tara had spotted her scarf.
While it was a beautiful fall day in Broomfield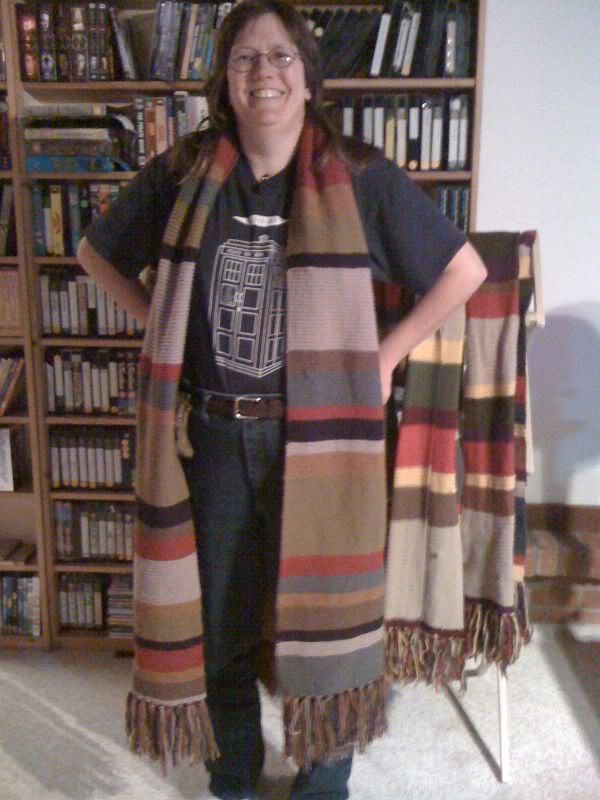 , I spent most of it inside.
Alright, I did take the dog to the dogpark.
But the rest of it, I spent working on Ken's Scarf.
Alright, that's not technically true.
I spent about four hours on Ken's Scarf today, but I did finish it!
Now, before everyone gets all worried about how short Ken's Scarf looks, let me explain that once a Doctor Who Scarf is knitted, it must be blocked.
So, right now, it's wet from being washed and is hanging to dry on my scarf rack.
Tomorrow it'll be a good two to three feet longer than it is now.
And it'll be exactly the right length to wrap once around the neck, and dangle to the floor on both ends.
So, the final knitting stats are:
Total knitting time: 37 hours
Today was another house-bound day.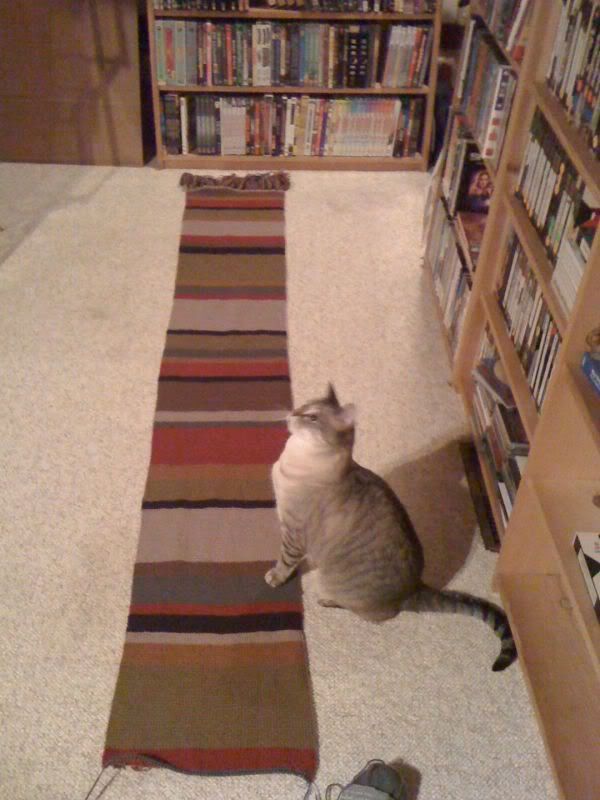 The weather in Broomfield was pretty icky. Rainy and threatening to snow.
So, I stayed in, read a book on my iPhone and knitted, mostly.
There's a really good probability that I will finish Ken's Scarf tomorrow.
Especially if the weather continues like this.
One of my cats, Spike, has been taking an interest in Ken's Scarf lately.
So I got her to pose with today's progress.
Tonight's stats are:
Total knitting time: 33 hours
Time spent knitting today: 6 hours
Total length: 83"
Length knitted today: 13.5"
38 out of 44 stripes
Finished 8 out of 15 skeins of yarn.
Today was a strange day. I got knitting
done, but just seemed like I was spinning my wheels most of the day.
Maybe it was just the over the halfway done blues.
I mostly knitted around the house today, read my iPhone eBook, watched some TV (Mythbusters).
Did sneak out to a knitting meeting, but came home early.
Just a boring day, I guess.
Tonight's stats are:
Total knitting time: 27 hours
Time spent knitting today: 5 hours
Total length: 61"
Length knitted today: 11.5"
31 out of 44 stripes
Finished 4 out of 15 skeins of yarn
Today the DH and I got back into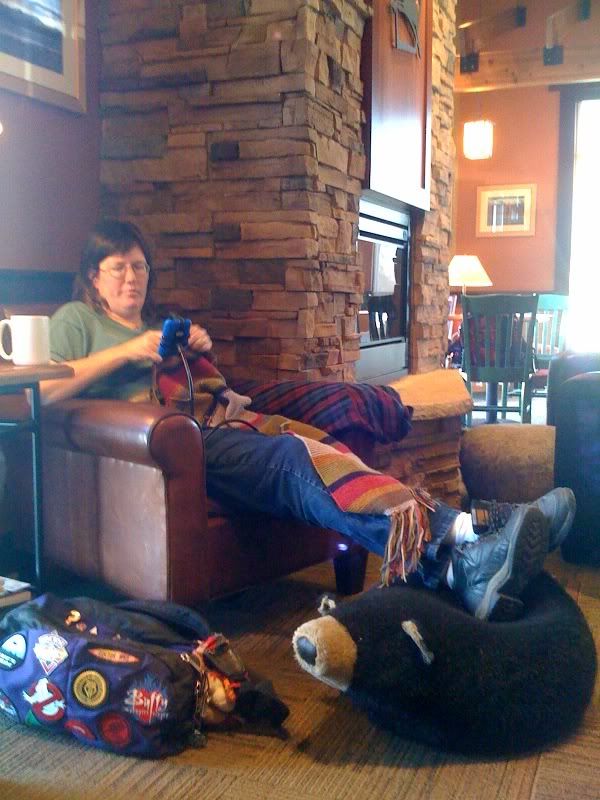 our usual routine.
We went to a local coffee shop so he could write (with some noise and bustle in the background) and I could read and knit.
I got about two and a half hours of knitting done there today, while I read 'Small Favor' by Jim Butcher on my iPhone (the little blue rectangle in front of my hands- being held up by a Naja stand).
I've read this book before, but I'm re-reading it so I can read his new book 'Turn Coat'.
The DH worked on cards for a talk he's giving in Baltimore.
Then we went home and had dinner.
The evening's real entertainment was to go see Toy Story 1&2 in 3D!
Of course I took my knitting and knitted all through Toy Story 1.
But I ran out of yarn and didn't have another skein of red with me.
Today the DH and I drove back to Colorado
from Taos.
We had a great time at the Taos Wool Fest.
Caught up with some old friends, ate some great food.
And of course, I knitted.
I got about five hours of knitting done in the car (when I wasn't sleeping-- it was a busy weekend).
Stats for tonight are:
Total time: 18 hours
Time knitting today: five hours
Total length: 39.5"
Length knitted today: 10"
22 out of 44 stripes
Finished 2 out of 15 skeins of yarn
Today was day two of the Taos Wool Fest. I did actually manage to sit down and knit.
I had a great time, saw lots of lovely animals, bought even more fiber for me to spin.
And knitted about six inches on Ken's Scarf.
But that evening was when the real fun started.
I took Ken's Scarf to a bar!
And not just any bar! I took Ken's Scarf to the Alley Cantina!
I knitted while the lovely Elisabeth Jose sang and the 'Omar-licious' Omar Rane played jazz standards.
I got about five inches knitted in the bar
Now, I should tell you that the Alley Cantina has quite a past.
It's the oldest structure in the town of Taos (the Taos Pueblo is outside the city limits).
At least two walls are around 400 years old.
Hi y'all!
I am ashamed to say that I didn't get all that much done on Ken's Scarf today.
I was having way too much fun at the Taos Wool Fest.
I did manage to get about 5.5 inches knitted when I was actually sitting down. Most of the rest of the day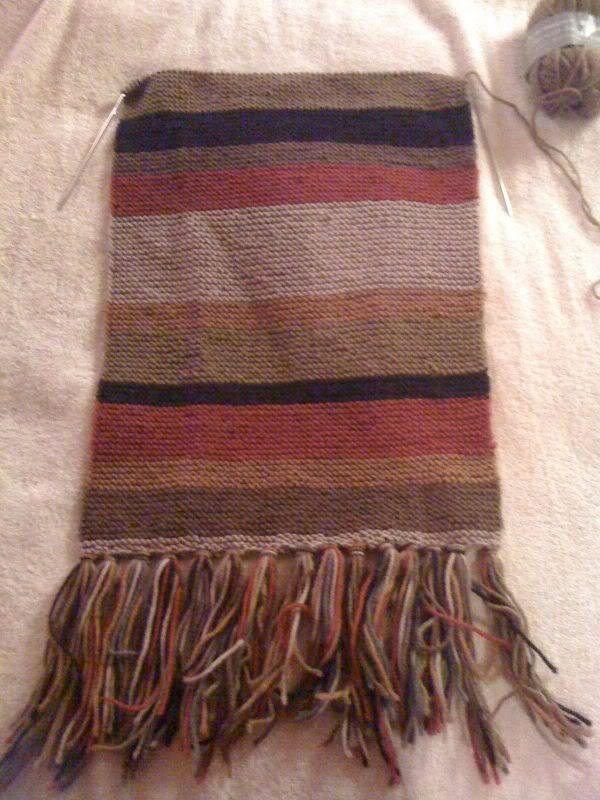 was spent looking at yarn, fiber for spinning into yarn (I bought a few ounces of a merino wool/ silk blend in a beautiful TARDIS blue), fiber processing tools, sheepskin hats, coats, slippers, dyes, spinning wheels, looms, patterns, finished wool garments, rugs, blankets, oh, and sheep.
I had some fabulous lamb ribs for lunch and ate three (3) fantastic homemade hard cider cupcakes brought by a fellow Ravelry knitter.
Tomorrow will be more productive.
Tonight's stats:
7 hours into the Scarf.
Total length; 17.5"
Howdy y'all!
A few of y'all have heard that Ken Deep's lovely wife hired me to knit him a Doctor Who Scarf for Christmas.
He's been all excited about going to Chicago TARDIS and he got special dispensation to get his Christmas present early so he could show it off there.
So, Ken's Scarf will be the Thirteenth Doctor Who Scarf i've knitted this year (don't blame me, he said he wanted #13).
It's Thursday night. I'm in Santa Fe, New Mexico, on my way to the Taos Wool Festival.