CBBC
---
Former Doctor Who executive producer and lead writer Russell T Davies who was also responsible for two Doctor Who spin-off series, Torchwood and The Sarah Jane Adventures will now be spearheading a new series on CBBC, Aliens Vs Wizards.
This new series consisting of 12 half-hour episodes is being created with Phil Ford who Davies worked with on Doctor Who and The Sarah Jane Adventures series. It is set to debut in autumn of this year on CBBC. It is being produced by BBC Wales in association with FrementleMedia.
The BBC released this on the Doctor Who Website earlier today.
"Contrary to press reports today we can confirm that no new episodes of The Sarah Jane Adventures will be filmed following the tragic death of actress Elisabeth Sladen in April, 2011. As a tribute to Elisabeth the six episodes that were recorded with her last year will be broadcast on CBBC at a date to be confirmed."
OK This time it's a trailer from the CBBC the Childrens BBC basically, and there are Two new short clips in it so eyes open for one, the other is obvious.
Watch the latest teaser 'trailer' video for series 4 of The Sarah Jane Adventures coming to the CBBC next week (11 October 2010). Along with Elisabeth Sladen and the regular cast members, you will see Matt Smith as the Doctor in it as well in this promo video.
Below is the official BBC press release for Sarah Jane Series four.
The Sarah Jane Adventures returns to CBBC with a host of guest stars, amazing monsters, and a visit from the Doctor
Alien investigator, Sarah Jane Smith, is back on CBBC with a fourth series of The Sarah Jane Adventures from Monday 11 October.
According to various (unconfirmed) reports on the net, the new 4th series of The Sarah Jane Adventures will be returning to the BBC and CBBC on Monday, 11 October 2010 (with part 1 of The Nightmare Man by Joseph Lidster).
It is unclear whether the new series is back to one episode a week or will it be similar to last year which transmitted two episodes a week. Remember, each story takes two half-hour episodes to tell in The Sarah Jane Adventures. The BBC had commissioned two new series (24 x 30-minutes episodes), this is the first of the two (12 episodes telling six stories). No details as of yet pertaining to this series outside of the UK.
The Sarah Jane Adventures titles have just been announced for Series 4, They are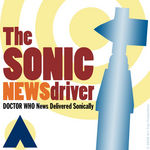 The Sonic Newsdriver 20100317
Selected Doctor Who related news delivered sonically.
For Earth-date: Wednesday, the 17th of Mar. 2010
BBC America Tails Behind BBC One by Two Weeks, Gallifrey 21 Two Weeks Out (DVD news), BBC Secures 40% of 2entertain, Double Your Pleasure, Double Your Fun with The Sarah Jane Adventures, Doctor Who on Tour, You Rock (Ken Ray of Mac OS Ken) and more.
Hosted by Louis Trapani
Last week I had the pleasure of being a guest on the Sci-Fi Party Line podcast. I was invited to come on episode 39 of the podcast hosted by Cat ( @fancyfembot ) and Eric Escamilla ( @Bullitt33 ) (we just had Eric on with us in Doctor Who: Podshock 169).
In it, we discuss The Sarah Jane Adventures episode, The Wedding of Sarah Jane Smith which guest stars David Tennant, the preview clip of Dreamland (the new animated Doctor Who adventure), and the upcoming Doctor Who special, Waters of Mars. We even ponder on the upcoming new series starring Matt Smith with Steven Moffat. Plus we touch upon Torchwood as well in this episode.
CBBC has confirmed that the animated Doctor Who adventure Dreamland starring David Tennant as the Doctor along with Georgia Moffet playing companion Cassie Rice and with David Warner playing the villainous leader of the Viperox will be premiering on the BBC One red button interactive service and the Doctor Who website first.