obituary
---
Over the years on Doctor Who: Podshock we often in our news segments had the unfortunate duty of relaying to our listeners the passing of people connected to Doctor Who. It's unavoidable being the long history of the series, now well over a half a century old and going. What is not common is having to announce the passing of one us. A fellow fan. A listener. A contributor. Today is one of those times.
It is with much sadness that I inform our listeners of a passing of a regular guest host on our show, Taras Hnatyshyn. Earlier this week we lost Taras after a long illness. Before becoming a regular guest host and a moderator here on our site, Taras was a long time listener and contributor to our show. His enthusiasm and excitement for all things Doctor Who was unparalleled and often contagious
Taras knew his stuff. He had an encyclopedia knowledge of Doctor Who. He could tell you which episode a character was last seen in and when they first appeared and probably how episodes they were showed up in between. He was a great resource any time we had the delight and privilege of having him record with us.
Doctor Who: Podshock - Episode 300
Running Time: 1:14:21
We reflect back on powerful women in Doctor Who with the passing of Kate O'Mara, interviews with Mary Tamm and Janet Fielding, plus news, your feedback and more. Hosted by Louis Trapani. Interviews courtesy of Chuck Rabb.
US astronaut Neil Armstrong dies, first man on Moon
Doctor Who: Podshock - Episode 275
Running Time: 1:34:42
Mary Tamm (Romana 1) dies, Tom Baker rumours, plus other Doctor Who related news, feedback on the passing of Caroline John (Justin from Ohio), and more. Hosted by Louis Trapani, Dave Cooper, and Ian Bisset.
I am sadden to report that once again we have lost someone in the Doctor Who community. A month after the news of Caroline John (Liz Shaw) passing, we have lost another actress that played a companion on Doctor Who, Mary Tamm. You will remember her for her role as the original Romana in the Tom Baker era. She introduced us to the Time Lady companion, Romana in 'The Key to Time' series of 1978 to 1979. 
Mary Tamm in 1984
The Mirror reports that she lost her long battle against cancer this morning. She was only 62 years old. 
Doctor Who: Podshock - Episode 273
Running Time: 1:51:46
Caroline John (Liz Shaw) dies, Fan's favourite Doctor Who "Monsters," plus Doctor Who related news, feedback (D Scott 750, Justin from Ohio, Greg from Florida, BlueBox Bill), and more. Hosted by Louis Trapani, Dave Cooper, and Ian Bisset.
Doctor Who: Podshock - Episode 267
Running Time: 2:00:50
The 'original 9th Doctor' story, Doctor Who: Scream of the Shalka is reviewed, Gallifrey One 2012 recap, I-CON 31 preview, news, feedback, and more. Hosted by Louis Trapani, Ken Deep, and Graeme Sheridan.
And so we lose another great actor who's appearances in Doctor Who are long and note worthy.
Philip Madoc died today Monday, 5th March after a short illness at the age of 77. His agent Michael Hallet said he passed away in hospital in Hertfordshire surrounded by his family.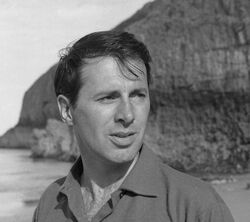 It saddens me to say that we've lost another Doctor Who vetran. Peter Halliday passed way on the 19th of February. It's taken a while for the information to filter out, Peter for most shall be remembered as the unfortunate, violence happy Packer in The Invasion along side Patrick Troughton and Kevin Stoney. But it was not to be his only role, he also did voices for The Silurians and Ambassadors of Death in Jon Pertwee's 1st full Season. Then going on to star as Plectrac in Carnival of Monsters.
Later he appeared along side Tom Baker in the City of Death, as a soldier, and finally along side Sylvester McCoy in Remembrance of the Daleks as the Vicar in the closing moments of Episode 4.
Often at the end of each year society looks back at those we have lost in the past year as a memorial. That is what this video does in regards to Doctor Who. This year being especially tough as we lost two performers that played major key companion roles in the series, but every passing is sad.
Video by "MysteronAgent" on YouTube. Discovered via Graeme Sheridan.