Gallifrey 2010
---
"Give a monkey control of its environment, and it will fill the world with bananas!"
Doctor Who: Podshock - Episode 185
Running Time: 0:39:38
Our Half-Time Gallifrey 21 show reporting from Gallifrey Blackjack 21 in Los Angeles, CA. We bring you up to date on what the convention is like half way through it. Ken had interviewed Frazer Hines and Deborah Watling on stage, all the podcasters came together for a summit and more. Joining us on this show is also 'That Chip Guy' @2MinuteTimeLord from the Two Minute Time Lord and DWO The Whocast, and Dan Roth of DWNY.
Cover art for Doctor Who: Podshock 185 - our Half-Time Special Show reporting on Gallifrey 21.
TARDIS courtesy of Tara Wheeler
"You can't rule the world in hiding. You've got to come out on the balcony sometimes and wave a tentacle."
Doctor Who: Podshock - Episode 184
Running Time: 0:39:46
A special episode recorded at our Doctor Who: Podshock Meet and Greet at Gallifrey 21 on Thursday, 25 February 2010 in Los Angeles, CA with Meet and Greet attendees including: Eric Escamilla, Joshua Lou Friedman, Lewis Bailey, Tara Wheeler, Kevin Roche, David Wheeler, Keefe and Cathy O'Neill, Pam Richardson, Lanaia DuBose, Ed Comstock, Samantha Rosz, James Naughton, and others.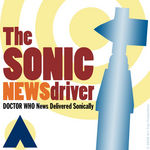 The Sonic Newsdriver 20100223
Selected Doctor Who related news delivered sonically.
For Earth-date: Tuesday, the 23rd of Feb. 2010
New publicity image and new promo trailer for Doctor Who series 31 released, Torchwood the Digital Comic, James Corden to Guest Star?, Neil Gaiman Confirms, Going Once - Going Twice, Gallifrey 21, and more.
Hosted by Louis Trapani
"I'm not suprised. They gave up teaching that some two thousand years ago, even on Gallifrey."
Doctor Who: Podshock - Episode 183
Running Time: 1:44:12
Our annual Gallifrey One preview show previewing Gallifrey 21, plus Who Party Toronto update, the Germany Report with Graeme Sheridan, and more.
Hosted by Louis Trapani, James Naughton, Ken Deep, and Mike Doran
Cover art for Doctor Who: Podshock 183 - our annual preview show for Gallifrey One. We preview Gallifrey 21 in this episode.
Learn more about computers or help friends and loved ones with their computer woes using Worth Godwin - Computer Training: Plain English, Plain Easy lesson CD series and by doing so you will be helping Doctor Who: Podshock at the same time. Plus, as a special tie-in with Gallifrey 21 taking place in February in Los Angeles, mention the special code GOGALLY to receive 21% off!
Computer lessons for both Mac or Windows PC from a real Doctor Who fan and a Doctor Who: Podshock listener and supporter.
Take a few minutes and listen to Worth's special message for Doctor Who: Podshock listeners:
Don't delay, the special 21% off discount offer is for a limited time only. The offer is good whether you are attending Gallifrey 21 or not. Remember it also makes a great gift. See details here.
If you are going to Gallifrey 21 next month, be sure to come by and say hi to us at the 'Official Unofficial Official Doctor Who: Podshock Meet and Greet at Gallifrey 21'
On Thursday, the 25th of February ("Gallifrey Eve") 2010 at 10pm (PST) we will be holding a 'meet and greet' in the lobby of the Los Angeles Airport Marriott Hotel (same hotel as Gallifrey 21).
It is an opportunity to come by and say hi to those involved with Doctor Who: Podshock, the hosts Ken Deep, James Naughton (all the way from the UK), and Louis Trapani, various Correspondents (Billy Davis, Tara Wheeler, Mike Doran, Amy Krell, Joshua Lou Friedman, etc.), regular contributors (Eric Escamilla, Barnaby Edwards, etc.) to the show and of course other listeners.
"I know who I am! I… AM… THE DOCTOR!"
Doctor Who: Podshock - Episode 180
Running Time: 1:18:47
Conclusion of our Paul McGann and Daphne Ashbrook interview, news, feedback, Gallifrey 2010 report, some discussions on The End of Time, and more.
Hosted by Louis Trapani, James Naughton and Ken Deep.
The Sunday tradition continues at Gallifrey 21 this year when once again Doctor Who: Podshock takes the stage for a live recording of our show! Now at a new time, 1pm PST on Sunday the 28th of February at Gallifrey 21 (February 26-28, 2010).
The live show will be bigger than ever before with special guests including Georgia Moffett, Andrew Hayden-Smith, Louise Page, John Fay, and more! Plus like last year, we will have a surprise or two, yes special surprise guests (outside of the convention guests)!