UK
---
Just a newspaper report on the Hyde Fundraisers Doctor Who Charity event that I posted a couple of YouTube videos on (dac100) and pictures at dac100 PhotoBucket.
Save to see full size:-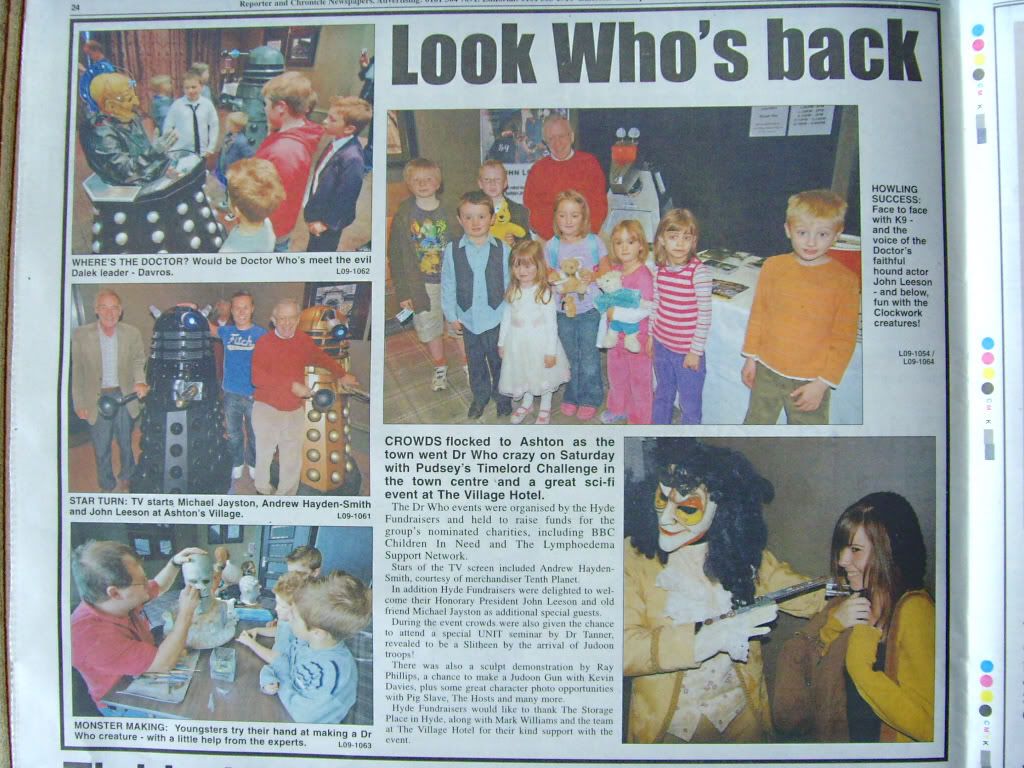 Cheers, daveac

The ever diverse, John Barrowman has hit number 14 in the UK charts for his Barry Manilow cover of "I Made It Through the Rain." The 1980 Manilow ballad is covered on John Barrowman's 2008 album, Music Music Music produced by Simon Franglen and Graham Stack. One of twelve tracks on the album.
Music Music Music
is available as an import from Amazon (US). Or domestically in the Amazon UK store: Music Music Music
See below to preview the song courtesy of YouTube. Note: The song ends at around 4:24, the rest is silence for some reason.
The BBC Doctor Who website has made a new tailer of Doctor Who: The Waters of Mars presented at San Diego Comic Con available on their website. Unfortunately, it is available for the UK only.
Three Torchwood audio plays prequels to the upcoming mini-series Children of Earth are now available from BBC Radio 4 via the BBC iPlayer and download (downloads for the UK only). Each audio play is 45 minutes and will be available starting Wednesday, 1 July with the story Asylum, following it is Golden Age on Thursday, 2 July, and then finishing off the series is The Dead Line on Friday, 3 July.
The audio plays stars original television cast members, John Barrowman, Eve Myles, Gareth David-Lloyd, Kai Owen, and Tom Price.
The official website for Torchwood: Children of Earth has been launched. This BBC website is catering to the UK and thus media such as movies contained on the site are not available outside the UK.
Torchwood: Children of Earth will be transmitted on BBC1 (in the UK) starting on Monday, 6th of July at 9pm. The mini-series will continue each consecutive night afterwards (i.e. Tuesday, 7th of July, and so on).
Source: Radio Times (Torchwood listing)