8th Doctor
---
The moment you all been waiting for… I reveal my new costume for The Sonic Newsdriver in this latest episode released today. That and other fashion news of the Doctor Who world are covered as well as some non-fashion related DW news.
Sonic Newsdriver (26 October 2010) -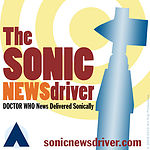 The Sonic Newsdriver 20101026
Selected Doctor Who related news delivered sonically.
For Earth-date: Tuesday, the 26th of Oct. 2010
Doctor Who related news covering Death of the Doctor, Better Late Than Never, It May Be A Mystery To You, We Will Rock Children in Need, Happy Anniversary Frazer, Fashion - Turn to the Left, Fashion - Turn to the Right, and much more!
It seems that not only 8th Doctor wants a costume change, Matt Smith (the 11th Doctor) is reported stating that he would like some changes in his costume. Specifically, a warmer coat, perhaps in addition to his tweed jacket.
As for a hat, he said he wanted a hat back in April when he was in New York for the premiere of the 2010 series of Doctor Who. So this comes as no surprise. We already know that fezzes are cool.
Television - News - Matt Smith wants 'Who' outfit changes - Digital Spy: "'I know I want a coat,' he said. 'You get cold in only a tweed jacket. And I want a hat. Not all the time. Just now and again. It feels Doctory and right for my Doctor. I think it can evolve and give it that variety.'
"Hold on there, old guy, Chang Lee will help you out."
Doctor Who: Podshock - Episode 222
Running Time: 1:50:32
Interview with Yee Jee Tso (Chang Lee in the 1996 movie), Tara Wheeler talks about tracking down David Tennant, Billy Davis files a report from Dragon*Con with Frazer Hines, Doctor Who: The Forgotten Army and Doctor Who: Podshock in New York City, join us for the next 25th anniversary event for the Gallifreyan Embassy, and more. Dedicated to the memory of David Jennings ("Adric Antfarm").
Hosted by Louis Trapani ( @LouisTrapani ), Ken Deep ( @kendeep ), with Tara Wheeler ( @TARDIS_Tara ).
You know how the Gallifreyan Irregluars just dig on Mr. McGann. If you're lucky enough to be near Bristol, check this out:
http://www.arnolfini.org.uk/whatson/films/details/735
Not only do you get to hear McGann reading extracts from Shackleton's diary, but you get to see a Silent Film. It will be good for you and you will thank me later. And here's an image from a cool new website called, well, Eff Yeah Paul McGann. You're geeky; you'll find it if you want to.
Earlier today I got some brilliant news for all North American Doctor Who fans. Fellow Doctor Who podcaster, David Hooie released an unusual for him short podcast. Within the podcast one of the guys in charge of the Restoration team had the excellent news That the 1996 TV movie had just got the go ahead for a US release, after some hard negotiations with Universal, the owners of the rights in the US and Canada. For the full story follow this link.
The Eighth Doctor returns to BBC Radio 7 Sunday 16th may when the station begins airing selected stories from the third series of the Big Finish Eighth Doctor Adventures.

Four out of eight stories will be broadcast, from the series first released by Big Finish in 2009. Radio Seven has previously broadcast the first two series of the Eighth Doctor Adventures.

The series starts on BBC Radio 7 on Sunday 16th May at 6pm with a repeat at midnight BST.
Radio 7 can be heard around the world via the BBC Website.
"I know who I am! I… AM… THE DOCTOR!"
Doctor Who: Podshock - Episode 180
Running Time: 1:18:47
Conclusion of our Paul McGann and Daphne Ashbrook interview, news, feedback, Gallifrey 2010 report, some discussions on The End of Time, and more.
Hosted by Louis Trapani, James Naughton and Ken Deep.
Cover art for Doctor Who: Podshock 180 which includes our conclusion of our interview with Paul McGann and Daphne Ashbrook from the 1996 TV movie.
"This song is ending. But the story never ends."
Doctor Who: Podshock - Episode 179 EXTRA Edition
Running Time: 1:40:21
We review all 10 Doctor's eras of Doctor Who in this Deca-Doctor Special of Doctor Who: Podshock. As we approach the new 11th Doctor era, we review where we came from with the previous 10. Included are interviews we conducted over the years with various actors to play the Doctor (including Patrick Troughton, Jon Pertwee, Peter Davison, Colin Baker, Sylvester McCoy, Paul McGann), some of which have never been featured on Doctor Who: Podshock before.
"My last incarnation… oh, I was never happy with that one. It had a sort of feckless "charm" which simply wasn't me!"
Doctor Who: Podshock - Episode 173
Running Time: 1:32:35
Paul McGann and Daphne Ashbrook interviewed together (part 1), The Twin Dilemma reviewed, Germany report by Graeme Sheridan, Episode 6 of Hitchhiker's Guide to the Whoverse by Eric Escamilla, feedback, and more.