Doctor Who
---
There are a couple new Doctor Who: Podshock episodes on their way (coming soon), in the meantime the latest episode of The Sonic Newsdriver will feed your hunger for Doctor Who related news.
Sonic Newsdriver (06 January 2011) - Doctor Who News -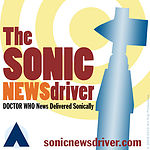 The Sonic Newsdriver 20110106
Selected Doctor Who related news delivered sonically.
For Earth-date: Thursday, the 6th of Jan. 2011

In this episode: Besotted, DVR Alert, YouTube Goes Classic, Ambassadors of Restoration, The End of Time Begot A Christmas Carol, Ashes to Ashes - Sherlock to Sherlock - Doctor to Doctor, Torching the US and the UK, Where's the TARDIS, and more!
This Week In Doctor Who – January 6, 2011
Section A
By Benjamin F Elliott
Welcome to the weekly guide to Doctor Who and spinoffs. Sarah Jane, K9, and the PBS Doctor Who broadcasts are in Section B. Torchwood schedules are in Torchwood This Week.
Happy New Year! Welcome to 2011 – the year Doctor Who does a split series! Well, the first year – if it works I'm sure they'll want to make it a regular feature.
As reported in Wired magazine the restoration of Ambassadors of Death has gotten a boost due to a new editing computer.
"Their method is a refined version of that trialled on the 2009 Planet of the Daleks re-release; it is now being deployed on a seven-part 1970 Jon Pertwee adventure, The Ambassadors of Death. "It seemed almost recordings, they didn't filter off the colour carrier [encoded as a 'chroma dot' pattern in each frame], which for the last few decades has been nothing more than an annoyance." Team member Richard Russell used the signal to reverse-engineer raw colour pictures that could be retouched frame by frame. "It's very, very labour intensive -- several hundred man hours' work every episode," says Steve Roberts. Luckily, a new "quadrant editor" is helping them to produce better source material upfront, so they hope to deliver the Ambassadors episodes to the BBC within weeks."
BBC Worldwide have announced a Classic DVD Doctor Who Channel, to come today.
BBC Worldwide have announced a Classic DVD Doctor Who Channel, to come today.
The Idea is that snippets and trailers are to be released on a regular basis, the official line is this:
"BBC Worldwide, the commercial arm of the BBC, will be launching a Classic Doctor Who channel on YouTube on 4th January.
The new channel, featuring a mixture of classic clips and exclusive previews from forthcoming Doctor Who DVD releases, will appeal to existing fans and give new viewers an opportunity to sample some classic Doctor Who. The channel will complement the Classic Doctor Who Twitter account @classicdw run by 2entertain.
Once again, The Late Late Show with Craig Ferguson (on CBS in the US) will be having a Doctor Who related guest this Thursday (6th January 2011). This time it is Alex Kingston (River Song). Although she is not listed (at the time of this writing) in the upcoming shows for free tickets (they are actually recording two shows on Thursday according to their website, one at 3pm with actor Gary Sinise and one at 4:15pm with actress Mila Kunis - the latter being sold out), it was announced that "River Song" would be on Thursday's show via Craig Ferguson's Twitter feed. In addition, the Doctor Who musical opening number ("cold open") which could not be aired last November has finally been cleared for this show.
I wouldn't be too concerned about her absence on the website, as with the last time when Matt Smith was scheduled to appear on the show (16th November 2010), he was not showing up on the site for the longest time. Perhaps this show was pre-recorded on another day? @CraigyFerg tweeted the following tweet on Monday:
Finally, the HUGE hit of 1978 is available on iTunes!
Album: Gallifrey And Beyond (Remastered) - Mankind
Two songs from the above album:
Dr Who? (Club) - Gallifrey And Beyond (Remastered)
Dr Who? (Radio) - Gallifrey And Beyond (Remastered)
If you want to see what people looked like when I was... well, a mere infant, check this out:
Every year, for the last few years, just in time for the holidays, 'TardisTimegirl' releases an animated Doctor Who related video on YouTube. A holiday treat for all Whovians. Last year, it was the immensely popular, '2001: A Who Odyssey' in which she combines the classic 1968 Doctor Who serial 'The Wheel in Space' with the film '2001: A Space Odyssey' which was released the same year. So when the holidays rolled around this year, I checked her YouTube channel and was disappointed not to see any new animated shorts for this year's holiday season. So I was surprised and delighted to see that a new short was released over the New Year's Day holiday.
Once again, using the 2nd Doctor story, 'The Wheel in Space' as the backdrop, she poses the question of what would a trailer look like for it if the once BBC set designer, Ridley Scott (who later went on to direct Alien among other films) made it? What follows is another awesome computer animated (CGI) trailer for Doctor Who: The Wheel in Space done in the style of 1979's Alien film by Ridley Scott. Thank you, 'TardisTimegirl.'
Turn off the lights and watch this in full screen mode. Enjoy!
DW Podshock Podcast Companion App - Episode 02
Exclusive App Episode
Running Time: 0:34:48
In this bonus exclusive episode for the DW Podshock Podcast Companion App we include a segment from the Q&A session with Daphne Ashbrook (Grace from the 1996 Doctor Who movie) from last month's 25th anniversary event for the Gallifreyan Embassy. The complete interview and Q&A from the event is included in Doctor Who: Podshock 229 - Extra Edition. Plus Ken and Louis talk about the origins of the Gallifreyan Embassy, and more.
Hosted by Louis Trapani ( @LouisTrapani ) and Ken Deep ( @kendeep ).
This episode appears in the "Exclusives" section of the app.
Note: The app is currently only available for the Apple iOS (iPhone, iPod touch, and iPad), there is an Android version in the works. Currently there is a bug in the iPad version in which prevents the episodes from being listed, they appear blank (in both the regular episodes section and exclusive section), but if you tap the topmost slot, you will hear the latest episode.