Sylvester McCoy
---
Peter Davison (the 5th Doctor) has posted some short outtakes from his parody 'The Five(ish) Doctors Reboot' from last year celebrating 50 years of Doctor Who. This is just a short video of those deleted bits only.
A video from a panel discussion at the Doctor Who 50th Anniversary Celebration event consisting of former actors to play the part of the Doctor, Tom Baker, Peter Davison, Colin Baker, and Sylvester McCoy on the topic of if age matters for the actor playing the part.
If you only watched 'An Adventure in Space and Time' and 'The Day of the Doctor' anniversary special as part of your 50th anniversary of Doctor Who celebrations, then you're missing out. 'The Five(ish) Doctors' is thirty minutes of fun and delight spearheaded by Peter Davison which chronicles some of the past actors who played the Doctor in their efforts in being included in the Doctor Who 50th anniversary special. It's a real treat for long time fans, that also offers up some delights for new fans. The video is embedded below.
Sylvester McCoy is OUR Doctor this November 8-10th at L.I. Who!
The Seventh Doctor himself and the star of The Hobbit makes his return to Long Island for the first time since 1999.
He joins previously announced L.I. Who guests Daphne Ashbrook, Frazer Hines, and Ian McNeice. Tickets are on sale now.
Nana Visitor played Olivia Colasanto in Torchwood: Miracle Day, but is known best for portraying Kira Nerys in Star Trek: Deep Space Nine for seven years. She joins Sylvester McCoy, Daphne Ashbrook, Frazer Hines, Colin Spaull, and Steve Gostelow at Icon 31 this March.
Jeremy Bulloch is also scheduled to attend. Known most famously for portraying Boba Fett in the Star Wars saga, he also guest stars in the William Hartnell story "The Space Museum" and Jon Pertwee's "The Time Warrior".
Icon 31 will be held March 30, 31, April 1st 2012 at the State University of New York at Stonybrook. Details can be found at www.iconsf.org.
In their first round of major guests, ICON Science Fiction announced the addition of Sylvester McCoy, Daphne Ashbrook, and Sarah Douglas for I-CON 31 in the spring of 2012. I-CON 31 will be held on the campus of Stonybrook University in New York the weekend of March 30, 31, and April 1st 2012. Doctor Who: Podshock and the Gallifreyan Embassy have a long history with I-Con.
Wow - what a cool series of portraits, and they can be yours! An amazing group including Paul McGann, Sheridan Smith, John Simm, Catherine Tate, Richard E. Grant, Mark Gatiss, Noel Clark, Benedict Cumberbatch, Tim Pigott-Smith, Sylvester McCoy, Michelle Ryan and David Morrissey:
http://www.31thirtyone.com/portraits/
This is all for charity too. Win-win (see below:).
The moment you all been waiting for… I reveal my new costume for The Sonic Newsdriver in this latest episode released today. That and other fashion news of the Doctor Who world are covered as well as some non-fashion related DW news.
Sonic Newsdriver (26 October 2010) -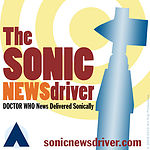 The Sonic Newsdriver 20101026
Selected Doctor Who related news delivered sonically.
For Earth-date: Tuesday, the 26th of Oct. 2010
Doctor Who related news covering Death of the Doctor, Better Late Than Never, It May Be A Mystery To You, We Will Rock Children in Need, Happy Anniversary Frazer, Fashion - Turn to the Left, Fashion - Turn to the Right, and much more!