audio
---
This is a review for The Big Finish Adventure, The City of Spires. Staring Colin Baker as the 6th Doctor, Frazer Hines as Jamie McCrimmon and Georgia Moffett as Alice.
The Doctor Land hoping to get away from it all, but once again as with a Previous Regeneration, he lands in the Middle of an Important Battle in Scotland. After managing to convince the Scottish Warrior Black Donald that he's not English, and accepts being called a French Dandy. The Doctor Notices one very important clue, "Black Donald" is in Fact Jamie McCrimmon.
Doctor Who: Podshock Correspondent Dave Cooper @daveac had tweeted he was listening to episode 7 of "Doctor Who and The Brain of Morbius" on BBC7 radio on Saturday.
Episode 7, Dave? What of the episodes 1-6? Not a post here about it, Dave? Oh well.
This episode went out on BBC7 on Friday, 23rd April 2010 at 9:30am BST. It is available to listen to via the BBC iPlayer (without location restrictions) for the week (6 days left at the time of this posting).
Yes
86% (25 votes)
No
14% (4 votes)
Not sure
0% (0 votes)
Total votes: 29
For those that follow me on Twitter, may know that I sometimes use AudioBoo to record short audio reports while on the road. It is usually while attending a conference or convention or some other event, though not limited to such. (If you want to know more about AudioBoo, back in 2008, I posted this blog about AudioBoo: Boo! AudioBoo! Mini Mobile Podcasting!)
This year's Gallifrey One convention (Gallifrey Blackjack 21) was no exception.
You can currently listen to Night Waves: Sacred Monsters (BBC Radio 3) which features new Doctor Who Executive Producer and Head Writer, Steven Moffat. He talks about his work on the series, Matt Smith as the new Doctor, and what we are about to see in the upcoming series.
Listen here: BBC iPlayer - Night Waves - Sacred Monsters
Toby Hadoke's 'Moths Ate My Doctor Who Scarf' can be heard via the BBC iPlayer with Colin Baker and Louise Jameson from July 2007. Episode one, 30 minutes long will be available to listen to until Friday, the 18th of December 2009.
Listen here: BBC iPlayer - Moths Ate My Doctor Who Scarf
Also be sure to catch our interviews with Toby Hadoke on Doctor Who: Podshock: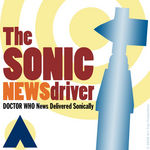 The Sonic Newsdriver 20091117
Selected Doctor Who related news delivered sonically.
For Earth-date: Tuesday, the 17th of Nov. 2009
Waters of Mars Floats to 9.1 Million, Moorcock for Doctor Who, No Movie For You, Waters of Mars Accessories, Live Waters Review, Bigger Than Life, and more.
Hosted by Louis Trapani
Last week I had the pleasure of being a guest on the Sci-Fi Party Line podcast. I was invited to come on episode 39 of the podcast hosted by Cat ( @fancyfembot ) and Eric Escamilla ( @Bullitt33 ) (we just had Eric on with us in Doctor Who: Podshock 169).
In it, we discuss The Sarah Jane Adventures episode, The Wedding of Sarah Jane Smith which guest stars David Tennant, the preview clip of Dreamland (the new animated Doctor Who adventure), and the upcoming Doctor Who special, Waters of Mars. We even ponder on the upcoming new series starring Matt Smith with Steven Moffat. Plus we touch upon Torchwood as well in this episode.
"It feels different this time."
Doctor Who: Podshock - Episode 169
Running Time: 1:44:39
The 5th Doctor's (Peter Davison) final story, The Caves of Androzani Reviewed, News (Waters of Mars, Dreamland, Gallifrey 21, Second Life, DVD), Feedback, and more.
Hosted by Ken Deep, James Naughton, and Louis Trapani, with Eric Escamilla ( @bullitt33 ).
"Ah, you come to help me find the Zero Room. Welcome aboard."
Doctor Who: Podshock - Episode 168 EXTRA Edition
Running Time: 0:35:40
Picking up from our last episode with a 1985 flashback of Matthew Waterhouse (Adric) speaking about the 5th Doctor's first story, Castrovalva, plus a rare exclusive 1985 interview with then Doctor Who producer, John Nathan-Turner and more.
Hosted by Louis Trapani.