John Barrowman
---
If you only watched 'An Adventure in Space and Time' and 'The Day of the Doctor' anniversary special as part of your 50th anniversary of Doctor Who celebrations, then you're missing out. 'The Five(ish) Doctors' is thirty minutes of fun and delight spearheaded by Peter Davison which chronicles some of the past actors who played the Doctor in their efforts in being included in the Doctor Who 50th anniversary special. It's a real treat for long time fans, that also offers up some delights for new fans. The video is embedded below.
Be sure to catch the latest reviews of Torchwood: Miracle Day on Hitchhiker's Guide to British Sci-Fi. Catching up after Hurricane Irene, we review two episodes, bringing us up to date with the BBC. This Sunday we will be reviewing episode 9 live on the net at 7pm. Join us Sunday and have your say about Torchwood: Miracle Day!
Torchwood: Miracle Day - Episode 7 and 8 "Immortal Sins" and "End of the Road" Reviewed on Hitchhiker's Guide to British Sci-Fi -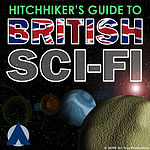 Hitchhiker's Guide to British Sci-Fi - Episode 17
Running Time: 1:20:53
Torchwood: Miracle Day - Episode 7 - "Immortal Sins" and Episode 8 - "End of the Road" reviewed live over the net with your live feedback.
Hosted by Louis Trapani @LouisTrapani and Dave Cooper @daveac and Graeme Sheridan @The2ndDoctor
The latest and to date, the longest (we believe) promo trailer for the new Torchwood: Miracle Day series on Starz coming this summer.
As reported in Doctor Who: Podshock, the Doctor Who spin-off series, Torchwood is being relaunched in the US on the Starz network.
The HollywoodReporter.com has an article reporting that name of the rebooted series in the US is Torchwood: The New World. Like last year's acclaimed Torchwood: Children of Earth I would suppose. It is to be ten episodes which to my understanding are telling a story much the same way as Children of Earth did with its five episodes run.
'Torchwood' gets new title: 'The New World': "Starz' 'Torchwood' reboot will be titled 'Torchwood: The New World' and creator Russell T Davies gave some insight into the storyline.

The new story will follow a CIA agent (Rex) and analyst (Ester) who tackle an alien-related global issue. Torchwood, having been destroyed and disbanded, is 'like a legend now ... it's like something that's ceased to exist and is now spoken of only in whispers.' Soon, Rex and Ester are on the run and are seeking out the help of Captain Jack and Gwen.
Former Doctor Who Executive Producer and Lead Writer, Russell T Davies talks about the new Torchwood series 4 (including the return of 'John Barrow-Man') as well as Doctor Who series 31 starring Matt Smith in this interview from BBC News on 8 June 2010.
BBC Cymru Wales, BBC Worldwide and US premium entertainment network Starz Entertainmenthave today announced a three-way co-production partnership that will develop a new series of the hit BBC sci-fi drama Torchwood. BBC Worldwide will also distribute the series to broadcasters globally. The 10-episode instalment will be written by a team led by Torchwood creator Russell T Davies and produced by BBC Worldwide productions.
According to a Hollywood Reporter article, there may be a new US version of Torchwood coming to Fox. Series creator and producer Russell T Davies along with producer Julie Gardner are to be spearheading the project with executive VP of programming and production at BBC Worldwide Productions, Jane Tranter.
The article suggests that some of the original cast may be onboard the project as well, mainly John Barrowman.
Last week I had the pleasure of being a guest on the Sci-Fi Party Line podcast. I was invited to come on episode 39 of the podcast hosted by Cat ( @fancyfembot ) and Eric Escamilla ( @Bullitt33 ) (we just had Eric on with us in Doctor Who: Podshock 169).
In it, we discuss The Sarah Jane Adventures episode, The Wedding of Sarah Jane Smith which guest stars David Tennant, the preview clip of Dreamland (the new animated Doctor Who adventure), and the upcoming Doctor Who special, Waters of Mars. We even ponder on the upcoming new series starring Matt Smith with Steven Moffat. Plus we touch upon Torchwood as well in this episode.