1st Doctor
---
Perhaps overshadowed by the mini-episode also released by the BBC today is this promo video for 'An Adventure in Space and Time', the new docudrama that chronicles the launch of Doctor Who in 1963.
UPDATE: The docudrama is now available to download from iTunes and Amazon. iTunes: An Adventure in Space and Time - Doctor Who: The 50th Anniversary Collection, Amazon: An Adventure in Space & Time [HD]
(affiliate links).
By now I will assume you have seen the latest episode of Doctor Who, The Angels Take Manhattan. If you have not, you may want to stop reading this until you have because this piece may spoil the episode for you. So consider this a spoiler alert (insert cloister bells here).
In this next to last episode of the year 2012 we see the Ponds for the last time. Amy (Karen Gillan) and Rory (Arthur Darvill) are doomed to live the rest of their lives in Earth's past without any further visits from the Doctor… Or we are led to believe at least. Though never say "never" in Doctor Who as it has been proven time and time again.
What did you think of their farewell?
Traditionally at this time of the year, it is common to look back at the past year before leaping forward into the new year. We'll do one better… actually forty seven better by looking back at the past 48 years of Doctor Who in this timeline infographic. So before you ring in the new year, look back at the past years of your favourite Time Lord in this in-depth overview of the Doctor's adventures through the years on television along with his companions and iconic foes.
Special thanks to James of cabletv.com for allowing us to share this with you.
Doctor Who: Podshock - Episode 262
Running Time: 1:58:24
A classic interview with Peter Davison (the 5th Doctor), Frazer Hines Interview Part 2, news, lost episodes discovered, Doctor WHOlidays, and more! Hosted by Louis Trapani, Ken Deep, Dave Cooper, and Graeme Sheridan.
It is the season of giving and for Doctor Who fans such as ourselves, we have been given a wonderful gift, news of two previously missing episodes which have been recovered! Two classic episodes from the 1960s include one from the William Hartnell era, Episode 3 of Galaxy 4 and from the Patrick Troughton era, Episode 2 of The Underwater Menace were found.
Both were in the collection of one Terry Burnett who had purchased them in the early 1980s and was not aware he had them.
Until now, all four episodes of Galaxy 4 were considered lost. The recovered The Underwater Menace episode originates from Australia's ABC channel which had been censored for broadcast there. The missing bits will be restored to the episode via scans made of them from the National Archives of Australia.
Expect information about a forthcoming DVD release from 2 Entertain sometime in 2012.
There are still missing episodes... Are you a film collector? Please what are you waiting for, check your attic and crawl spaces! What exactly is in that film canister you bought decades ago stored away somewhere? We have to find these lost treasures.
Doctor Who: Podshock - Episode 260
Running Time: 1:40:14
In this episode, we review Doctor Who: The Rescue, Doctor Who news, Frazer Hines interviewed (part 1), and listener feedback with tributes to Elisabeth Sladen and comments from the 2011 series (from Justin, Scott, Brent Johnson, Greg, and more).
Hosted by Louis Trapani ( @LouisTrapani ), Ken Deep ( @kendeep ), James Naughton ( @JamesNaughton ), and Graeme Sheridan ( @The2ndDoctor )
Doctor Who by the numbers… Track the Doctors through time and see how they each fared with viewers. Which Doctors do fans favour? Which episodes were the most viewed? Which episodes are the fans' favourite? How many on-screen adventures did we see for each Doctor? These questions and more are answered and visualized in the inforgraphic below.
(Special thanks to James at cabletv.com for offering us to share this with you).
This time around it is my absolute pleasure to announce something classic series related. The DVD release of 'Reign of Terror' will have missing episodes 4 & 5 animated, in a 'Invasion' similar style.
Doctor Who Monthly has reported via Twitter this morning the sad news of the death of actor Michael Gough. He will be remembered by Doctor Who fans as the Celestial Toymaker in the story of the same name (The Celestial Toymaker) in 1966 with the first Doctor (William Hartnell) and Councillor Hedin in the 1983 story, Arc of Infinity with the fifth Doctor (Peter Davison).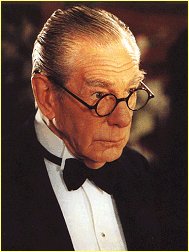 You may also recall him for his parts on the big screen such as the trustworthy butler Alfred Pennyworth in the 1989 Batman film as well as its sequels, Batman Returns (1992), Batman Forever (1995), and Batman & Robin (1997).
Also included in his long list of credits is Sleepy Hollow (1999) playing Notary Hardenbrook.