daveac
---
The Cultdom Collective Podcast is 5 years Old!
A big thank you to all the contributors & listenners of the Cultdom Collective for the last 5 years - and a special thank you to Mr Louis Trapani of Podshock for allowing me a Blog space here and to post our show updates.
It's 5 years since I posted the first update read as follows:
This thread will be used to update everyboby on this Podcast.
For much more background and info on this new podcast checkout the shows blog:-
The Cultdom Chronicles at http://cultdom.com/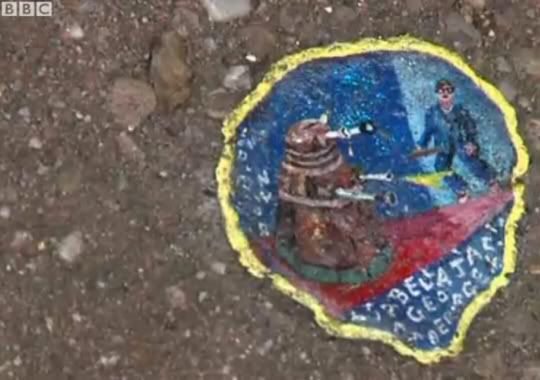 Ben Wilson London based Chewing gum artist Dr Who painting
http://www.bbc.co.uk/news/entertainment-arts-11677462
Cheers, daveac
NOTE - I'm posting this item as a Blog post as it's not strictly a GE topic although it relates to SciFi
The Cultdom Collective Podcast have just done our first Interview Podcast!
Rachel Bloom Blows off Ray Bradbury to get down and dirty with Dave, Ian and Misha. Join us as we chat with the wonderful Comedian gone Viral Video Sensation Rachel Bloom.
Direct link to mp3
The following is reposted from my blog at Art Trap Productions.
Last week I had the privilege of being on and joining my fellow co-host James Naughton on the Cultdom Collective podcast. The episode is a Gallifrey One preview show. Yes, the Doctor Who convention is a year away now at this point, my friends at Cultdom are getting a head start for those planning on attending next February in Los Angeles, CA.
Originally all I had done was record a short comment that was to be played on the show with James. Then the scheduling gods were shinning upon us, because they were recording at a time when I was able to join in on the fun, unbeknownst to James. They were playing my pre-recorded clip I made about meeting James in person for the first time at Gallifrey 20 when suddenly I was on the show myself.
Just a newspaper report on the Hyde Fundraisers Doctor Who Charity event that I posted a couple of YouTube videos on (dac100) and pictures at dac100 PhotoBucket.
Save to see full size:-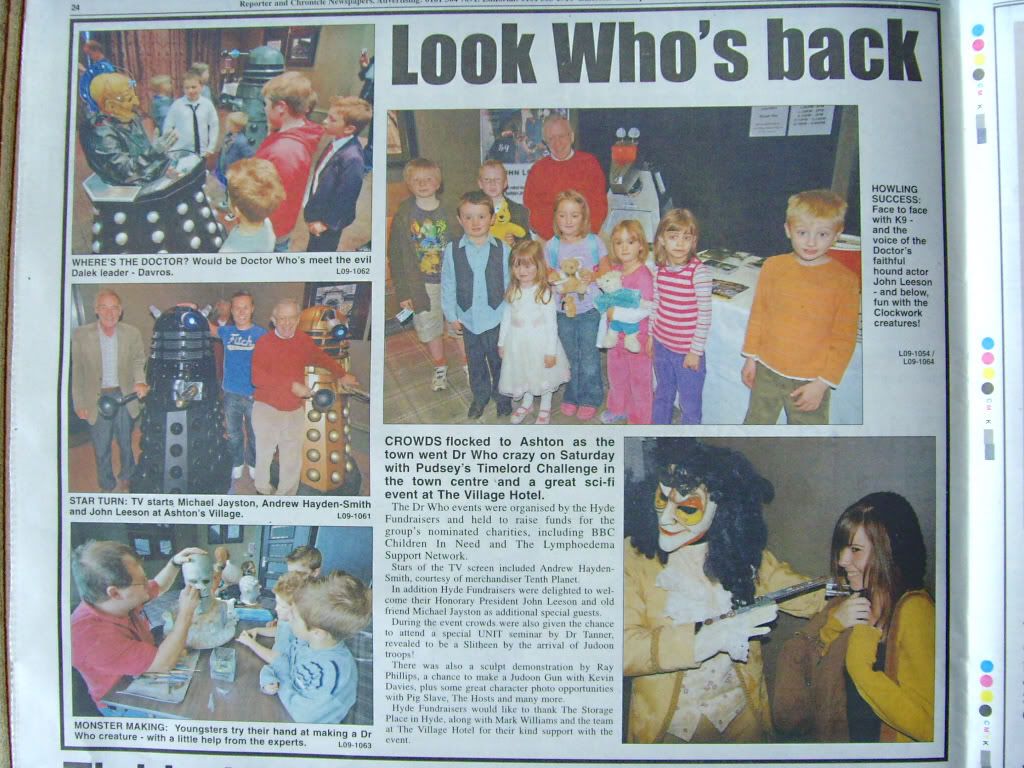 Cheers, daveac
Dave Cooper (left) and James Naughton (right) with a mysterious blue police box at Whooverville 2009.
The Cultdom Collective Podcast Talkshoe ID 54821 with daveac and Ian, The 6th Doctor, is now on iTunes - subscribe - http://tinyurl.com/nvgkxb
Cheers, daveac
We are coming 4! The Cultdom Collective Podcast starts Sunday 2nd August 2009 on Talkshoe ID 54821 with daveac and Ian, The Sixth Doctor.
Cheers, daveac and Ian