4th Doctor
---
Traditionally at this time of the year, it is common to look back at the past year before leaping forward into the new year. We'll do one better… actually forty seven better by looking back at the past 48 years of Doctor Who in this timeline infographic. So before you ring in the new year, look back at the past years of your favourite Time Lord in this in-depth overview of the Doctor's adventures through the years on television along with his companions and iconic foes.
Special thanks to James of cabletv.com for allowing us to share this with you.
Doctor Who: Podshock - Episode 262
Running Time: 1:58:24
A classic interview with Peter Davison (the 5th Doctor), Frazer Hines Interview Part 2, news, lost episodes discovered, Doctor WHOlidays, and more! Hosted by Louis Trapani, Ken Deep, Dave Cooper, and Graeme Sheridan.
Doctor Who by the numbers… Track the Doctors through time and see how they each fared with viewers. Which Doctors do fans favour? Which episodes were the most viewed? Which episodes are the fans' favourite? How many on-screen adventures did we see for each Doctor? These questions and more are answered and visualized in the inforgraphic below.
(Special thanks to James at cabletv.com for offering us to share this with you).
Today marks one week since the unbelievable news broke that we lost Elisabeth Sladen (Sarah Jane Smith) to cancer. The BBC had dedicated this past Saturday's transmission of Doctor Who: The Impossible Astronaut (the premiere episode of the new 2011 series) to her and afterwards there was a 12 minute piece on CBBC titled, My Sarah Jane: A Tribute to Elisabeth Sladen which if you saw it, I'm sure it didn't leave you with a dry eye. In it, many of her co-stars spoke about their time working with her including David Tennant and Matt Smith. The day after she passed, another Doctor actor had his say as well.
Tom Baker, the 4th Doctor in Doctor Who shares some of his memories and feelings after the passing of co-star, Elisabeth Sladen last week.
Tom Baker Newsletter | Latest news | Lis Sladen | Sarah Jane: "Sarah Jane dead?  No, impossible!  Impossible.  Only last week I agreed to do six new audio adventures with her for Big Finish Productions.
Late last night Big Finish felt confident enough to announce that Tom Baker would be following Colin Baker into Big Finish Audio, as the Doctor. For months it has been a sort of conformation, with Big Finish it's self and more appropriately Nick Briggs himself not wanting to say anything, as dealing in the past had only been a source of spot by Tom.
The details are as follows, "Tom Baker will be playing the Fourth Doctor in a number of audio adventures for Big Finish, to be released from the beginning of 2012. Storylines and scripts are already at an advanced stage, and we plan to start recording early in the summer."
If you enjoyed our discussion on the ins and outs of building your own TARDIS (Police Box) in Doctor Who: Podshock 230 with special guests, the crew from The Happiness Patrol podcast, check out the latest episode of their podcast (The Happiness Patrol 47) in which I was invited on to talk about another Doctor Who icon, scarves!
Read my recent blog entry on ATP about it:
Come On, Get Happy! I'm on The Happiness Patrol! -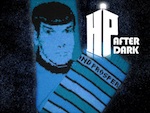 For what feels like for the longest time, we have been trying to get Lewis Bailey to join us on an episode Doctor Who: Podshock. Lewis does a podcast called The Happiness Patrol @TheHPatrol along with Dale Who @FishCustard2010 , Tara Wheeler @TARDIS_Tara (who you may also know as a Corespondent for Doctor Who: Podshock), and Lela Sandstrom @LelaSandstrom, due to scheduling reasons it never worked out. He has been also trying to get me on The Happiness Patrol as well for a while and for the same reason, it hadn't worked. Although we had Lewis on an episode in a recorded segment at the Doctor Who: Podshock 5th Anniversary Event we held last August as well on an episode from Gallifrey 21 last February in Los Angeles at our Meet & Greet Event there, this is the first time we have him on our show in a studio setting for Doctor Who: Podshock - Episode 230 along with Dale, Tara, and Lela. Not only is The Happiness Patrol in the latest episode of DWP, but I am in the latest episode of The Happiness Patrol as well!
The Seeds of Doom DVD release is one that is extra special for Doctor Who: Podshock. You will know why when you view the extras included in the release. Here is promo video for the upcoming Tom Baker as the 4th Doctor DVD title.
(via David Lewis @Doctor_No1 and TemporalOrbit)
"Our lives are different to anybody else's. That's the exciting thing, that nobody in the universe can do what we're doing."
Doctor Who: Podshock - Episode 221
Running Time: 1:25:46
We interview Deborah Watling (Victoria Waterfield) and director Graeme Harper, plus 2011 will bring 2 series of Doctor Who instead of 1 but no Daleks, Sylvester McCoy in The Hobbit, Live coverage from Doctor Who: Podshock's 5th anniversary celebration with Lewis Bailey (The Happiness Patrol Podcast) and Terry Lighfoot (The DirtyWhoers podcast), Gallifrey update and convention reports, Tom Baker returns again as the 4th Doctor, and more.
Hosted by Louis Trapani ( @LouisTrapani ), Ken Deep ( @kendeep ), and James Naughton ( @JamesNaughton ).
5 TARDIS Groans
44% (7 votes)
4 TARDIS Groans
38% (6 votes)
3 TARDIS Groans
19% (3 votes)
2 TARDIS Groans
0% (0 votes)
1 TARDIS Groan
0% (0 votes)
0 TARDIS Groans
0% (0 votes)
Total votes: 16
More news coming out concerning the 2011 Doctor Who series (or set of series as it is now) is that we may get a reprieve from the Daleks stories. This according to what executive producer and lead writer Steven Moffat hinted at the Edinburgh TV Festival:
Moffat: 'No Daleks in next Who series' - Digital Spy:

"Speaking at the Edinburgh TV Festival, the Who showrunner admitted that there are currently no plans for the famous aliens to reappear, although work on the 2011 series is not yet complete.