Tom Baker
---
Doctor Who: Podshock Correspondent Dave Cooper @daveac had tweeted he was listening to episode 7 of "Doctor Who and The Brain of Morbius" on BBC7 radio on Saturday.
Episode 7, Dave? What of the episodes 1-6? Not a post here about it, Dave? Oh well.
This episode went out on BBC7 on Friday, 23rd April 2010 at 9:30am BST. It is available to listen to via the BBC iPlayer (without location restrictions) for the week (6 days left at the time of this posting).
As the first commenter says, this is just wrong. But it's still pretty cool.
http://niccageaseveryone.blogspot.com/2010/01/nic-cage-as-dr-who.html
You can listen to today's BBC Radio 4 show "Shelved" on the net for the next 7 days. The 30 minute show recalls how some of the most popular shows from the late 1970's never made it to transmission, including The Professionals, Secret Army, and of course Doctor Who: Shada. Shaun Ley hosts with comments from Tom Baker.
"One day I shall come back. Yes, I shall come back…"
Doctor Who: Podshock - Episode 172 EXTRA Edition
Running Time: 1:44:51
We review all 10 Doctor's eras of Doctor Who in this Deca-Doctor Special of Doctor Who: Podshock. As we approach the new 11th Doctor era, we review where we came from with the previous 10. Included are interviews we conducted over the years with various actors to play the Doctor (including Patrick Troughton, Jon Pertwee, Peter Davison, Colin Baker, Sylvester McCoy, Paul McGann), some of which have never been featured on Doctor Who: Podshock before.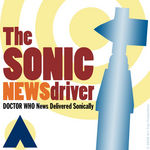 The Sonic Newsdriver 20091113
Selected Doctor Who related news delivered sonically.
For Earth-date: Friday, the 13th of Nov. 2009
Number 9… Number 9… Number 9…, Number 6… Number 6… Number 6…, Tom Baker on the New Series, I am the Fleshcreep Whether You Like it or Not, Remember - Get a Life, and more.
Hosted by Louis Trapani
"It's the end, but the moment has been prepared for…"
Doctor Who: Podshock - Episode 165
Running Time: 1:47:14
Thoughts on the passing of Barry Letts, News, Logopolis (final Tom Baker story) Review, Hitchhiker's Guide to the Whoverse #5, Jarrod Cooper updates us on Hurricane Who.
Hosted by Louis Trapani and Ken Deep, with David Hooie.
"You may be a doctor. But I'm the Doctor. The definite article, you might say."
Doctor Who: Podshock - Episode 164
Running Time: 1:28:03
News and we review Robot, Tom Baker as the 4th Doctor first Doctor Who story.
Hosted by Louis Trapani, Ken Deep, and James Naughton with Joshua Lou Friedman.
A few months ago, you may have read my post regarding Who York, and some of DWNY's exciting plans to create Doctor Who events and conventions in New York City. Well, the first of those plans has now come to fruition, with the announcement of the first Who York Event - A Who York Evening with..... Louise Jameson, who played Leela with the 4th Doctor.

"I love humans. Always seeing patterns in things that aren't there."
Doctor Who: Podshock - Episode 162
Running Time: 1:17:09
Part 2 of our in-depth interview with Gary Russell, plus Jules Burt (Rise of the Cybermen & Age of Steel) returns to Doctor Who: Podshock with his newlywed wife, Wendy.
Hosted by Louis Trapani and Ken Deep.
A younger Ken Deep with Tom Baker at WLIW. (December 1990)