David Tennant
---
If you missed seeing it on stage, now you can catch it on PBS in the US tonight. David Tennant and Patrick Stewart in the Shakespeare classic, Hamlet.
David Tennant plays Hamlet and Patrick Stewart is Claudius star in this production of Hamlet which is airing tonight (Wednesday, 28 April 2010) across PBS stations in the US on the Great Performances series at 8pm (check your local listing for dates and times). In the New York area, that means WNET, channel 13 tonight and on WLIW, channel 21 on Sunday, 2 May 2010.
Doctor Who comics are resurgent in North America right now, thanks to the efforts of IDW Publishing, with their Doctor Who ongoing comic, and their wonderful reprints of Doctor Who Classics which you can order at your local comic book store, amazon.com, or via their website - http://idwpublishing.com
More from the BBC Radio 4 iPlayer, which we seem to be able to access here in the US!
Front Row, 7.15-7.45pm

Mark Lawson has the verdict on film The Lovely Bones, directed by Peter Jackson and adapted from the novel by Alice Sebold; David Hare talks about his new radio drama Murder in Samarkand, in which David Tennant plays Craig Murray, former ambassador to Uzbekistan, to be broadcast on Radio 4 Saturday 21 February.
A new unopened copy of Doctor Who: Planet of the Dead on Blu-Ray disc (US) starring David Tennant and Michelle Ryan will be given to a randomly chosen current Podshock Supporting Subscriber.
We will announce who the disc will be going to at our upcoming Gallifreyan Embassy / Doctor Who: Podshock Meet Up on Second Life on the 20th of February (you need not be present to receive the disc).
This 10th Doctor special, originally transmitted in April 2009 is the first Doctor Who television episode offered in high definition (1080i). It also contains the 60 minute behind-the-scenes Doctor Who: Confidential episode. Note: This is a US version of the Blu-ray disc.
We are giving away a copy of Doctor Who: Planet of the Dead on Blu-ray (US) to a Podshock Supporting Subscriber at our Second Life Meet Up on the 20th of February.
For more information see: Planet of the Dead Blu-Ray Going to a Supporting Subscriber
Update: The disc is going to Helen Lesser! See: Planet of the Dead Blu-Ray Goes to Helen Lesser
"Before I go, I just want to tell you: You were fantastic. Absolutely fantastic. And do you know what?… So was I!"
Doctor Who: Podshock - Episode 182
Running Time: 1:59:23
The Parting of the Ways reviewed (again), Gallifrey 21 Update, news, and more.
Hosted by Louis Trapani, James Naughton, Ken Deep, and Cat @FancyFemBot
According to a recent blog post on the Entertainment Weekly (EW) website, NBC may be putting the new series starring David Tennant, Rex Is Not Your Lawyer on hold.
We originally reported that the series had been green lighted in November. According to the piece in EW, it was to possibly fill the holes left by Jay Leno's 10pm slot this spring, but now, "the sets are coming down this week" for it according to an EW source.
It stated that NBC declined to comment, but states that the series will remain for consideration for the autumn television schedule line up.
Also see: David Tennant to Star in American TV Pilot
Source: Exclusive: 'Rex Is Not Your Lawyer' DOA at NBC? - EW.com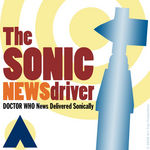 The Sonic Newsdriver 20100121
Selected Doctor Who related news delivered sonically.
For Earth-date: Thursday, the 21st of Jan. 2010
Carrying the Torch for the US, Help Wanted at The Sarah Jane Adventures, And The Awards Go To, David Tennant is Out of 'Burke and Hare', Colin Baker on David Tennant's Leaving, Mum's the Word, Addressing the Dress, and more.
Hosted by Louis Trapani