David Tennant
---
Something cheerful as a follow-up to "Single Father." Hooray!
David Tennant to star in Manchester
United plane crash drama
David Tennant is to star in a new BBC drama about Manchester United and a plane crash that killed eight of the team's players in 1958
BBC Radio 4 continues to deliver aural gifts to us, license fee be damned!
"Playing the Dane" is a reflection on different interpretations of Hamlet narrated by the amazing Michael Sheen (fleetingly quoting Richard Griffiths' "I shall never play the Dane!," much to my unending delight!), with comments from actors as diverse as David Tennant, Derek Jacobi and John Simm. And people who were never Timelords, like Kenneth Branagh and Jonathan Pryce.
Speak the speech I pray you!
Sonic Newsdriver (16 October 2010) -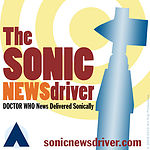 The Sonic Newsdriver 20101016
Selected Doctor Who related news delivered sonically.
For Earth-date: Saturday, the 16th of Oct. 2010

A double length show featuring breaking news of Gallifrey 22 with special guest Shaun Lyon of the Gallifrey One conventions, plus talkin' about my regeneration, don't cross the streams, born in the USA, Tennant trending, what's wrong with my voice, gossiping Gaiman, heard it was your birthday, hello? hello?, Wiiiii have a date, Who is watching you?, NYCC tops 95000, Party with Daphne Ashbrook, and more!
After showering and cutting my hair (and worrying if I had cut it too short), I was pretty much set for another all-nighter editing Doctor Who: Podshock 224. Then to my surprise, I received an invite via Twitter from (DWP Correspondent) Tara Wheeler @TARDIS_Tara to join her and others to listen to David Tennant on Absolute Radio in the UK. Tara said they were all "dancing." This must had been around 1:30 AM (EDT).
Ok, I could do that. I hadn't heard David Tennant interviewed since his returning to the UK after working here in the States. I figured I would pop over to the live streaming audio of the radio station with the simultaneous webcam view (when it wasn't failing) and see what David Tennant had to say in what I assumed would be a quick interview.
Little did I know once I got there, there was no Mr. Tennant to be found. One of the webcams had a view of an empty chair. So I assumed since they had been dancing before, I must had just missed his interview. I was about to say, "Oh well" and get back to work when I was informed that he had yet to come on. That they were still waiting for him.
This for some reason did not get as much news coverage as one would had thought. From all indications, there was a regeneration at 10 Downing Street right in the middle of an interview being recorded.
(via Cindy Hand)
Below is the trailer from the BBC for the Autumn winter series it has 3 Doctors (all new series Doctors at that) and the other drama Matt Smith worked on also gets a quick clip. The trailer is not region locked so enjoy. (Spoilers are minimal, showing mostly actors and nothing much else)
"Hold on there, old guy, Chang Lee will help you out."
Doctor Who: Podshock - Episode 222
Running Time: 1:50:32
Interview with Yee Jee Tso (Chang Lee in the 1996 movie), Tara Wheeler talks about tracking down David Tennant, Billy Davis files a report from Dragon*Con with Frazer Hines, Doctor Who: The Forgotten Army and Doctor Who: Podshock in New York City, join us for the next 25th anniversary event for the Gallifreyan Embassy, and more. Dedicated to the memory of David Jennings ("Adric Antfarm").
Hosted by Louis Trapani ( @LouisTrapani ), Ken Deep ( @kendeep ), with Tara Wheeler ( @TARDIS_Tara ).
Doctor Who has won Best Family Drama by the TV Choice Awards 2010. Karen Gillan (Amy Pond) and Steven Moffat (Lead Writer and Executive Producer) were there in person at the ceremony Monday evening hosted by Alexander Armstrong (voice of "Mr. Smith" on The Sarah Jane Adventures).
This comes on the heels of another award granted to Doctor Who, this time a Hugo Award for Best Dramatic Presentation (Short Form) for last year's Doctor Who special, The Waters of Mars
(Amazon US link).
Out of the handful of Doctor Who specials transmitted last year, I enjoyed Waters most.
Paul Cornell was at the Hugo Awards ceremony presenting an award.
Congratulations all around!