Matt Smith
---
A special Announcment from the BBC.
A special, one-off mini-episode of Doctor Who starring Eleventh Doctor Matt Smith will be shown on BBC Three this Autumn.
Doctor Who returns on Saturday, 27 August 2011 both on the BBC in the UK and BBC America in the USA. Executive Producer and Lead Writer for the series, Steven Moffat had the following to say about the resumption of the 2011 series in the latest from the BBC Press Office. Some may consider some of this to be a little "spoilery" — so be warned if you rather not know any details about the upcoming episodes for 2011.
What do you think of the Doctor's long coat in the promo image?
I'm not sure how long this will remain watchable but enjoy while it does.
Doctor Who: Podshock - Episode 252
Running Time: 1:29:27
Our coverage of San Diego Comic Con 2011 with Tara Wheeler.
Hosted by Louis Trapani ( @LouisTrapani ), Ken Deep ( @kendeep ), Tara Wheeler ( @TARDIS_Tara )
SDCC Reddit questions with Matt Smith and Karen Gillan.
We're still not sure as to when the second half of Series 6 will start, the hint from BBC America is The 27th of August, but the trailer has been released, so get your pause buttons ready for analasis!
Once again, Craig Ferguson welcomes Doctor Who guests on his US late night chat show, The Late Late Show with Craig Ferguson. This coming week we have both Matt Smith and Karen Gillan lined up to appear on his show, but not on the same night. It's Monday night's show for Matt* and Tuesday for Karen… *Maybe. I say maybe because according to the show's CBS website of this week's guests, it has Matt scheduled for Friday at the time of this writing. According to my DVR though, he's on for Monday night's show, so I would advise recording Monday night's show just to play it safe. If Matt is not on it, be sure to set your DVR for Friday. Remember when it comes to setting your DVR, since the show is at 12:35 am, it's after midnight, so techincally, it's the next day. Depending on your DVR, you may need to go Tuesday, July 26th at 12:35 am to find Monday night's show and to Wednesday, July 27th at 12:35am to find Tuesday night's show.
Both are "in town" so to speak -- well at least in CA for San Diego Comic Con taking place now.
Matt Smith appeared on a TV Guide Fan Favorite panel at San Diego Comic Con currently underway in Califronia, USA. On the panel, he mentioned in reference to the episode, A Good Man Goes to War that he thought the Doctor would had caught on sooner who River Song really was and he also mentioned that is all-time favorite Doctor is Patrick Troughton, the 2nd Doctor.
'Doctor Who': Matt Smith tells Comic-Con about 'Let's Kill Hitler' and River Song payoff - From Inside the Box - Zap2it: "The real "Doctor Who" fun doesn't start at Comic-Con until Sunday (July 24), when stars Matt Smith and Karen Gillan join writer (and "Being Human" creator) Toby Whithouse and executive producers Piers Wenger and Beth Willis for a panel in Hall H.

But that didn't stop Smith from making an early appearance at the TV Guide Fan Favorite panel, where he slipped a few teases about the upcoming second half of Season 6 and indulged in a little time travel fantasizing.

When asked about his favorite episode in his two-year tenure as the Doctor, he confessed that it's still to come. "The next episode... 'Let's Kill Hitler,'" says Smith. "[Creator] Steven [Moffat] is in fine form, and there's a great monster, which is important.""

(Via Zap2it - Read the rest of the article here)
Hold tight for the next DW: Podshock episode coming soon… in the meantime, there's a new episode of The Sonic Newsdriver out today filled with Doctor Who, Torchwood, and related news.
Sonic Newsdriver (8 July 2011) - Doctor Who News -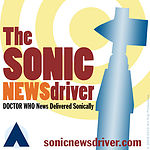 The Sonic Newsdriver 20110708
Selected Doctor Who related news delivered sonically.
For Earth-date: Friday, the 8th of July 2011
In this episode: Torchwood Comes to Starz on Friday, John Barrowman as the Doctor, Speaking of Kilts, A Doctor - Not The Doctor in Torchwood, Great Leaping Doctors - Batman, Farewell to Beth Willis, Doctor Who is on for 2012 or is it and more!
Hosted by Louis Trapani • @LouisTrapani
Doctor Who: Podshock - Episode 250
Running Time: 2:11:50
We review the Spring 2011 series of Doctor Who and celebrate the 26th anniversary of the Gallifreyan Embassy live over the net with live and recorded listener feedback (Brent Johnson, Kobo4747, Stuart Natelson, Adam Pearson, Michael, Carl, D Scott 750).
Hosted by Louis Trapani ( @LouisTrapani ) and Dave Cooper ( @daveac )