Russell T Davies
---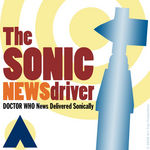 The Sonic Newsdriver 20091023
Selected Doctor Who related news delivered sonically.
For Earth-date: Friday, the 23rd of Oct. 2009
A Glimpse of the New TARDIS Interior, David Tennant Up for BAFTA Scotland Award, RTD Calls for Champion Children's TV, Sarah Jane Adventures Series 3 Underway, Tennant and Sladen Dumped From Radio Times Cover, Blue Peter Says Design Your Own TARDIS Console, BBC iPlayer Goes International at a Price, Catch Doctor Who: Podshock 165, and Get Your Sonic Gear, plus more!
Hosted by Louis Trapani
I have no idea why, but wired.com had this video on their site today. It features David Tennant and Russell T Davies at San Diego Comic Con talking about Doctor Who and in particular some of the difficulties they had with the bus in the then most recent special, Planet of the Dead.
While listening to TARDIS Tara's semi-live Comic-Con reports Podshock Episode 157, and reading and hearing various other reports on the Doctor Who panel, one comment really stood out in my mind. That was Julie Gardner's comment on what made her fall in love with Doctor Who. She reported that the first story that Russell showed her when they started work on the series was the Season 17 story "City of Death", and from that moment she said she has been a confirmed fan.
"Renewed? Have I? That's it, I've been renewed. It's part of the TARDIS. Without it I couldn't survive."
Outpost Gallifrey Presents:
Doctor Who: Podshock - Episode 157
Running Time: 1:26:39
Quasi-live coverage of San Diego Comic Con 2009, 11th Doctor's New Threads and New TARDIS, Special Reports from Tara Wheeler at SDCC, Jarrod Cooper of Hurricane Who interviewed, and more.
Hosted by Ken Deep, James Naughton and Louis Trapani.
After the Doctor Who panel ended, I hauled butt over to the Sails Pavillion, where my Darlng Husband had run through multiple lines to get me a ticket for the autograph session and saved me a place in line.
There were wild rumors that David Tennant would take part in this session and Murray Gold had hinted on Twitter that he might also take part in it.
But no. Euros Lyn, Julie Gardner and Russell T. came in after about an hour's wait.
Thanks to the DH, I was right up in front of the line and had a moment or two to trade comments with RTD.
Of course, I have my own agenda, and asked him, as he'd just claimed that Four was *his* Doctor, why the BBC no longer distributes Doctor Who Scarf patterns.
He'd had no idea and offered to look into it. I gave him my card.
Please Note: There will be spoilers in this blog entry if you haven't seen the UK press in the last week, or the reports out of San Diego Comic-Con.
The last week has been a fantastic time to be a Doctor Who fan - and the proof of how great this show is, could be seen in the thousands of screaming fans in San Diego yesterday morning, as the celebrated the coming end of an era - And what a ride that ending looks like its going to be. Frights on Mars with water and who knows what else, and then "The End of Time" itself, with Wilf, Donna, the Master, Timothy Dalton and the last days of Planet Earth!!!! It all looks very dark indeed! Whatever happened to Russell's promise not to scare the kids on Christmas Day??!!!!
The Sonic Newsdriver 20090717
Selected Doctor Who related news delivered sonically.
For Earth-date: Friday the 17th of July 2009
In this episode: Mars is the Place to Be, Torchwood Week in America, Russell T Davis is Coming to America, Look Closely at the Torchwood Ratings, One of These Days Alice, A Fabulous Idea, McCoy Lends His Support, Doctor Who: Podshock 156 Coming Soon, and Get Your Sonic Gear, plus more!
Hosted by Louis Trapani
UK News is reporting Russell T Davies is leaving for America. The article is proclaiming uncertainty over the Doctor Who spin-off shows he had spearheaded with his relocating to Hollywood, CA. Russell T Davies says in the article:
"I haven't planned anything, all my furniture is now there and I'm just going to start writing."

"It will take years to get anything made out there. It's going to be difficult, so new and so brilliant. I will learn from people and bring it back here one day. It's a big adventure and a lot of fun."
John Barrowman is very disappointed with having Torchwood usual 13 episode series cut down to only 5 episodes this year he told The Radio Times reports BBC News.
"The decision was made to go to BBC One and then we were cut - from 13 episodes down to five."
The Stage (thestage.co.uk) has announced this week to be "Torchwood Week" in their TV Today blog. The week-long series focused on Torchwood starts off with a first part of two interview with the series creator, Russell T Davies.