logo
---
2010 marks the 25th Anniversary of the Gallifreyan Embassy. Join as we celebrate 25 years of Time and Relative Dimensions in Space!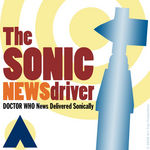 The Sonic Newsdriver 20091006
Selected Doctor Who related news delivered sonically.
For Earth-date: Tuesday, the 6th of Oct. 2009
Special quick episode announcing the new Doctor Who logo and location photos, Catch Doctor Who: Podshock 163 and soon 164, and Get Your Sonic Gear, plus more!
Hosted by Louis Trapani
Fantastic! I love it.
55% (24 votes)
I'm sticking with the old logo.
7% (3 votes)
It's growing on me.
27% (12 votes)
I am not sure yet.
11% (5 votes)
Total votes: 44
The BBC has revealed the latest incarnation of the Doctor Who logo on the official website ushering in a new era of Doctor Who with Matt Smith as the 11th Doctor and Steven Moffat as Executive Producer and Lead Writer.
A new Doctor Who logo is to be revealed on Tuesday at 8am BST (UK time) on the BBC Doctor Who website. We had been expecting this to come with the new series starring Matt Smith. Internally the new series is being reset to series 1. It is a fresh new start for Doctor Who once again, a new logo seemed only natural.
The logo has changed numerous times over the last 46 years. We seen changes from the Hartnell era to Troughton to Pertwee (first time in colour and instead of just standard type, it uses a custom font). The final season of Jon Pertwee introduced the diamond logo which was used through Tom Baker's era until John-Nathan Turner refreshed it with a neon style logo. It was updated once again several years later when Sylvester McCoy took the role.
The Gallifreyan Embassy logo.