San Diego Comic Con
---
Doctor Who: Podshock - Episode 252
Running Time: 1:29:27
Our coverage of San Diego Comic Con 2011 with Tara Wheeler.
Hosted by Louis Trapani ( @LouisTrapani ), Ken Deep ( @kendeep ), Tara Wheeler ( @TARDIS_Tara )
In the next Doctor Who: Podshock, look forward to our full coverage of San Diego Comic-Con, it will be coming soon to our feeds and to iTunes. In the meantime, the latest Hitchhiker's Guide to British Sci-Fi is now available reviewing episode 2 of Torchwood: Miarcle Day. See the links below for details.
Torchwood: Miracle Day - Episode 2 "Rendition" Reviewed on Hitchhiker's Guide to British Sci-Fi -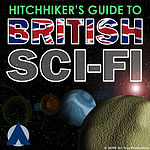 Hitchhiker's Guide to British Sci-Fi - Episode 12
Running Time: 1:43:41
Torchwood: Miracle Day - Episode 2 - "Rendition" reviewed live over the net with your live feedback including Benjamin Elliott, Darth Skeptical, Tim Drury, and Mark Goodarce).
Hosted by Louis Trapani @LouisTrapani , Dave Cooper @daveac , and Graeme Sheridan @The2ndDoctor
From San Diego Comic Con, a preview of Toby Whithouse's upcoming Doctor Who episode.
SDCC Reddit questions with Matt Smith and Karen Gillan.
Once again, Craig Ferguson welcomes Doctor Who guests on his US late night chat show, The Late Late Show with Craig Ferguson. This coming week we have both Matt Smith and Karen Gillan lined up to appear on his show, but not on the same night. It's Monday night's show for Matt* and Tuesday for Karen… *Maybe. I say maybe because according to the show's CBS website of this week's guests, it has Matt scheduled for Friday at the time of this writing. According to my DVR though, he's on for Monday night's show, so I would advise recording Monday night's show just to play it safe. If Matt is not on it, be sure to set your DVR for Friday. Remember when it comes to setting your DVR, since the show is at 12:35 am, it's after midnight, so techincally, it's the next day. Depending on your DVR, you may need to go Tuesday, July 26th at 12:35 am to find Monday night's show and to Wednesday, July 27th at 12:35am to find Tuesday night's show.
Both are "in town" so to speak -- well at least in CA for San Diego Comic Con taking place now.
Matt Smith appeared on a TV Guide Fan Favorite panel at San Diego Comic Con currently underway in Califronia, USA. On the panel, he mentioned in reference to the episode, A Good Man Goes to War that he thought the Doctor would had caught on sooner who River Song really was and he also mentioned that is all-time favorite Doctor is Patrick Troughton, the 2nd Doctor.
'Doctor Who': Matt Smith tells Comic-Con about 'Let's Kill Hitler' and River Song payoff - From Inside the Box - Zap2it: "The real "Doctor Who" fun doesn't start at Comic-Con until Sunday (July 24), when stars Matt Smith and Karen Gillan join writer (and "Being Human" creator) Toby Whithouse and executive producers Piers Wenger and Beth Willis for a panel in Hall H.

But that didn't stop Smith from making an early appearance at the TV Guide Fan Favorite panel, where he slipped a few teases about the upcoming second half of Season 6 and indulged in a little time travel fantasizing.

When asked about his favorite episode in his two-year tenure as the Doctor, he confessed that it's still to come. "The next episode... 'Let's Kill Hitler,'" says Smith. "[Creator] Steven [Moffat] is in fine form, and there's a great monster, which is important.""

(Via Zap2it - Read the rest of the article here)
Those of you lucky enough or ahem brave enough to go to SDCC (San Diago Comic Con) can get this exclusive from Underground Toys, River Song with Pandorica Chair. As to whether it will fit together with last years Pandorica sides which housed a free cd, is anybodys guess.
But it's not the only new piece of new kit from Underground Toys/Character Options, these fortunately aren't exclusives. To this there are Errrrrr.... Cuddly Daleks? yes that's right Soft Daleks which come in red or blue. But that's not all to that a Cuddly TARDIS, both the Daleks and TARDIS have sound and the Tardis's lamp light up as well.
"I see, you're one of those boring maniacs who's going to gloat. Are you going to tell me your plan for running the universe?"
Doctor Who: Podshock - Episode 215
Running Time: 1:41:54
Doctor Who: Robots of Death reviewed, Joshua Lou Friedman is back with us talking about his latest film project Bulla and his trip to the UK, Tara Wheeler reports in from San Diego Comic Con, Congratulations to Robin Dal Pozzo McVay, news, and more!
Hosted by Louis Trapani, Ken Deep, James Naughton, and Joshua Lou Friedman.
I have no idea why, but wired.com had this video on their site today. It features David Tennant and Russell T Davies at San Diego Comic Con talking about Doctor Who and in particular some of the difficulties they had with the bus in the then most recent special, Planet of the Dead.
BBC America announces the U.S. premiere of Doctor Who featuring Matt Smith as the 11th Doctor.
On the heels of returning from San Diego Comic Con where BBC America saw a strong reception to its Doctor Who programming and panels (including appearing in person, David Tennant, John Barrowman, and Russell T Davies), and with the strong ratings that the recent airing of Doctor Who: Planet of the Dead brought in, BBC America has announced the acquisition of 13 episodes of the new upcoming Matt Smith as the 11th Doctor series. The new series shot in HD will be shown on BBC America shortly after the UK in the second quarter of 2010.