actor
---
Doctor Who: Podshock - Episode 323
Running Time: 0:59:22
Interviews with writer and creator of the Daleks, Terry Nation, and actor Mark Strickson (Vislor Turlough in Doctor Who), and more. Hosted by Louis Trapani.
Doctor Who: Podshock - Episode 302
Running Time: 1:04:11
We have a classic interview with Doctor Who stuntman, fight arranger, and actor Terry Walsh, plus news, your feedback, and more. Hosted by Louis Trapani.
By now I will assume you have seen the latest episode of Doctor Who, The Angels Take Manhattan. If you have not, you may want to stop reading this until you have because this piece may spoil the episode for you. So consider this a spoiler alert (insert cloister bells here).
In this next to last episode of the year 2012 we see the Ponds for the last time. Amy (Karen Gillan) and Rory (Arthur Darvill) are doomed to live the rest of their lives in Earth's past without any further visits from the Doctor… Or we are led to believe at least. Though never say "never" in Doctor Who as it has been proven time and time again.
What did you think of their farewell?
Richard E. Grant has been cast in the upcoming 2012 Doctor Who Christmas special. The news came from a tweet from Doctor Who Magazine today. It's interesting to see an official-unofficial past Doctor actor return to the series. You may recall that Richard E. Grant was the original 9th Doctor in the Scream of the Shalka, a story written by Paul Cornell. This animated adventure was produced prior to the television series being relaunched in 2005. We reviewed Scream of the Shalka not too long ago in Doctor Who: Podshock 267. In it, we discussed Richard E. Grant's portrayal of the Doctor and how Scream was the forerunner of Rose.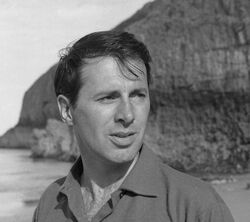 It saddens me to say that we've lost another Doctor Who vetran. Peter Halliday passed way on the 19th of February. It's taken a while for the information to filter out, Peter for most shall be remembered as the unfortunate, violence happy Packer in The Invasion along side Patrick Troughton and Kevin Stoney. But it was not to be his only role, he also did voices for The Silurians and Ambassadors of Death in Jon Pertwee's 1st full Season. Then going on to star as Plectrac in Carnival of Monsters.
Later he appeared along side Tom Baker in the City of Death, as a soldier, and finally along side Sylvester McCoy in Remembrance of the Daleks as the Vicar in the closing moments of Episode 4.
Today marks the 29th birthday of the youngest actor to play the lead role in Doctor Who, the 11th and current Doctor... Matt Smith. So a big spirited happy birthday wish goes out to Matt who is big spirited himself.
Now I believe he is at the age that Peter Davison was when he took on the role, the previous title holder for youngest actor to play the role in the series. Smith was still 27 when we met and interviewed him in April 2010 which is when I took these photos here of him.
Once again, Craig Ferguson welcomes Doctor Who guests on his US late night chat show, The Late Late Show with Craig Ferguson. This coming week we have both Matt Smith and Karen Gillan lined up to appear on his show, but not on the same night. It's Monday night's show for Matt* and Tuesday for Karen… *Maybe. I say maybe because according to the show's CBS website of this week's guests, it has Matt scheduled for Friday at the time of this writing. According to my DVR though, he's on for Monday night's show, so I would advise recording Monday night's show just to play it safe. If Matt is not on it, be sure to set your DVR for Friday. Remember when it comes to setting your DVR, since the show is at 12:35 am, it's after midnight, so techincally, it's the next day. Depending on your DVR, you may need to go Tuesday, July 26th at 12:35 am to find Monday night's show and to Wednesday, July 27th at 12:35am to find Tuesday night's show.
Both are "in town" so to speak -- well at least in CA for San Diego Comic Con taking place now.
The original voice of the Daleks Roy Skelton has passed away at the age of 79 after suffering a stroke.
He was also know for providing the voices to the British ITV kids Programme "Rainbow" where his voice talents were used for the Puppets Zippy and George.
A short bio follows taken from "The Manchester Evening News"
Today marks one week since the unbelievable news broke that we lost Elisabeth Sladen (Sarah Jane Smith) to cancer. The BBC had dedicated this past Saturday's transmission of Doctor Who: The Impossible Astronaut (the premiere episode of the new 2011 series) to her and afterwards there was a 12 minute piece on CBBC titled, My Sarah Jane: A Tribute to Elisabeth Sladen which if you saw it, I'm sure it didn't leave you with a dry eye. In it, many of her co-stars spoke about their time working with her including David Tennant and Matt Smith. The day after she passed, another Doctor actor had his say as well.
Tom Baker, the 4th Doctor in Doctor Who shares some of his memories and feelings after the passing of co-star, Elisabeth Sladen last week.
Tom Baker Newsletter | Latest news | Lis Sladen | Sarah Jane: "Sarah Jane dead?  No, impossible!  Impossible.  Only last week I agreed to do six new audio adventures with her for Big Finish Productions.