Colin Baker
---
Toby Hadoke's 'Moths Ate My Doctor Who Scarf' can be heard via the BBC iPlayer with Colin Baker and Louise Jameson from July 2007. Episode one, 30 minutes long will be available to listen to until Friday, the 18th of December 2009.
Listen here: BBC iPlayer - Moths Ate My Doctor Who Scarf
Also be sure to catch our interviews with Toby Hadoke on Doctor Who: Podshock: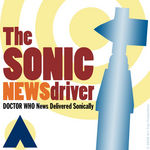 The Sonic Newsdriver 20091113
Selected Doctor Who related news delivered sonically.
For Earth-date: Friday, the 13th of Nov. 2009
Number 9… Number 9… Number 9…, Number 6… Number 6… Number 6…, Tom Baker on the New Series, I am the Fleshcreep Whether You Like it or Not, Remember - Get a Life, and more.
Hosted by Louis Trapani
"It feels different this time."
Doctor Who: Podshock - Episode 169
Running Time: 1:44:39
The 5th Doctor's (Peter Davison) final story, The Caves of Androzani Reviewed, News (Waters of Mars, Dreamland, Gallifrey 21, Second Life, DVD), Feedback, and more.
Hosted by Ken Deep, James Naughton, and Louis Trapani, with Eric Escamilla ( @bullitt33 ).
In another exclusive from Forbidden Planet (UK), they are now taking pre-orders for a new figure of the Sixth Doctor from The Caves of Androzani. This is the third 6th Doctor as played by Colin Baker figure to be released by Underground Toys. This version is of the 6th Doctor as he was immediately after regenerating from the 5th Doctor. He appears still muddy in the 5th Doctor's clothes.
This figure is limited to sale in the UK and Eire from Forbidden Planet (UK). It is expected on in their warehouse on 12 August 2009. No further information on where it will be available outside of the UK is known at this time.
You can pre-order your 6th Doctor Caves Of Androzani now for £14.99. For more information or to pre-order see: Forbidden Planet UK - 6th Doctor Caves Of Androzani
The Daily Mirror is reporting that all eleven Doctors will be coming together for a special one-off special for Children in Need this November. It reports that the 15 minute episode will be included in BBC1 annual Children In Need appeal in November and shooting of it will begin in September.
This is not the first time a rumour of this nature appeared in the tabloids. The same thing was said to be happening last year for Children in Need except with 10 Doctors which did not happen.
The article states that "images from their original shows, stretching from 1966 to 1974" will be used for the actors William Hartnell, Patrick Troughton, and Jon Pertwee who have since passed away. They will make cameo appearances through footage from these previous episodes.
The 6th Doctor turns 66 today. The Gallifreyan Embassy and Doctor Who: Podshock wishes Colin Baker a happy birthday.
Colin had burst onto the Doctor Who scene taking over the lead role after Peter Davison stepped down in 1984 as the colourful and bold 6th Doctor. Although not his first association with Doctor Who, he had played Commander Maxil in the 5th Doctor story, Arc of Infinity. Blake's 7 fans will also know him as 'Bayban the Butcher' - a guest role he had in the series.
On the 28th of September 1986, both Colin Baker (pictured here on the left with a beard) and Tom Baker appeared together in Brooklyn, NY. Photo by Louis Trapani
If the 6th Doctor wore a scarf, perhaps it may look something like this? Colin Baker sporting a long scarf (reminiscent of another Baker) at the DWFCA Doctor Who Festival, February 1985. Photo by Louis Trapani
We had the pleasure of interviewing Colin Baker in March 1987 during I-CON VI in Stony Brook, NY. Photo by Louis Trapani.
Fans were always in for a treat and a real blast when Colin Baker (left) and Jon Pertwee (right) appeared together. They got on famously together. Here Jon joins the current Doctor at the time, Colin in October 1985 at Whovent85. Photo by Louis Trapani.