television
---
Martha's little sister's got her own show - and you MUST support it!
http://www.nbc.com/undercovers/
The Gallifreyan Irregulars love Gugu, and have seen her not only on stage,
http://www.independent.co.uk/arts-entertainment/theatre-dance/reviews/fi...
but in our Favorite Show About Archaeology:
http://www.imdb.com/title/tt1148181/
American TV needs this show. I mean, it's J.J. Abrams. It's gotta be good!
(The following has been re-posted from my blog at arttrap.com)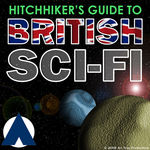 After a long hiatus, Hitchhiker's Guide to British Sci-Fi has returned. Dave Cooper @daveac joins me, Louis Trapani @LouisTrapani as co-host in this episode in which we discuss the new Torchwood series coming to Starz in the US, series 4 of The Sarah Jane Adventures, we invite our younger listeners for their reviews of K9 - The Series, plus we discuss Sherlock, The Deep, Ashes to Ashes, Merlin, and more. It also features part of an interview with Brian Croucher (Travis (2) on Blake's 7) that can be heard in full in Doctor Who: Podshock 219.
For more details, see Episode 8 of Hitchhiker's Guide to British Sci-Fi. If you are subscribing to the podcast, it is already in the feeds, or alternatively, you can download it directly here: Hitchhiker's Guide to British Sci-Fi - Ep. 8 (MP3, 39 MB)
According to various (unconfirmed) reports on the net, the new 4th series of The Sarah Jane Adventures will be returning to the BBC and CBBC on Monday, 11 October 2010 (with part 1 of The Nightmare Man by Joseph Lidster).
It is unclear whether the new series is back to one episode a week or will it be similar to last year which transmitted two episodes a week. Remember, each story takes two half-hour episodes to tell in The Sarah Jane Adventures. The BBC had commissioned two new series (24 x 30-minutes episodes), this is the first of the two (12 episodes telling six stories). No details as of yet pertaining to this series outside of the UK.
The date has finally been released for the Doctor Who at the proms 2010 TV broadcast.
it is 6th September at 8:30pm on BBC 3.
The viewing figures for Doctor Who's Season 5 penultimate episode, are in for the overnights.
One of the questions we are asked often is how to watch the new (2010) episodes of Doctor Who. As one might guess, these questions for the most part come from outside of the UK. Obviously for those in the UK, one just has to check the Radio Times listings to see where and when they can watch new episodes of Doctor Who on the various BBC channels and/or the BBC iPlayer.
Outside of the UK though, it is trickier, but there are various choices. It comes down to the digital medium, be it digital downloads, streaming, or on a physical disc or transmission/broadcast medium (which today is digital as well, but we get too technical here).
Doctor Who's new assistant Karen Gillan discusses life in the TARDIS. Is Amy Pond like a badly paid stripper? Preview of The Graham Norton Show…
In honour of Sylvester McCoy returning to New York this month and the 25th anniversary of the Gallifreyan Embassy, we present you with this cut-down video of a WLIW pledge drive break from August 1987. At the time, like today, we had a new Doctor, the 7th Doctor, Sylvester McCoy, he along with the late Jon Pertwee and John Nathan-Turner, the then producer of Doctor Who are included in a pre-recorded interview segment in this 5th break of WLIW's Doctor Who marathon of The War Games. Eric Luskin of NJN conducts the interview.
Seen in this video among the Gallifreyan Embassy members volunteering is Ken Deep, and Louis Trapani of Doctor Who: Podshock, along with Tim Grogan, Beth Treckman, Pete "Bug" Reinert, PJ, "The Anti-Doctor", Monique, and others.
A screenshot taken from the video of the Gallifreyan Embassy working the 5th pledge drive break during WLIW's marathon of Doctor Who: The War Games in August 1987. It contained pre-recorded interviews with Jon Pertwee, Sylvester McCoy, and John Nathan-Turner.
See the video interview here: Jon Pertwee, Sylvester McCoy, John Nathan-Turner, and Gallifreyan Embassy on 1987 WLIW Pledge Drive