Celebrating Time And Relative Dimensions In Space!
---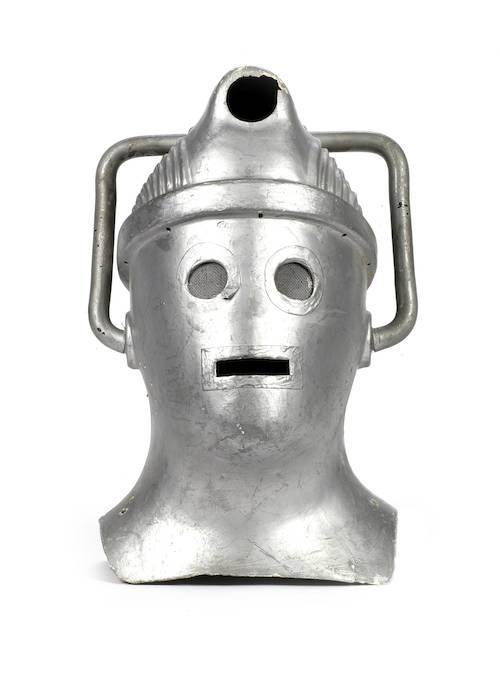 The above pictured Cyberman head from the Second Doctor's period is one of many articles going on sale once more at Bonhams in Knightsbridge London. Other props include Daleks also from this time (Power of the Daleks) K9 and two TARDIS's. The most interesting being the TARDIS from 2005 from 9th Doctor, Christopher Eccleston. This is part of an entertainment auction rather than just a Doctor Who specific one. The auction will be taking place at 11am on the 23rd of June 2010 and lot numbers are 126 to 142 inclusive. Lot 126 being an Dalek from The Chase and 142 being the 9th Doctors TARDIS.
Doctor Who - Cold Blood
Deep in the bowels of the Earth, the Doctor and Nasreen (guest star Meera Syal) face captivity under the Silurians.
5 TARDIS Groans
24% (7 votes)
4 TARDIS Groans
52% (15 votes)
3 TARDIS Groans
17% (5 votes)
2 TARDIS Groans
3% (1 vote)
1 TARDIS Groan
0% (0 votes)
0 TARDIS Groans
3% (1 vote)
Total votes: 29
This Week In Doctor Who - Section A
June 12, 2010 - Vol 13, Number 21
by Benjamin F. Elliott
http://tv.groups.yahoo.com/group/thisweekindoctorwho
http://thisweekindoctorwho.blogspot.com
http://gallifreyanembassy.org/vortex/?q=TWIDW
All the known broadcasts of Doctor Who covered weekly since 1998. With the spinoffs too.
UK - the world premiere of "The Lodger" is today, 12 June at 6:45PM BST on BBC One and BBC HD in a 45 minute slot. "The Pandorica Opens" is due to premiere on 19 June at 6:40PM BST in a 50 minute slot. Series finale "The Big Bang" is due to premiere on 26 June - the time will be set based on which World Cup games BBC One gets. The BBC has not announced the length, but tentative early listings have The Big Bang in a 55 minute slot.
Toby Hadoke is back, well if you have the Cd or Digital Copy "Moths Ate my doctor Who scarf!" He's never really away. But after touring for over three years with "Moths" Doctor Who Fan and fan Favourite Toby, has a new routine quote from his web site.
"An affectionate and stroppy love letter to his favourite Auntie from the passionately squared eyed comedian whose previous show "Moths Ate Mt Doctor Who Scarf" received 100% 5 star reviews (Ed Fringe 2007), toured the UK and internationally, had a West End run, and spawned a Sony nominated radio series."
Doctor Who: Podshock will be once again be taking to the net this Sunday (13 June 2010) for a live-over-the-net show reviewing the eleventh episode of the new series, The Lodger.
He's back… and it's about time! We return with our live-over-the-net review series this time talking about the 11th episode of the new series starring Matt Smith as the Doctor premiering on BBC One this Saturday (coming to BBC America 3 weeks later). We will be reviewing The Lodger.
"Why are Earth people so parochial?"
Doctor Who: Podshock - Episode 207
Running Time: 1:25:13
Live from Fiddlesticks Pub and Grill in Manhattan (NYC), we interview the writers/editors of the new book, The Mythological Dimensions of Doctor Who including Anthony S. Burdge, Jessica Burke, Kristine Larson, and Melody Green.
Hosted by Ken Deep and Louis Trapani.
Dedicated to the memory of Alexei Kondratiev
All 11 Doctors together at one time is something to make any fans hearts race faster.
this time though it's because they are being released as an 11 figure boxed set for the first time. The set may become one of the most sought after items this year after the 11th Doctor's sonic screwdriver. Mainly by hardcore fans and some not so hardcore fans, 1st big point being that obviously Paul McGann's 8th Doctor is part of the set, and Tom Baker's 4th Doctor is in his season 15 garb.
SFX in association with BBC Books has launched a competition for the Description of the 11th Doctor in a Target book Novelisation style. Anybody who has read the Target books will be aware each doctor had an Unique Description for each of the Doctors. "He had and old young face" is part of the Description for Pertwee's 3rd Doctor.