Celebrating Time And Relative Dimensions In Space!
---
This past Saturday, the 21st of August 2010 was not only our seasonal meet up on Second Life, it also marked the 5th anniversary of the Doctor Who podcast, Doctor Who: Podshock. (We used our last meet up last May to mark the 25th anniversary of the Gallifreyan Embassy).
People from all corners of the world came together to have fun and to meet Doctor Who: Podshock hosts, correspondents, supporters, and other Doctor Who fans. As usual, Victor led the much anticipated TARDIS tours, a staple of our meet ups on Second Life in which he takes a TARDIS load of people to other Doctor Who themed areas of Second Life. This time, he even allowed me to pilot a Jon Pertwee style TARDIS for one trip. It was very exciting indeed.
The TARDIS Tours took us to Who Island which had a replica of Stonehenge with 'underhenge' which we discovered the Pandorica (and it opened)! We also got to see the console room seen in this year's 'The Lodger' episode and as always the tour concluded in the Doctor Who Museum. The virtual museum chronicles all of Doctor Who throughout its long history.
A group shot at the end of the dance party segment of the August 2010 Gallifreyan Embassy / Doctor Who: Podshock Second Life meet up celebrating 5 years of Doctor Who: Podshock.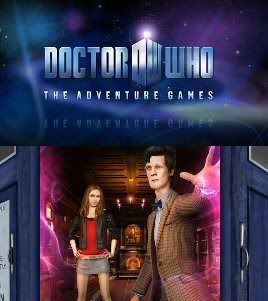 The third instalment of the Doctor Who: Adventure Game , computer game series that's been free to download to and install to UK residents has been announced.
This time the game takes entirely place in the TARDIS it's self and we get to see the hinted at many rooms of the TARDIS. Steven Moffat has told the official DW website
"We're always in trouble! Isn't this extraordinary… it follows us everywhere!"
Doctor Who: Podshock - Episode 218
Running Time: 1:29:01
We interview the legendary first ever director of Doctor Who, Waris Hussein. West Coast Correspondents Joshua Lou Friedmen and Amy Krell join us for this historic interview in which we discuss An Unearthly Child and Marco Polo as well as how Doctor Who of old compares to new. Plus Matt Smith puts on southern American accents in Doctor Who: The Runaway Train, and more!
Hosted by Louis Trapani, Ken Deep, Joshua Lou Friedman, and Amy Krell.
The following has been reposted from Art Trap Productions
Just as Doctor Who: Podshock is celebrating it's 5th year in production, Research In Motion (RIM) has launched its new free Blackberry Podcasts service and application. Among the initial offerings of podcasts included is the popular venerable Doctor Who: Podshock. The new service allows Blackberry smart-phones to find, download, and consume podcasts on the mobile device from leading providers. Content can be downloaded via Wi-Fi or over the cellular network and played on the Blackberry player.
We are very pleased to have Doctor Who: Podshock included among other shows part of the Wizzard Media network on the service as part of their launch. We look forward to listeners from the many Blackberry users out there across the world.
After five years producing Doctor Who: Podshock it is still just as exciting today to discover new audiences as it was when we started. We look forward to them being a part of the show.
We welcome RIM and Blackberry smartphones to the popular and rapidly growing podcast medium.
"I can feel my hair curling and that can mean either that it's going to rain… or that I'm on to something."
Doctor Who: Podshock - Episode 217
Running Time: 1:57:43
Doctor Who: The Deadly Assassin reviewed, West Coast Correspondent Amy Krell joins us as we discuss the Doctor Who Proms, Adventure Games, news, rumours, our upcoming Second Life meet up, news, and more!
Hosted by Louis Trapani, Ken Deep, James Naughton, and Amy Krell.
Below is a new general introduction video to The Doctor Who Experience on Second Life. It is the area we hold our seasonal Doctor Who: Podshock / Gallifreyan Embassy Meet Ups (we have one coming up next Saturday, the 21st of August 2010 by the way, see: Join Us in Celebrating 5 Years of Doctor Who: Podshock Wherever You Are! for more information). If you already attended our meet ups there or have seen the intro video Victor made specifically for our upcoming meet up (see: New Intro Video for Upcoming Doctor Who / Gallifreyan Embassy Meet Up on Second Life), then this video may be old hat for you. If you are brand new to Second Life and The Doctor Who Experience, then this video can be helpful to you. Remember you can enjoy The Doctor Who Experience anytime you like, not just during our meet ups there.
"I'm way worse than Scottish."
Doctor Who: Podshock - Episode 216 EXTRA Edition
Running Time: 0:49:34
In this Extra Edition of Doctor Who: Podshock we have a free form discussion on Doctor Who news and events including Blu-ray and DVD releases, Doctor Who Proms, Frazer Hines, Sherlock, rumours, the upcoming Christmas special, a Gallifrey 22 update, and yes - even the shower scene from The Lodger, plus more.
Hosted by Louis Trapani, Ken Deep, and James Naughton.