Celebrating Time And Relative Dimensions In Space!
---
If you are going to Gallifrey One's Catch 22: Islands of Mystery, be sure to come by and say hi to us at the 'Official Unofficial Official Doctor Who: Podshock Meet & Greet at Gallifrey One 2011'
Once again Doctor Who: Podshock will be holding a meet and greet on Thursday, the 17th of February ("Gallifrey One Eve") 2011 at 10pm (PST) we will be holding a 'meet and greet' in the lobby of the Los Angeles Airport Marriott Hotel (same hotel as Gallifrey One).
It is an opportunity to come by and say hi to those involved with Doctor Who: Podshock, the hosts, the various correspondents, supporting subscribers, and regular contributors to the show and of course other listeners.
In addition to having a great deal of fun, we will be recording segments for an upcoming show. You never know who might drop by at the meet up. Last time, Doctor Who director, Graeme Harper joined us among other Gallifrey guests.
[UPDATED February 16, 2011] Once again, Doctor Who: Podshock will be taking the stage at Gallifrey One's Catch 22: Islands of Mystery this February in Los Angeles, CA.
As with past years, we will have special surprise guests in addition to convention guests appearing live on stage for this recording of the show.
The Doctor Who: Podshock live show will be on Sunday, at 2pm PST as part of Gallifrey One's Catch 22: Islands of Mystery convention in Los Angeles, CA (February 18-20, 2011).
"I never touch alcohol."
Doctor Who: Podshock - Episode 234 EXTRA Edition
Running Time: 1:13:46
In this Extra Edition of Doctor Who: Podshock we include a discussions and news on 2011 Doctor Who DVD releases, Torchwood: Miracle Day, the passing of Norman Taylor, revisiting last month's Doctor Who Christmas special, and more.
Hosted by Louis Trapani ( @LouisTrapani ), Dave Cooper ( @daveac ) and Graeme Sheridan ( @The2ndDoctor ).
The Doctor Who: Podshock Podcast Companion App has been updated to version 1.1.1 and is now available in the iTunes App Store for the iPhone, iPod touch, and iPad.
The update should address a bug that may had prevented you from seeing episodes (podcast episodes and exclusives) appearing on your screen on the iPad. A couple other bugs were addressed as well.
To learn more about the app, see: Podshock? There's an App for That!
"I've reversed the polarity of the neutron flow so the TARDIS should be free of the force field now."
Doctor Who: Podshock - Episode 233
Running Time: 1:11:51
An interview with Terrance Dicks, The Adventures of the White Robot - Episode 1, Gallifrey 22 Update, News, and more.
Hosted by Louis Trapani ( @LouisTrapani ), Ken Deep ( @kendeep ) and James Naughton ( @JamesNaughton ).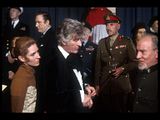 Through an Interview with DWM The releases for 2011 came to the fore. And now 2entertain have listed them. The list is subject to change but should be as is.
Planet of the Spiders
Mannequin Mania which comprises of: Spearhead from Space and terror of the Autons.
Frontios
Earthstory which comprises of: The Awakening and The Gunfighters.
As painful as it is to mention the next one,....... Paradise Towers.
Revisitations 3 which comprises of: Tomb of the Cybermen, The Three Doctors and The Robots of Death.
The Solar System, which comprises of: Ambassadors of Death and The Sunmakers
And finally on the list, the much awaited Day of the Daleks-Special Edition.
A Note About Doctor Who: Podshock - Episode 233
Running Time: 0:02:24
On Saturday, the 8th of January, Ken, James, and Louis recorded Doctor Who: Podshock 233. Unfortunately due to a technical problem with the Skype audio that was not apparent until after the recording, the episode as it was recorded is not usable in its entirety. We had hoped this episode would had been released by now. We are working on scheduling another recording with the three of us as soon as we can, in the meanwhile we will try to get other episodes of Doctor Who: Podshock out to you. We apologize for the delay.
This week is the annual CES (Consumer Electronics Show) in Las Vegas, which means there is a tremendous amount of tech related announcements coming out of the show. As often is the case, there is some crossover between tech and sci-fi. The Panasonic booth had a special "most impressive" (as they termed it) announcement of (pre-orders for) the Star Wars films coming to Blu-ray. I had heard there would be a TARDIS speaker system at the show, but didn't have much details on it. Engadget has come to the rescue (since I am not at the show myself) with this report of hands-on prototype of the new Speakal TARDIS speaker dock and Bluetooth speaker and IR remote control system.
I am assuming it will work with the iPhone as well as the iPod. The photos show an iPhone in the dock (a white at that). If the speakers are shielded enough to prevent GSM radio noise interference from the iPhone, it should work.