Celebrating Time And Relative Dimensions In Space!
---
It's offical not only does Series 6 start on the 23rd of April (Easter Saturday) in the UK, but also on BBC America in the US a few hours later. That's right hours not days or weeks hours.
It just waits to bee seen how the rest of the World gets it's Doctor Who S6 fix, but this also means that the Episodes should be on the US iTunes the very next day, for those of you who don't have BBC America.
"Spoilers" if you want to have a look at the promo video's then follow th link Below.
We have a bunch of new Doctor Who: Podshock episodes on the way which will be coming to you soon, including our live show recorded at Gallifrey One 2011. In the meanwhile, catch up on Doctor Who related news delivered sonically with the latest episode of The Sonic Newsdriver!
Sonic Newsdriver (07 March 2011) - Doctor Who News -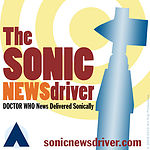 The Sonic Newsdriver 20110307
Selected Doctor Who related news delivered sonically.
For Earth-date: Monday, the 7th of Mar. 2011
In this episode: Five Rounds Rapid in Memory of Nicholas Courtney, James Corden is Back, Who are you gonna call?, Massive Man - Massive, iPlayer for less than $10 a month, and more!
(L-R) Doctor Who: Podshock Hosts Louis Trapani and Ken Deep
Photo by Rachel McCauley
The Doctor Who: Podshock Live on Stage Show at Gallifrey One 2011 was the debut of our new Podshock Fezzes. We wear a fez now. Fezzes are cool.
The fezzes are high quality custom made by Fez-o-rama.com. The quality is outstanding. If you are looking for a fez, get the best, go to Fez-o-rama.com. They a good selection to choose from. They are all high quality, handcrafted pieces.
On Monday's episode of The Late Late Show with Craig Ferguson it featured a segment on Gallifrey One 2011 featuring video shot at the convention which included our banners for Doctor Who: Podshock, as well as Tara Wheeler's TARDIS and Tara @TARDIS_Tara herself.
If you missed the segment with Chris Hardwick and "Bridger" recorded at Gallifrey One for the late night show, Graeme Sheridan @The2ndDoctor has embedded a YouTube video of it in his post, Gallifrey One on the Craig Ferguson Show. (Watch it while you can in case it is pulled off of YouTube).
Chris Hardwick presented his report on Gallifrey one last night on the Craig Ferguson Show. Tara Wheeler @TARDIS_Tara and her TARDIS make up the end of the report. Plus a special appearance from the Head of Pertwee.
It is with great sadness and a very heavy heart, that I report the passing of Nicholas Courtney, best known for his role as the Brigadier.
He was first seen in Doctor Who as Bret Vyon a security agent in the 12 part "The Daleks Master Plan" Later taking up the Role of Colonel Lethbridge Stewart in "The Web of Fear" and then comming back one year later as Brigadier Lethbridge Stewart in the Invasion.
It is that time again. When Doctor Who and Torchwood fans from all over the globe converge in Los Angeles for the annual Gallifrey One convention. This year, it is Gallifrey One's Catch 22: Islands of Mystery, taking place on February 18-20, 2011.
As the official podcast for the annual convention, we have been covering the event leading up to it, we are holding a Meet & Greet at the same hotel, recording a live show on stage once again, giving you extensive coverage of it, and more.
Sunday, February 27th may be the week after Gallifrey One's Catch 22: Islands of Mystery, but we shouldn't let the party end there. Join us as once again we invade Second Life with scarves, bow ties, fezzes and all at our seasonal Doctor Who: Podshock meet up.
If you went to Gallifrey One this year, you are invited to continue the fun no matter where you live from the comfort of your home. If you couldn't attend Gallifrey One, you are welcome to get a little taste of the party atmosphere as we celebrate our favourite Time Lord in this virtual world. If you couldn't be our Doctor Who: Podshock Meet & Greet at Gallifrey One this year, now you have another chance to meet up.
Yes fans of Doctor Who, Torchwood, Sarah Jane Adventures and alike come together seasonally at what has become the legendary Doctor Who: Podshock meet ups on Second Life.
"Look over there! On the other side of your galaxy, that's home."
Doctor Who: Podshock - Episode 238
Running Time: 0:48:29
Daphne Ashbrook joins us for a conversation on the 1996 Doctor Who movie DVD release in North America as well as her new CD - Grace Notes (iTunes), plus Gallifrey One 2011 reminders, Doctor Who news and more.
Hosted by Louis Trapani ( @LouisTrapani ) and James Naughton ( @JamesNaughton ).