Celebrating Time And Relative Dimensions In Space!
---
Doctor Who: Podshock - Episode 240
Running Time: 1:39:51
Doctor Who: Podshock Live Show recorded on stage at Gallifrey One's Catch 22: Islands of Mystery with Tracie Simpson, Paul Kasey, Cush Jumbo, Ian McNeice, Pamela Salem, and Waris Hussein on Sunday, February 20, 2011 in Los Angeles, California.
Hosted by Ken Deep ( @kendeep ) and Louis Trapani ( @LouisTrapani )
The Daily Mail (on-line version) has a story about the BBC being sued over the use of Davros.
Steven Clark claims that he created the leader of the Daleks in a magzine contest in 1972.
He didn't win the contest but a couple of years later the character of Davros began appearing in the series of 'Doctor Who' in Genesis of the Daleks.
For the full details of the lawsuit you can see the original story here:
Daily Mail - BBC Sued over Who first drew the evil Dalek mastermind Davros
and the Doctor Who News Page has an additional story on the debate:
Red Nose Day 2011 - Doctor Who is back with a vengeance as the Doctor (Matt Smith) provides some cosmic relief. The wonderful Amy Pond (Karen Gillan) is usually a handful on her own but in this special episode she confronts herself, literally.
Doctor Who Monthly has reported via Twitter this morning the sad news of the death of actor Michael Gough. He will be remembered by Doctor Who fans as the Celestial Toymaker in the story of the same name (The Celestial Toymaker) in 1966 with the first Doctor (William Hartnell) and Councillor Hedin in the 1983 story, Arc of Infinity with the fifth Doctor (Peter Davison).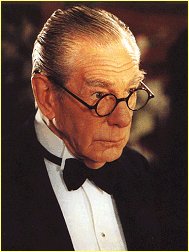 You may also recall him for his parts on the big screen such as the trustworthy butler Alfred Pennyworth in the 1989 Batman film as well as its sequels, Batman Returns (1992), Batman Forever (1995), and Batman & Robin (1997).
Also included in his long list of credits is Sleepy Hollow (1999) playing Notary Hardenbrook.
We are pleased to announce that we have been selected as a nominee in the SFX Blog Awards 2011. The awards "celebrate the best that SF and fantasy fan-driven and insider-developed internet activity has to offer."
"There are six categories to choose from, and the nominations have been drawn up from suggestions made by members of the SFX Forum, SFX team members and the SFX Bloggers," as stated on the SFX website.
As previously reported, the Doctor Who iOS game, Doctor Who: The Mazes of Time debuted in the Apple App Store last December. There are two versions, one is for the iPhone and iPod touch, and an HD version for the iPad. Unfortunately, it is not a universal app, so you can either get the iPhone/iPod touch version and upscale it for the iPad, or alternatively get the HD version specifically for the iPad.
The prices in the US App store had been $3.99 and $4.99 respectively, but are NOW ONLY 99¢ each. So if you have been holding off purchasing this game for the iOS platform, now is the time (that includes myself). At this time, I don't know if this price reduction only pertains to the US iTunes App Store or if it is worldwide. Also I do not know if this is a permanent price reduction or a limited time sale.
Here is the link to the iPhone/iPod touch version: Doctor Who: The Mazes of Time - BBC Worldwide
Here is the link to the iPad HD version: Doctor Who: The Mazes of Time HD - BBC Worldwide
Late last night Big Finish felt confident enough to announce that Tom Baker would be following Colin Baker into Big Finish Audio, as the Doctor. For months it has been a sort of conformation, with Big Finish it's self and more appropriately Nick Briggs himself not wanting to say anything, as dealing in the past had only been a source of spot by Tom.
The details are as follows, "Tom Baker will be playing the Fourth Doctor in a number of audio adventures for Big Finish, to be released from the beginning of 2012. Storylines and scripts are already at an advanced stage, and we plan to start recording early in the summer."
Colin Baker the 6th Doctor has now joined the ranks of twitter, under the pseudonym of @SawbonesHex.
Colin describes himself as an actor, columnist, writer, husband, father, Wycombe Wanderers fan, grumpy old man', also has an official website at colinbakeronline.com. Also he writes regular columns for the Bucks Free Press.
http://twitter.com/SawbonesHex
(Image Bucks Free Press)
Keeping with the theme of Gallifrey One's Catch 22: Islands of Mystery, our Post Gallifrey One Party which was our Doctor Who: Podshock and Gallifreyan Embassy seasonal meet up and party on Second Life taking place the following Sunday (27 February 2011) after Gallifrey One had a tiki feel to it. Victor Mornington @vic1st and his fellow owners of the land of Katrina (The Doctor Who Experience, which has recently changed its name the Doctor Who: Exposition) out did themselves once again flooding the area, making it a huge pool of water complete with inflatables to cruise on for the stage area of our party. The stage and dance floor were on a giant deck.
Traditionally our meet ups start with TARDIS tours across various Doctor Who themed areas of Second Life led by Victor. This time we did things a bit different. Instead we had a Podshock TARIDS Mod Exposition taking place in that time period. I had the pleasure and honour of being one of the judges for it along with our own DWP Correspondent Ian Bisset @The6thDoctor and the owner of Hands of Omega (one of the leading TARDIS simulator providers in Second Life), Sen Pixie. Together we explored various TARDIS console mods along with the rest of their interior and chose the best within three categories.
It's been more than a couple weeks now since word first traveled across Twitter of the sad news that we lost Nicholas Courtney. For many we us, we were in disbelief and shock. If you heard the latest episodes of Doctor Who: Podshock or The Sonic Newsdriver, you will know that I was literally on my flight back from attending Gallifrey One 2011 in Los Angeles when word first came to me. After such a 'Doctor Who high' that was Gallifrey One, to have this news come on its heels... well, it's never a good time for news like this, but we can be grateful it was after, not during the convention. I want to thank Correspondent Graeme Sheridan @The2ndDoctor for posting the news to our site (see: R.I.P. The Brigadier, Nicholas Courtney Dies at Age 81). I had meant to follow it up, posting some of my thoughts, but I found it difficult to do. I was even dreading having to record the next episode of The Sonic Newsdriver only because I would have to report it. Though now that has come to pass.