Now more than ever, we need your support! Become a Supporting Subscriber today.
Sonic Newsdriver for Friday, the 23rd October 2009
---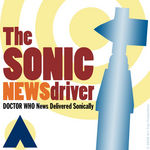 The Sonic Newsdriver 20091023
Selected Doctor Who related news delivered sonically.
For Earth-date: Friday, the 23rd of Oct. 2009
A Glimpse of the New TARDIS Interior, David Tennant Up for BAFTA Scotland Award, RTD Calls for Champion Children's TV, Sarah Jane Adventures Series 3 Underway, Tennant and Sladen Dumped From Radio Times Cover, Blue Peter Says Design Your Own TARDIS Console, BBC iPlayer Goes International at a Price, Catch Doctor Who: Podshock 165, and Get Your Sonic Gear, plus more!
Hosted by Louis Trapani
Right click and download the episode using the link below or listen right on the website using the embedded player, better yet subscribe to the podcast using the feed links below the player.