Doctor Who: Podshock Live Shows Resume Again and a New Sonic Newsdriver
---
Thanks to all those who participated in our live over the net Doctor Who: Podshock recording on Sunday, May 1st reviewing 'The Impossible Astronaut' and 'Day of the Moon.' We had a good turn out. Remember to try to get in the queue early for live feedback and as always, we will give preference to supporting subscribers. This episode should be hitting the feeds soon. Special thanks to Dave Cooper @daveac and Graeme Sheridan @The2ndDoctor for co-hosting the show with me.
Next Sunday is another holiday which means there will be no live show then, but we will return on Sunday, May 15th when we will record two live shows. One reviewing 'The Curse of the Black Spot' and another reviewing 'The Doctor's Wife.' We will be on a weekly schedule onwards through June 5th (unless there is a change in the broadcast schedule of Doctor Who. We hope you will join us then.
In the meantime while DWP 244 is in post production, there was a new episode of The Sonic Newsdriver released. See link below.
Sonic Newsdriver (30 April 2011) - Doctor Who News -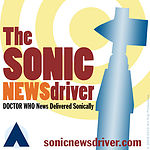 The Sonic Newsdriver 20110430
Selected Doctor Who related news delivered sonically.
For Earth-date: Saturday, the 30th of Apr. 2011
In this episode: Another Great Loss in the Doctor Who Community, It's a Miracle… Day, Another Prequel - but it's not, Jack is Back, Royal Shomyal, Doctor Who Breaks BBC America Records, Don't You Forget About Me, Doctor Who on Crackle, and more!
Plus a special bonus episode included in the podcast companion app only.
[
Art Trap Productions
]