Now more than ever, we need your support! Become a Supporting Subscriber today.
Get Your Fill of Doctor Who Related News in The Sonic Newsdriver for the 25th January 2011
---
It's a busy time with Gallifrey 22 now less than a month away. As with past years, we will have a special episode of Doctor Who: Podshock previewing the annual premier North American Doctor Who convention coming soon. Coming sooner than that will be Doctor Who: Podshock 235.
In the meantime, the latest episode of The Sonic Newsdriver has been released bringing you up to date on selected Doctor Who related news.
Sonic Newsdriver (25 January 2011) - Doctor Who News -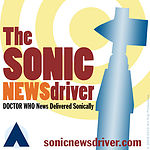 The Sonic Newsdriver 20110125
Selected Doctor Who related news delivered sonically.
For Earth-date: Tuesday, the 25th of Jan. 2011

In this episode: Four to Doomsday, That's Right - I'm Bad, Stop Spending So Much on Doctor Who, New World is a Miracle Day, Torchcast, Tennant and Tate Reunited, and more!

The Sonic Newsdriver 20110125 (MP3 file)

[Art Trap Productions]