Classic Doctor Who DVD Releases 2011
---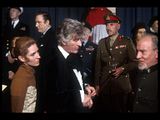 Through an Interview with DWM The releases for 2011 came to the fore. And now 2entertain have listed them. The list is subject to change but should be as is.
Planet of the Spiders
Mannequin Mania which comprises of: Spearhead from Space and terror of the Autons.
Frontios
Earthstory which comprises of: The Awakening and The Gunfighters.
As painful as it is to mention the next one,....... Paradise Towers.
Revisitations 3 which comprises of: Tomb of the Cybermen, The Three Doctors and The Robots of Death.
The Solar System, which comprises of: Ambassadors of Death and The Sunmakers
And finally on the list, the much awaited Day of the Daleks-Special Edition.
From this list one can see that there is a lack of 2nd Doctor Stories that haven't already been released on DVD and that two Revisitations releases are to happen within the next twelve months. Again some of the Story's landing the Revisitations Treatment, are not really needing the treatment. Tomb of the Cybermen has probably the most Easter eggs for one Single release DVD next to City of Death. So as to the choice of Releases for Revisitations is somewhat puzzling.
On the Positive side, the releases of Terror of the Autons, Ambassadors of Death and The Day of the Daleks - Special Editions will keep a lot of Pertwee fans Happy, and the Doctor Who Classic community in general. This means Series 7 will at last be complete and the First Story introducing not only Jo Grant but The master will finally get it's release at last. Apart from a tear from me because neither The Ice Warriors or The Krotons are on the list it still looks like an Exciting year.
All this comes after the release of The Mutants, The Ark and the Mara tales Boxed Set, in January and February