A New Sonic Newsdriver is Available and New Doctor Who: Podshock Episodes are Coming!
---
For those that follow me on Twitter probably know I had been fighting off some nasty bug shortly after the GE anniversary event, then came the Thanksgiving Day holiday here in the US... Long story short, it delayed production of all shows coming from ATP including Doctor Who: Podshock of course. Fear not though, there will be new episodes coming down the vortex soon starting with a DWP Extra show for supporting subscribers. We will try to step up production to catch up on the last couple weeks.
First up is a new episode of The Sonic Newsdriver. Available on The Sonic Newsdriver feed and on the Sonic Newsdriver Podcast App for the iPhone / iPod touch. See details below.
Sonic Newsdriver (01 December 2010)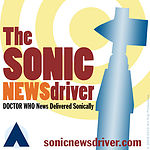 The Sonic Newsdriver 20101201
Selected Doctor Who related news delivered sonically.
For Earth-date: Wednesday, the 1st of Dec. 2010
Happy Birthday Doctor Who, Karen Gillan & Jules Burt, Where's Jeff?, RIP Irving Kershner, You Have a Date for Christmas, How About Some Law and Order Here?, Not Really News, Amazing Doctor Who, Make Room for Amy, Stay Proud - Doctor Who Fans! and much more!