The Latest Sonic Newsdriver is Available and More
---
Update: The latest Sonic Newsdriver is finally available (see below). It had encountered some delays which now has also delayed the next Doctor Who: Podshock currently in post-production. Hopefully, DWP 228 will be out on or before Tuesday. After that, there should be another Extra Edition DWP for supporting subscribers.
Sonic Newsdriver (14 November 2010) -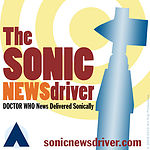 The Sonic Newsdriver 20101114
Selected Doctor Who related news delivered sonically.
For Earth-date: Sunday, the 14th of Nov. 2010
Happy Birthday Number 8, Happy Birthday Number 11, Heeere's Joooohnny, No Matt Smith at Gallifreyan Embassy Anniversary Event, We have a Date for 1996, Happy Anniversary Doctor Who, Talkin about my Regeneration, Let's Return to Earth - in another week, You May be One of Many Children in Need, Isn't That Special, and much more!
[
Art Trap Productions
]