Now more than ever, we need your support! Become a Supporting Subscriber today.
Revenge of the Silver Nemesis
---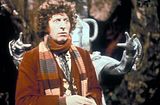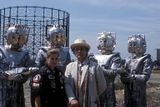 Revenge of the Cybermen and Silver Nemesis Have been cleared by the British Board of Film Classification as a Double DVD Trailer. As to when this box set will be realsed is anybody's Guess, and with Two of the most unpopular Cybermen stories of all time, one wonders what sales they will get. But that said it will be in my Pre-order list as soon as it's available, I'm somewhat of a Cyber-collector. "EXCELENT!"