Now more than ever, we need your support! Become a Supporting Subscriber today.
Get Your Sonic Fix with the Sonic Newsdriver for the 23rd of February
---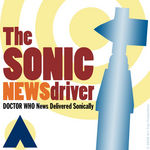 The Sonic Newsdriver 20100223
Selected Doctor Who related news delivered sonically.
For Earth-date: Tuesday, the 23rd of Feb. 2010
New publicity image and new promo trailer for Doctor Who series 31 released, Torchwood the Digital Comic, James Corden to Guest Star?, Neil Gaiman Confirms, Going Once - Going Twice, Gallifrey 21, and more.
Hosted by Louis Trapani
Right click and download the episode using the link below or listen right on the website using the embedded player, better yet subscribe to the podcast using the feed links below the player.