Fans and Friends Come Together to Help
---
Doctor Who fans are coming together on the net to help out a fellow fan and friend, Johanna Mead. Johanna ( @britgeekgrrl ) is well known at Doctor Who conventions across the US for her detailed and creative costumes, she is also a writer and an English expatriate living in northern California. Unfortunately, her husband had just recently lost his battle against cancer and the online community of fans and friends have come together to help raise money to help offset the costs of the final arrangements.
Johanna Mead (as Romana I) with The White Robot (Billy Davis) at Gallifrey 2009
To that end, there is an online auction taking place on a Live Journal page here: Helping BritGeekGrrl When She Needs Us
Among those donating items to the auction fundraiser is Doctor Who: Podshock Correspondent Tara Wheeler. Tara is auctioning a hand knitted season 13 (4th Doctor ) scarf. Her scarves are renowned throughout fandom and have recently been seen worn by Paul McGann and Daphne Ashbrook at Chicago TARDIS (see the cover art for Doctor Who: Podshock Aftershock 20091128) and a 13th season scarf was seen being created here on our site when Tara knitted one for Ken Deep (see Tara's Blog).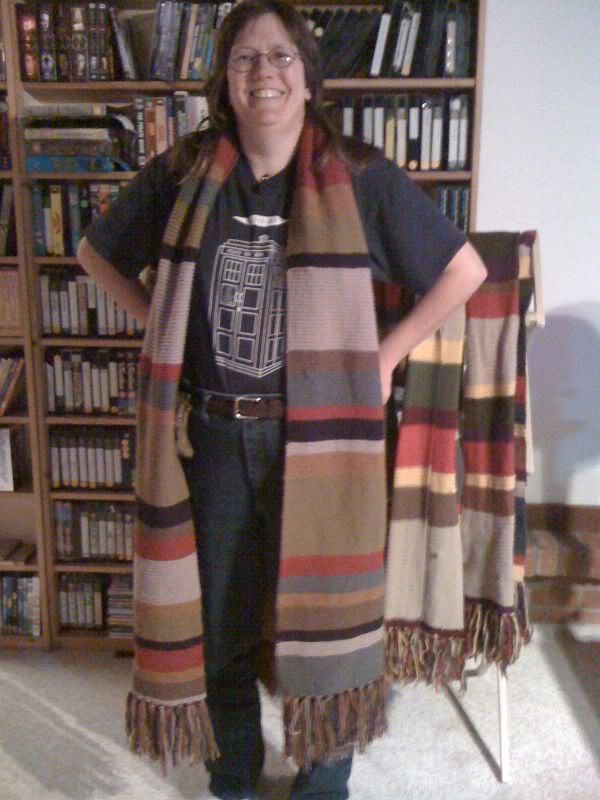 If she was selling the scarf, she would be asking for at least $350 for it, but it can be yours for an opening bid of $100 right now. The auction will end at midnight (mountain time) on the 15th of December.
For more information and to place your bid see here: Auction Item: A Hand Knitted Season 13 Doctor Who Scarf.
Not only will be getting a fabulous scarf, but you will be helping a fellow fan in a time when it really makes a difference. While there, check out the other items being auctioned off.
Anyone that has ever lost a loved one knows how it is at this time and knows the costs associated with it. With the holidays upon us now, you can help out with these costs and get a great gift for yourself or to give to another.
(Photo of Johanna and the White Robot by Joshua Lou Friedman or Ken Deep. Photo of Tara with the scarf courtesy Tara Wheeler)