Louis Trapani's blog
---
The BBC Press Office released more information about the upcoming Doctor Who Christmas special for 2010, titled, A Christmas Carol. The special will be transmitted on the BBC and BBC America on Christmas Day.
BBC - Press Office - Doctor Who: A Christmas Carol introduction:
For those that follow me on Twitter probably know I had been fighting off some nasty bug shortly after the GE anniversary event, then came the Thanksgiving Day holiday here in the US... Long story short, it delayed production of all shows coming from ATP including Doctor Who: Podshock of course. Fear not though, there will be new episodes coming down the vortex soon starting with a DWP Extra show for supporting subscribers. We will try to step up production to catch up on the last couple weeks.
First up is a new episode of The Sonic Newsdriver. Available on The Sonic Newsdriver feed and on the Sonic Newsdriver Podcast App for the iPhone / iPod touch. See details below.
There are a bunch of articles I've been meaning to write since last week, unfortunately I have been fighting off a nasty bug I probably picked up at our anniversary event a week ago. And no, that would not be 'Bug' as in Pete's nickname who was there.
With that said, this may be old news, but only if you haven't seen it already. Below is a publicity photo for the upcoming 2010 Doctor Who Christmas special, A Christmas Carol that the BBC released recently.
@BBCAmerica had tweeted a slightly alternate version here.
A heads up for those may not have caught the tweets from myself as well as @GEmbassy and @Podshock that there's another article in the Mineola Patch about our most recent 25th anniversary event for the Gallifreyan Embassy which was held last Tuesday at Eleanor Rigby's in Mineola, NY.
'Doctor Who' Actress Visits Mineola for Fan Club's 25th Anniversary - Mineola, NY Patch:

"'What started in 1985 with newsletters and meetings, in 2010 is now an online presence like the website or podcasts and things,' Louis Trapani told fellow fans of the 40-plus year British sci-fi series 'Doctor Who' gathered at Eleanor Rigby's Tuesday night. 'But there's still nothing better than good old-fashioned people getting together and having a good time and we have a great community of Doctor Who fans on Long Island.'

Along with fellow fan Ken Deep, Trapani is head of the 'Gallifreyan Embassy,' billed as the largest 'Doctor Who' fan club on Long Island, and which is celebrating its 25th anniversary this year. Deep said that it was 'fitting' that the group was in Mineola because club member Beth Trekman had been working at the Mineola post office where the original club newsletters were mailed. 'You used to see Mineola as our paid postage meter-thingy from the post office,' Deep said. 'Mineola has a special place in our hearts.'

Trapani said he decided to start a 'Doctor Who' fan club on Long Island in 1985 'since there was nothing there at that time, (and) since there was nothing there I said 'hey, I'll start it' and little did I know 25 years later they're still talking about it.'"

(Via mineola.patch.com - read the rest here)
The last couple days, Doctor Who: Podshock Correspondent, Tara Wheeler @TARDIS_Tara has been on the hunt for Matt Smith who is in the US currently shooting Doctor Who in Utah for the upcoming new 2011 series. Matt Smith also appeared on The Late Late Show with Craig Ferguson on Tuesday.
From this photo that Tara has posted to her Tumblr blog, it appears she has found what she was looking for today. Somehow I am not surprised. When Tara has a goal set in her sights, there's very little that can come between it and her. She hasn't checked in with us since as of yet and I haven't caught up with her Twitter feed yet, so I don't have the details just now, but the photo seems to have been posted about 2 hours ago.
In case you missed my tweets earlier about it, there is a nice write up about the 25th anniversary event for the Gallifreyan Embassy in the Mineola Patch:
Gallifreyan Embassy Celebrates 25 Years in Mineola - Mineola, NY Patch:

"Straight from another world, the Gallifreyan Embassy will celebrate its 25th anniversary at Eleanor Rigby's in Mineola on Nov. 16.

The Gallifreyan Embassy is the home of 'Doctor Who: Podshock,' an internet podcast dedicated to all things 'Doctor Who,' the British sci-fi TV show about a time-traveling alien and his human companion. Podshock host Louis Trapani said Doctor Who actress Daphne Ashbrook will be the featured guest. "

(Via Mineola Patch)
As promised on Doctor Who: Podshock, we can now confirm that Matt Smith is scheduled to be on The Late Late Show with Craig Ferguson on the same night as the next 25th Anniversary Event for the Gallifreyan Embassy, Tuesday the 16th of November 2010.
He is there for the 3:30 pm (PST) recording of the show in Los Angeles, CA. Which also means he won't be able to attend our event that evening on here the East coast.
There has been a good deal of confusion leading up this late night talk show appearance. As recently as last Thursday, the office of The Late Late Show with Craig Ferguson was sending out emails indicating that Matt Smith would not be appearing, meanwhile, that same day Craig Ferguson's Twitter account @CraigyFerg was tweeting that Matt Smith is to appear that night. In addition, there will be a Dalek there as well (which was tweeted the following day)!
Update: The latest Sonic Newsdriver is finally available (see below). It had encountered some delays which now has also delayed the next Doctor Who: Podshock currently in post-production. Hopefully, DWP 228 will be out on or before Tuesday. After that, there should be another Extra Edition DWP for supporting subscribers.
Sonic Newsdriver (14 November 2010) -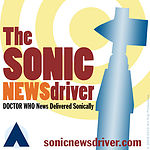 The Sonic Newsdriver 20101114
Selected Doctor Who related news delivered sonically.
For Earth-date: Sunday, the 14th of Nov. 2010
Happy Birthday Number 8, Happy Birthday Number 11, Heeere's Joooohnny, No Matt Smith at Gallifreyan Embassy Anniversary Event, We have a Date for 1996, Happy Anniversary Doctor Who, Talkin about my Regeneration, Let's Return to Earth - in another week, You May be One of Many Children in Need, Isn't That Special, and much more!
[
Art Trap Productions
]
As we previously announced, the Doctor Who 1996 Movie will finally be released as a region 1 DVD in North America. It has long been available on region 2 (I had my copy for some time now), it has been tied up in release rights issues between the studios involved (BBC, Fox, Universal) for a region 1 DVD release since the movie first aired.
We were pleased to report that it would finally be coming to region 1 with the recent revisiting of the DVD (a new re-release edition). Up until now, we didn't have a release date other than 2011 for this 8th Doctor adventure starring Paul McGann and Daphne Ashbrook. Now according to tvshowsondvd.com, BBC and Warner Home Video have announced that it will be released on February 8th as a 2-disc set titled, 'Doctor Who - The Movie: Special Edition.'
It coincides with the release of another 2-disc set 3rd Doctor story, 'The Mutants' starring Jon Pertwee as the Doctor and Katy Manning as Jo Grant on DVD.
The moment you all been waiting for… I reveal my new costume for The Sonic Newsdriver in this latest episode released today. That and other fashion news of the Doctor Who world are covered as well as some non-fashion related DW news.
Sonic Newsdriver (26 October 2010) -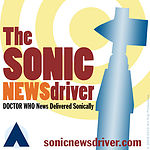 The Sonic Newsdriver 20101026
Selected Doctor Who related news delivered sonically.
For Earth-date: Tuesday, the 26th of Oct. 2010
Doctor Who related news covering Death of the Doctor, Better Late Than Never, It May Be A Mystery To You, We Will Rock Children in Need, Happy Anniversary Frazer, Fashion - Turn to the Left, Fashion - Turn to the Right, and much more!