Louis Trapani's blog
---
Once again, The Late Late Show with Craig Ferguson (on CBS in the US) will be having a Doctor Who related guest this Thursday (6th January 2011). This time it is Alex Kingston (River Song). Although she is not listed (at the time of this writing) in the upcoming shows for free tickets (they are actually recording two shows on Thursday according to their website, one at 3pm with actor Gary Sinise and one at 4:15pm with actress Mila Kunis - the latter being sold out), it was announced that "River Song" would be on Thursday's show via Craig Ferguson's Twitter feed. In addition, the Doctor Who musical opening number ("cold open") which could not be aired last November has finally been cleared for this show.
I wouldn't be too concerned about her absence on the website, as with the last time when Matt Smith was scheduled to appear on the show (16th November 2010), he was not showing up on the site for the longest time. Perhaps this show was pre-recorded on another day? @CraigyFerg tweeted the following tweet on Monday:
Every year, for the last few years, just in time for the holidays, 'TardisTimegirl' releases an animated Doctor Who related video on YouTube. A holiday treat for all Whovians. Last year, it was the immensely popular, '2001: A Who Odyssey' in which she combines the classic 1968 Doctor Who serial 'The Wheel in Space' with the film '2001: A Space Odyssey' which was released the same year. So when the holidays rolled around this year, I checked her YouTube channel and was disappointed not to see any new animated shorts for this year's holiday season. So I was surprised and delighted to see that a new short was released over the New Year's Day holiday.
Once again, using the 2nd Doctor story, 'The Wheel in Space' as the backdrop, she poses the question of what would a trailer look like for it if the once BBC set designer, Ridley Scott (who later went on to direct Alien among other films) made it? What follows is another awesome computer animated (CGI) trailer for Doctor Who: The Wheel in Space done in the style of 1979's Alien film by Ridley Scott. Thank you, 'TardisTimegirl.'
Turn off the lights and watch this in full screen mode. Enjoy!
A couple other shows to check out while you are waiting for the next Doctor Who: Podshock episode to arrive. (I was trying to get an episode of DWP out tonight, but lack of sleep and it being Christmas Eve now may not make it possible).
The latest episode of The Sonic Newsdriver has been released with select Doctor Who news delivered sonically to you. Last week, Dave Cooper @daveac joined me on the latest episode of Hitchhiker's Guide to British Sci-Fi in which we discuss and review the most recent series of The Sarah Jane Adventures (series 4).
Sonic Newsdriver (23 December 2010) -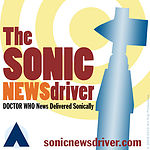 The Sonic Newsdriver 20101223
Selected Doctor Who related news delivered sonically.
For Earth-date: Thursday, the 23rd of Dec. 2010
The Game is Afoot, Bow Ties are Cool - Fezzes are Cool - The Doctor is Cool, Happy Trails to You, Be Careful What You Ask For, Jurassic Doc, Jenkins Almost Said No, Your Android Has Gotten More Sonic, and much more!
The Sonic Newsdriver 20101223 (MP3)
As previously reported, there is a new Doctor Who iOS game, Doctor Who: The Mazes of Time. It is now in the Apple App Store as of today. There are two versions, one is for the iPhone and iPod touch, and an HD version for the iPad. Unfortunately, it is not a universal app, so you can either get the iPhone/iPod touch version and upscale it for the iPad, or alternatively get the HD version specifically for the iPad.
The prices in the US App store are currently $3.99 and $4.99 NOW ONLY 99¢ each.
Here is the link to the iPhone/iPod touch version: Doctor Who: The Mazes of Time - BBC Worldwide
Here is the link to the iPad HD version: Doctor Who: The Mazes of Time HD - BBC Worldwide
A screenshot for the iPhone/iPod touch version
The latest episode of The Sonic Newsdriver has been released. Be warned, there is some singing in it. Sorry. It is sonic after all. As always, it contains selected Doctor Who related news for you to digest sonically. Short and sweet, just like a Jelly Baby -- only sonic.
Enjoy.
Sonic Newsdriver (10 December 2010) -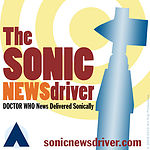 The Sonic Newsdriver 20101210
Selected Doctor Who related news delivered sonically.
For Earth-date: Friday, the 10th of Dec. 2010
Happy Birthday Doctor Who-sein, Doctor Who Get Smart and Lancaster, BBC iPlayer? There's an App for That!, If Adventure Has Name..., We Have a Date for Christmas... Again, The Mazes Are Landing Soon, It's All About Triumph of Intellect and Romance over Brute Force and Cynicism, Doctor Who in 3D?, and more!
Even though we are still a couple weeks away from the airing of Doctor Who: A Christmas Carol (coming to BBC (6pm) and BBC America (9pm) on the 25th of December), we already have a release date for the special on Blu-ray and DVD.
Just in time for Gallifrey 22, the special is slated for release on the 15th of February. So much for giving it as a Valentine's Day gift. Along with the special, the accompanying 'Doctor Who: Confidential' on it and 'Doctor Who at the Proms 2010' will be included as bonus material.
We can also assume that the special will be available on iTunes the day after it is shown on BBC America, so figure on it being there on Boxing Day.
If you are a long time listener of Doctor Who: Podshock, you may recall segments by Joe Corallo ( @JoeCorallo ) some years ago. He mostly reviewed audio dramas such as the Cybermen story, Spare Parts by Big Finish. You may have met him at our recent 25th Anniversary Event for the Gallifreyan Embassy last month (see photo to left of him with Daphne Ashbrook).
If you enjoyed our discussion on the ins and outs of building your own TARDIS (Police Box) in Doctor Who: Podshock 230 with special guests, the crew from The Happiness Patrol podcast, check out the latest episode of their podcast (The Happiness Patrol 47) in which I was invited on to talk about another Doctor Who icon, scarves!
Read my recent blog entry on ATP about it:
Come On, Get Happy! I'm on The Happiness Patrol! -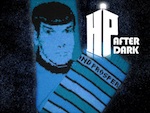 For what feels like for the longest time, we have been trying to get Lewis Bailey to join us on an episode Doctor Who: Podshock. Lewis does a podcast called The Happiness Patrol @TheHPatrol along with Dale Who @FishCustard2010 , Tara Wheeler @TARDIS_Tara (who you may also know as a Corespondent for Doctor Who: Podshock), and Lela Sandstrom @LelaSandstrom, due to scheduling reasons it never worked out. He has been also trying to get me on The Happiness Patrol as well for a while and for the same reason, it hadn't worked. Although we had Lewis on an episode in a recorded segment at the Doctor Who: Podshock 5th Anniversary Event we held last August as well on an episode from Gallifrey 21 last February in Los Angeles at our Meet & Greet Event there, this is the first time we have him on our show in a studio setting for Doctor Who: Podshock - Episode 230 along with Dale, Tara, and Lela. Not only is The Happiness Patrol in the latest episode of DWP, but I am in the latest episode of The Happiness Patrol as well!
Just in time for the holidays (depending on when your holiday falls), it is the "11th Doctor: Christmas Adventure Set 2010" available now on the Forbidden Planet website. It features the 11th Doctor and Amy Pond sporting her kiss-a-gram police uniform and a non-electronic TARDIS with front doors that open and judging from the photo, access to the phone as well. It is expected to be available on the 20th of December 2010. It sells for £26.99.
I can only assume this is being called a "Christmas Adventure set" solely due to the fact of when it is being released because to the best of my knowledge, Amy will not be wearing her police uniform in the upcoming Christmas special, A Christmas Carol. It would be more fitting to call it 'The Eleventh Hour' Adventure set… though technically the Doctor was still in his 10th Doctor hand-me-down raggedy clothes when Amy was in her kiss-a-gram police uniform. If you want 'The Raggedy Doctor' it is available in a two figure set. This two figure set is available for £11.99.
Happy holidays!
This is like someone getting peanut butter in my chocolate, or something like that (actually, I am not too keen mixing the two). This video marries two of my favourite pastimes, Star Wars and Doctor Who. It doesn't make much sense, but it is fun and interesting to look at, that much is certain. Ha! You have to love Amy Pond in it. Outstanding production values for a parody project like this… Thanks to @steven3x for the heads up on it.