Blogs
---
In case you missed it (as I had), here is the Doctor Who segment with Matt Smith from this year's Children in Need charity which also includes a 'trailer' preview of this year's Christmas special titled, The Doctor, The Widow, and the Wardrobe. The special is slated for Christmas Day in the UK.
Donate at www.bbc.co.uk/pudsey
It's that time again... Yep, news of a Doctor Who movie is abound again. Though this time the source is coming from Variety. Today the entertainment industry paper has broken the news that director David Yates is working with Jane Tranter of BBC Worldwide to bring the Time Lord to the big screen.
They are looking for writers for the project currently and their sights are not limited to just the UK.
Unfortunately, as I had always feared when this topic comes up as often as it does, the movie would not be in sync with the established television canon (then again, the television series itself is often not in sync with its own canon, but that's another story). Yates who has directed the last four Harry Potter films told Variety, "Russell T. Davies and then Steven Moffat have done their own transformations, which were fantastic, but we have to put that aside and start from scratch."
Let's hope they don't rename the Doctor character to "Dr. Who" like the two feature films of the 1960s did starring Peter Cushing.
Today marks the 29th birthday of the youngest actor to play the lead role in Doctor Who, the 11th and current Doctor... Matt Smith. So a big spirited happy birthday wish goes out to Matt who is big spirited himself.
Now I believe he is at the age that Peter Davison was when he took on the role, the previous title holder for youngest actor to play the role in the series. Smith was still 27 when we met and interviewed him in April 2010 which is when I took these photos here of him.
The final touches are being made on the latest episode of Doctor Who: Podshock and should be released later today to supporting subscribers. In the meantime, here are some soothing sounds by the Doctor Who Fan Orchestra with their second collaboration, "This is Gallifrey" / "Vale Decem" by Murray Gold. Another piece of outstanding work and coordination by musically gifted fans and arranged by Stephen Willis.
New York Comic Con is here again! October 13-16th at the Javits Center in New York. It's the largest east coast popular culture convention. Each year, it is growing in size and this year is no exception.
We have been attending each year and last year we recorded an episode of Doctor Who: Podshock live at the event to a standing room only audience with special guest Tony Lee of IDW Publishing (Doctor Who ongoing comic book series). You can listen to our live show from 2010 here: Doctor Who: Podshock 225. We would had done another live show this year at the event, but unfortunately, there isn't a Doctor Who guest there this year. Last year, Alien Entertainment brought over Daphne Ashbrook (Grace from the 1996 TV movie). Word is this year they are bringing Ian McNeice (Churchill) to their booth. You may recall, we interviewed McNeice earlier this year live on stage at Gallifrey One (see Doctor Who: Podshock 240.
Here is a little taste of New York Comic Con in this video from last year (2010):
What a week it has been. Unless perhaps you have been off-world or visiting another time era all this past week, you know we lost Apple co-founder and former CEO, and great tech innovator and visionary, Steve Jobs.
It is a good chance that there wouldn't be a Doctor Who: Podshock show if it were not for Apple under the leadership of Steve Jobs making the iPod so ubiquitous across the world. It certainly wouldn't had been called "Podshock" at least ("iPod" begat "podcast" begat "Podshock"). Now in our seventh year, it has been produced from the beginning using Apple products as it is today.

In their first round of major guests, ICON Science Fiction announced the addition of Sylvester McCoy, Daphne Ashbrook, and Sarah Douglas for I-CON 31 in the spring of 2012. I-CON 31 will be held on the campus of Stonybrook University in New York the weekend of March 30, 31, and April 1st 2012. Doctor Who: Podshock and the Gallifreyan Embassy have a long history with I-Con.
The Radio Times has a full interview with Elisabeth Sladen's Daughter Sadie Miller.
Sadie now 26 years old, tells what it was like growing up knowing Jon Pertwee and Tom Baker, and what Family life was like.
She goes on to mension that she shall not be watching the 5th Series of Sarah Jane Adventures, Saying "I find it just a bit strange. I can't really watch it, too soon. But I know I'll enjoy watching them again at some stage. And if I have children it will mean a lot to watch it with them. Mum would have been a wonderful grandma and I feel sad that she won't get to experience that."
The full interview is linked below.
As of Saturday the 1st of October, Doctor Who Confidential is no more. After six years of coverage of the production of Doctor Who and background information, Confidential comes to an end, but it goes out with a bang, not with a whimper.
As followers of the British Schools Writing Competition should know, Confidential has been following the process and on Saturday it comes to a climax as the finished episode "Death is the Only Answer" is transmitted on Confidential.
So thank you Doctor Who Confidential for all your information, past and present. You shall be missed.
This is a quick post to let you know that the latest Hitchhiker's Guide to British Sci-Fi episode is out now reviewing episode 10 of Torchwood: Miracle Day, the final episode of the series, The Blood Line. We reviewed it live on the net with your live feedback.
No live show this Sunday for HHGTBSF, but there will be one for Doctor Who: Podshock at 4pm EDT. HHGTBSF will return (probably most likely with reviews of the latest (and sadly final) series of The Sarah Jane Adventures soon).
I have more to say and post, but it will have to wait until later. Need to get some shut-eye and then wade through 369 new email messages.
Torchwood: Miracle Day - Episode 10 "The Blood Line" Reviewed on Hitchhiker's Guide to British Sci-Fi -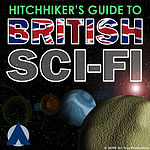 Hitchhiker's Guide to British Sci-Fi - Episode 19
Running Time: 1:11:46
Torchwood: Miracle Day - Episode 10 - "The Blood Line" reviewed live over the net with your live feedback.
Hosted by Louis Trapani @LouisTrapani and Dave Cooper @daveac