Blogs
---
In case there are members here that don't follow Louis on Twitter or Facebook - please note Louis is mostly offline due to the terrible effects of Hurricane Sandy.
Although he is OK but very tired , he and some members of his family have been lashed by this freak event which has caused great damage.
As well as water ingress he is without power or internet and is conserving his iPhone for emergency use.
Our thoughts are with you Louis and your family plus of course the millions of others struggling in those badly affected States.
Best Wishes, daveac
Greetings Friends,
It is my hope you all are well. As some of you may know over on my own blog "Comfy Chair" I started sometime ago an archive of a Doctor Who fanzine "Morbius." I have a huge interest in fanzines as a whole but especially those regarding Doctor Who & Tolkien, even more specific fanzines from groups in the New York area. The Doctor Who fanzine "Morbius" is not entirely from the NY area but it is where I got my start in collecting Doctor Who fanzines.
My post today is concerning the fanzine of the Gallifreyan Embassy "Ambassadors of Life," which ran until the mid-1990s if I am not mistaken. I have a few issues courtesy of Louis and Ken but wish to expand my personal archive. Ideally I would like to create a digital archive for my own collection and am not set to make it public unless I gain specific permission from Louis.
By now I will assume you have seen the latest episode of Doctor Who, The Angels Take Manhattan. If you have not, you may want to stop reading this until you have because this piece may spoil the episode for you. So consider this a spoiler alert (insert cloister bells here).
In this next to last episode of the year 2012 we see the Ponds for the last time. Amy (Karen Gillan) and Rory (Arthur Darvill) are doomed to live the rest of their lives in Earth's past without any further visits from the Doctor… Or we are led to believe at least. Though never say "never" in Doctor Who as it has been proven time and time again.
What did you think of their farewell?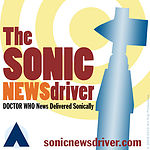 There is a new episode of the Sonic Newsdriver out (see below). It was great getting back to doing an episode again. The show may be a bit regenerated now and going forwards. We will see where things go.
People have been inquiring about the Doctor Who: Podshock live shows reviewing the new episodes of Doctor Who coming starting this Saturday. The live shows will be back! They are normally on the Sunday after the new episode is transmitted. Due to the late announcement and confirmation of the start date of the new 2012 series, there is a scheduling conflict for this Sunday (2 September). Therefore, the live shows will most likely resume on the following Sunday in which we will review the first two episodes of the new 2012 series of Doctor Who. The review shows will once again be recorded live using Talkshoe. We will post an announcement with details soon about it as we usually do here on this site and on Twitter.
US astronaut Neil Armstrong dies, first man on Moon
On July 29th Gallifreyan Embassy Contributor Troy Baker posted a list of the Doctor Who specials airing this month This Saturday, August 11th, 2012 9/8c the second of these specials air on BBC America -- The Women of Doctor Who
Here is the description from the BBC America site:
Behind every great time lord there's a great woman. Whether they're busting Daleks or the Doctor's ego, the women of 'Doctor Who' prove that you don't need testosterone to save the universe.
Ok very cool and we know that in the post 2005 series we have Valkyrie type female companions in Rose, Martha, Donna & Amy.
Greetings!
First just a quick note before my news I wish to thank Louis Trapani for allowing my wife (Jessica Burke) and I (Anthony Burdge) to blog here for him and the Gallifreyan Embassy. If you are not familiar with us we are the Editors/Contributors of The Mythological Dimensions of Doctor Who and The Mythological Dimensions of Neil Gaiman both published by Kitsune Books. We have been contributors to Doctor Who Podshock and guests as well. You will be able to hear about our latest book The Mythological Dimensions of Neil Gaiman in an upcoming episode of Podshock.
If you are like me and do not receive BBC America, you may be pleased to know that their latest Doctor Who related special, The Science of Doctor Who (science in Doctor Who? Who knew?) is available via iTunes for purchase ($2.99).
I haven't seen it yet myself, so I can't comment on the special, though I have heard that not surprisingly it only focuses on post-2005 Doctor Who unfortunately. If you want to find it on iTunes, there's an affiliate link below to it.
Richard E. Grant has been cast in the upcoming 2012 Doctor Who Christmas special. The news came from a tweet from Doctor Who Magazine today. It's interesting to see an official-unofficial past Doctor actor return to the series. You may recall that Richard E. Grant was the original 9th Doctor in the Scream of the Shalka, a story written by Paul Cornell. This animated adventure was produced prior to the television series being relaunched in 2005. We reviewed Scream of the Shalka not too long ago in Doctor Who: Podshock 267. In it, we discussed Richard E. Grant's portrayal of the Doctor and how Scream was the forerunner of Rose. 
I am sadden to report that once again we have lost someone in the Doctor Who community. A month after the news of Caroline John (Liz Shaw) passing, we have lost another actress that played a companion on Doctor Who, Mary Tamm. You will remember her for her role as the original Romana in the Tom Baker era. She introduced us to the Time Lady companion, Romana in 'The Key to Time' series of 1978 to 1979. 
Mary Tamm in 1984
The Mirror reports that she lost her long battle against cancer this morning. She was only 62 years old.