Blogs
---
Big Finish are having a BIg Finish Day on their website. and you can get many bargains such as any of the First 50 Doctor Who titles for a fiver (pounds sterling) That means all titles up to Zagreus from The Sirens of Time. Other titles of interest are "The One Doctor" "Doctor Who and the Pirates" and "Spare Parts" to name but a few.
The Sarah Jane Adventures titles have just been announced for Series 4, They are
The viewing figures for Doctor Who's Season 5 penultimate episode, are in for the overnights.
This Week In Doctor Who - Section A
June 19, 2010 - Vol 13, Number 22
by Benjamin F. Elliott
http://tv.groups.yahoo.com/group/thisweekindoctorwho
http://thisweekindoctorwho.blogspot.com
http://gallifreyanembassy.org/vortex/?q=TWIDW
All the known broadcasts of Doctor Who covered weekly since 1998. With the spinoffs too.
UK - the final story of the series is upon us! Part one - "The Pandorica Opens" - is at 6:40PM BST on BBC One and BBC HD, 50 minute episode. Doctor Who Confidential airs uncut immediately afterwards on BBC Three and BBC HD. The conclusion - "The Big Bang" - is on 26 June at 6:05PM BST on BBC One and BBC HD, 55 minute episode. Doctor Who Confidential will also air immediately after that episode on BBC Three and BBC HD.
As you already know if you read my previous post (It Was 25 Years Ago Today…), that today marks the 25th anniversary of the Gallifreyan Embassy.
Over the past few months we have been discussing having some sort of special anniversary event to mark the occasion this year. You may remember last year we held an event in Manhattan for our 24th anniversary in which we paired up with a monthly DWNY meet up and brought the lovely Daphne Ashbrook (Dr. Grace Holloway from the 1996 Doctor Who movie) to the event. See Happy Anniversary to Us… for further details.
We would like to something special for our 25th as well. It would be an event in the NY area, perhaps on Long Island as that is where it all began, yet still be accessible to our friends in NYC. Maybe a dinner event? Would you be interested in attending?
It was a quarter of century ago today, as hard as it is for me believe, is when the Gallifreyan Embassy began. Unbeknownst at the time, it was the day after the Discovery Channel was launched. It was also the day after the launch of the space shuttle Discovery (STS-51-G) which marked the first Arab and Muslim in space (payload specialist Sultan bin Salman bin Adulaziz Al Saud). Yes, it was 1985. Ronald Reagan was in the White House, Commodore launches the Amiga personal computer while NeXT is founded by Steve Jobs after leaving Apple Computer.
Just two weeks before we went Back to the Future in the theaters, the Gallifreyan Embassy of Long Island officially began.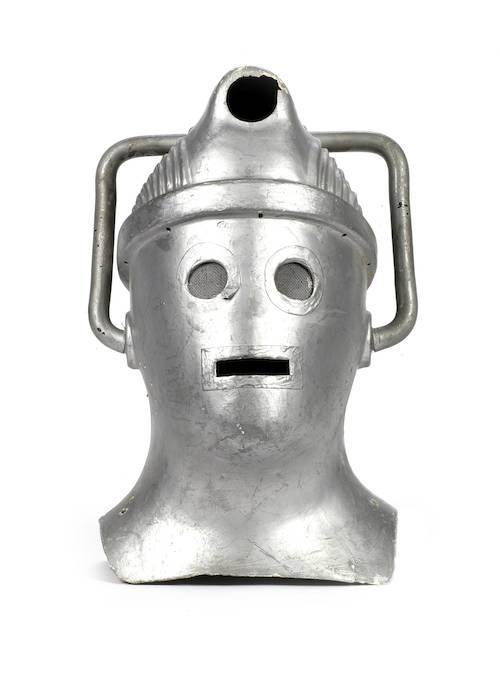 The above pictured Cyberman head from the Second Doctor's period is one of many articles going on sale once more at Bonhams in Knightsbridge London. Other props include Daleks also from this time (Power of the Daleks) K9 and two TARDIS's. The most interesting being the TARDIS from 2005 from 9th Doctor, Christopher Eccleston. This is part of an entertainment auction rather than just a Doctor Who specific one. The auction will be taking place at 11am on the 23rd of June 2010 and lot numbers are 126 to 142 inclusive. Lot 126 being an Dalek from The Chase and 142 being the 9th Doctors TARDIS.