Blogs
---

There is another Doctor Who stage show in the works, but Trevor Martin won't be returning for the title role. The Press Association reports the following:
The Press Association: 'TV hippy' in Doctor Who stage show:

"Actor Nigel Planer - best known for his role as TV hippy Neil in The Young Ones - is to take centre stage in the new live-action Doctor Who tour.

The hit BBC One show is being adapted for the stage in a nine-city arena tour which will begin next month with Daleks and Cybermen among the evil creatures which will be brought to life.

Now Planer has been unveiled as the star who will act as the production's lynchpin, starring as a travelling showman Vorgensen.
Earlier today I got some brilliant news for all North American Doctor Who fans. Fellow Doctor Who podcaster, David Hooie released an unusual for him short podcast. Within the podcast one of the guys in charge of the Restoration team had the excellent news That the 1996 TV movie had just got the go ahead for a US release, after some hard negotiations with Universal, the owners of the rights in the US and Canada. For the full story follow this link.
The date has finally been released for the Doctor Who at the proms 2010 TV broadcast.
it is 6th September at 8:30pm on BBC 3.
This is the cover for the new Doctor Who game "Return to Earth" being released for the nintendo Wii, the apparent release date is 29th of October 2010 in the UK and is apparently already for pre-order on Play.com. To this another game is also being released for the DS and is titled Evacuation Earth both developed by Asylum Entertainment.
This past Saturday, the 21st of August 2010 was not only our seasonal meet up on Second Life, it also marked the 5th anniversary of the Doctor Who podcast, Doctor Who: Podshock. (We used our last meet up last May to mark the 25th anniversary of the Gallifreyan Embassy).
People from all corners of the world came together to have fun and to meet Doctor Who: Podshock hosts, correspondents, supporters, and other Doctor Who fans. As usual, Victor led the much anticipated TARDIS tours, a staple of our meet ups on Second Life in which he takes a TARDIS load of people to other Doctor Who themed areas of Second Life. This time, he even allowed me to pilot a Jon Pertwee style TARDIS for one trip. It was very exciting indeed.
The TARDIS Tours took us to Who Island which had a replica of Stonehenge with 'underhenge' which we discovered the Pandorica (and it opened)! We also got to see the console room seen in this year's 'The Lodger' episode and as always the tour concluded in the Doctor Who Museum. The virtual museum chronicles all of Doctor Who throughout its long history.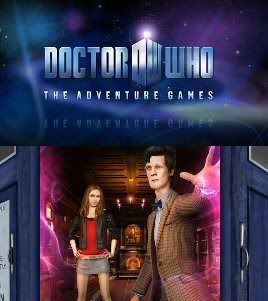 The third instalment of the Doctor Who: Adventure Game , computer game series that's been free to download to and install to UK residents has been announced.
This time the game takes entirely place in the TARDIS it's self and we get to see the hinted at many rooms of the TARDIS. Steven Moffat has told the official DW website
As reported in Doctor Who: Podshock, the Doctor Who spin-off series, Torchwood is being relaunched in the US on the Starz network.
The HollywoodReporter.com has an article reporting that name of the rebooted series in the US is Torchwood: The New World. Like last year's acclaimed Torchwood: Children of Earth I would suppose. It is to be ten episodes which to my understanding are telling a story much the same way as Children of Earth did with its five episodes run.
'Torchwood' gets new title: 'The New World': "Starz' 'Torchwood' reboot will be titled 'Torchwood: The New World' and creator Russell T Davies gave some insight into the storyline.

The new story will follow a CIA agent (Rex) and analyst (Ester) who tackle an alien-related global issue. Torchwood, having been destroyed and disbanded, is 'like a legend now ... it's like something that's ceased to exist and is now spoken of only in whispers.' Soon, Rex and Ester are on the run and are seeking out the help of Captain Jack and Gwen.
Ok, OK! so it's not a TV episode, but it's something I've been wanting after realising we've had every other combination of numbers of Doctors up to five, but not four. I would have written earlier about this but there was one FACT that was unclear. Yes it's free to subscribers but! which Doctor Who ranges would be included? and as far as I can make out it's the Monthly Doctor Who Range subscribers who get this little gem in their fists.
Big Finish has done this on a regular basis last year saw the release "An Earthly Child" a 8th Doctor and Susan tale, but unlike that release, Big Finish has said as of going to press that this adventure would never be released other than to Subscribers. Now I see three points here 1.) Big Finish would make an absolute wad of cash if they eventually released this for general sale. 2.) That they must make enough that they can "AFFORD" to do this, but in fact this is very nice present to their subscribers if it remains so. 3.) Internet piracy, maybe at some point this is going to end up on a torrent site. Great for those who don't want to subscribe but bad for Big Finish, as they may have lawyers but I doubt they have the clout of the BIG Music labels, and I personally would rather see the money going into Big Finish's pockets because this is quite literately how future productions are funded.