Blogs
---
You all know how much I love audiobooks - BTW, have you signed up at Audible yet? It's the best. Anyway, I just received an email from CSA Word, a lovely indie purveyor of superb audiobook magic - they're featuring John Simm reading "Billy Liar":
http://www.csaword.co.uk/epages/3828.sf/en_GB/?ObjectPath=/Shops/3828/Pr...
They've got wonderful books read by great readers, including Benedict Cumberbatch, Tim Pigott-Smith (whom we all love in "Masque of Mandragora"), Sir Derek Jacobi, Philip Glenister, Simm's cohort in "Life on Mars," and my all-time favorite... well, just look for "My Family and Other Animals," a true exit-misser if there ever was one, which I was in the middle of when the Touch took a dive. I'm looking forward to starting it up again soon. Made me smile.
Something cheerful as a follow-up to "Single Father." Hooray!
David Tennant to star in Manchester
United plane crash drama
David Tennant is to star in a new BBC drama about Manchester United and a plane crash that killed eight of the team's players in 1958
As promised on Doctor Who: Podshock, we can now confirm that Matt Smith is scheduled to be on The Late Late Show with Craig Ferguson on the same night as the next 25th Anniversary Event for the Gallifreyan Embassy, Tuesday the 16th of November 2010.
He is there for the 3:30 pm (PST) recording of the show in Los Angeles, CA. Which also means he won't be able to attend our event that evening on here the East coast.
There has been a good deal of confusion leading up this late night talk show appearance. As recently as last Thursday, the office of The Late Late Show with Craig Ferguson was sending out emails indicating that Matt Smith would not be appearing, meanwhile, that same day Craig Ferguson's Twitter account @CraigyFerg was tweeting that Matt Smith is to appear that night. In addition, there will be a Dalek there as well (which was tweeted the following day)!
Update: The latest Sonic Newsdriver is finally available (see below). It had encountered some delays which now has also delayed the next Doctor Who: Podshock currently in post-production. Hopefully, DWP 228 will be out on or before Tuesday. After that, there should be another Extra Edition DWP for supporting subscribers.
Sonic Newsdriver (14 November 2010) -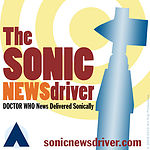 The Sonic Newsdriver 20101114
Selected Doctor Who related news delivered sonically.
For Earth-date: Sunday, the 14th of Nov. 2010
Happy Birthday Number 8, Happy Birthday Number 11, Heeere's Joooohnny, No Matt Smith at Gallifreyan Embassy Anniversary Event, We have a Date for 1996, Happy Anniversary Doctor Who, Talkin about my Regeneration, Let's Return to Earth - in another week, You May be One of Many Children in Need, Isn't That Special, and much more!
[
Art Trap Productions
]
As I'm sure you know, BBC Radio 4, available to us here in America on the iPlayer free of charge (for the time being, at least), is a dependable source of terrific programming, particularly radio plays with great acting. Lots of the program(me)s have actors who have appeared in WHO. This week:
"Alone in Berlin," the story of German resistance in Berlin during WWII. It stars Ron Cook, who was Mr. Magpie in "The Idiot's Lantern."
http://www.bbc.co.uk/programmes/b00vvwq0
Cook is a personal favorite of mine. Look for him in the brilliant Mike Leigh film "Topsy-Turvy," as well as Paul McGann's "Hornblower" and "Filth: The Mary Whitehouse Story," which we discussed in our review of "The Deadly Assassin" a few months ago.
BTW, found this cool site when I was looking for an image. Great behind-the-scenes shots from the ep:
So after me thinking I've ad nothing to blog for a long time comes this.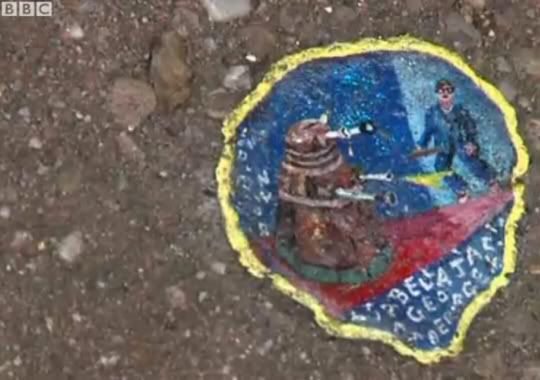 Ben Wilson London based Chewing gum artist Dr Who painting
http://www.bbc.co.uk/news/entertainment-arts-11677462
Cheers, daveac
As we previously announced, the Doctor Who 1996 Movie will finally be released as a region 1 DVD in North America. It has long been available on region 2 (I had my copy for some time now), it has been tied up in release rights issues between the studios involved (BBC, Fox, Universal) for a region 1 DVD release since the movie first aired.
We were pleased to report that it would finally be coming to region 1 with the recent revisiting of the DVD (a new re-release edition). Up until now, we didn't have a release date other than 2011 for this 8th Doctor adventure starring Paul McGann and Daphne Ashbrook. Now according to tvshowsondvd.com, BBC and Warner Home Video have announced that it will be released on February 8th as a 2-disc set titled, 'Doctor Who - The Movie: Special Edition.'
It coincides with the release of another 2-disc set 3rd Doctor story, 'The Mutants' starring Jon Pertwee as the Doctor and Katy Manning as Jo Grant on DVD.
The moment you all been waiting for… I reveal my new costume for The Sonic Newsdriver in this latest episode released today. That and other fashion news of the Doctor Who world are covered as well as some non-fashion related DW news.
Sonic Newsdriver (26 October 2010) -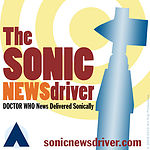 The Sonic Newsdriver 20101026
Selected Doctor Who related news delivered sonically.
For Earth-date: Tuesday, the 26th of Oct. 2010
Doctor Who related news covering Death of the Doctor, Better Late Than Never, It May Be A Mystery To You, We Will Rock Children in Need, Happy Anniversary Frazer, Fashion - Turn to the Left, Fashion - Turn to the Right, and much more!