Blogs
---
This Week In Doctor Who – December 6, 2010
Section A
By Benjamin F Elliott
New computer and no template to use. That's weird. So where was I? Ah yes, Doctor Who schedules.
Due to production issues on this edition, it is going out on a Monday evening US time. Also, I am releasing the main Doctor Who listings before finishing the Torchwood listings or Section B (Sarah Jane, K9, and the PBS Doctor Who broadcasts). If you are reading this through the "Doctor Who News Page" or via the "Gallifreyan Embassy", the extra sections will appear at the end of the page as they're completed. I hope to publish a few more times in December as I put the column back together again. Hope to be truly "weekly" again by January. Still, we are not here to discuss my technical problems. We're here to find out when our favourite show is on TV all around the world.
Just in time for the holidays (depending on when your holiday falls), it is the "11th Doctor: Christmas Adventure Set 2010" available now on the Forbidden Planet website. It features the 11th Doctor and Amy Pond sporting her kiss-a-gram police uniform and a non-electronic TARDIS with front doors that open and judging from the photo, access to the phone as well. It is expected to be available on the 20th of December 2010. It sells for £26.99.
I can only assume this is being called a "Christmas Adventure set" solely due to the fact of when it is being released because to the best of my knowledge, Amy will not be wearing her police uniform in the upcoming Christmas special, A Christmas Carol. It would be more fitting to call it 'The Eleventh Hour' Adventure set… though technically the Doctor was still in his 10th Doctor hand-me-down raggedy clothes when Amy was in her kiss-a-gram police uniform. If you want 'The Raggedy Doctor' it is available in a two figure set. This two figure set is available for £11.99.
Happy holidays!
This is like someone getting peanut butter in my chocolate, or something like that (actually, I am not too keen mixing the two). This video marries two of my favourite pastimes, Star Wars and Doctor Who. It doesn't make much sense, but it is fun and interesting to look at, that much is certain. Ha! You have to love Amy Pond in it. Outstanding production values for a parody project like this… Thanks to @steven3x for the heads up on it.
BBC America, has put up the first Video look at the soon to be released for iPhone iPod Touch and iPad, "The Mazes of Time game" see below. So far still no date of release only coming soon and before Christmas. To this BBC.com announced that the international BBC iPlayer will be due out the Middle of next year. As far as anyone can glean it will be an iPad app in North America, but I am hoping that there will be an online browser option too.
The BBC Press Office released more information about the upcoming Doctor Who Christmas special for 2010, titled, A Christmas Carol. The special will be transmitted on the BBC and BBC America on Christmas Day.
BBC - Press Office - Doctor Who: A Christmas Carol introduction:
Tameside UK has it's own Dr Who Christmas Special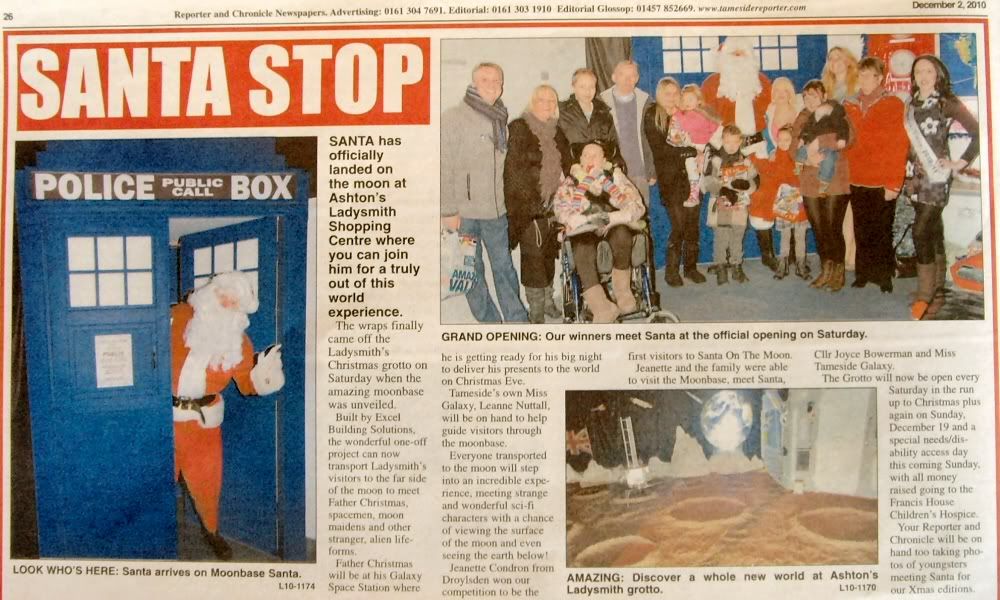 Full size image on my Photobucket site here:- http://s182.photobucket.com/albums/x202/dac100/drwhobits1/?action=view&current=santawhomoon.jpg
Character Options has finally started on bringing out classic companions that are not robot based such as K9. First out of the gate is Peri and joining her in this outing is not the 6th Doctor, but Sil. This set is taken from the Vengeance on Varos story from Series 22. If you are in the UK the set is available from the link below, US sources should follow soon.
The final viewing figures for the Sarah Jane Adventures has been released. On average the show got 0.52 milion on BBC One alone and the same again on CBBC per episode, and even beats Blue Peter which during the same time had an average of 0.44 million viewers. Lost in time achieved the highest combined viewing figures of 1.57 million viewers. The average total overall per episode for the series is 1.29 million viewers which is up form last years 1.01 million. See the graph below for full figures and spreads.
Graph was removed by originating site.
For those that follow me on Twitter probably know I had been fighting off some nasty bug shortly after the GE anniversary event, then came the Thanksgiving Day holiday here in the US... Long story short, it delayed production of all shows coming from ATP including Doctor Who: Podshock of course. Fear not though, there will be new episodes coming down the vortex soon starting with a DWP Extra show for supporting subscribers. We will try to step up production to catch up on the last couple weeks.
First up is a new episode of The Sonic Newsdriver. Available on The Sonic Newsdriver feed and on the Sonic Newsdriver Podcast App for the iPhone / iPod touch. See details below.